B2B eCommerce Trends to Watch Out for: Progressive Web Apps, AI, Personalisation
The B2B e-commerce industry is expected to chart an exponential growth. According to a report published by Forrester, a leading American market research firm, the B2B e-commerce sector will reach $1.2 trillion and account for 13.1% of all B2B sales in the US by 2021.
Not only this, the B2B e-commerce sector is at the forefront of a rapid change fueled by digitization and automation of business processes.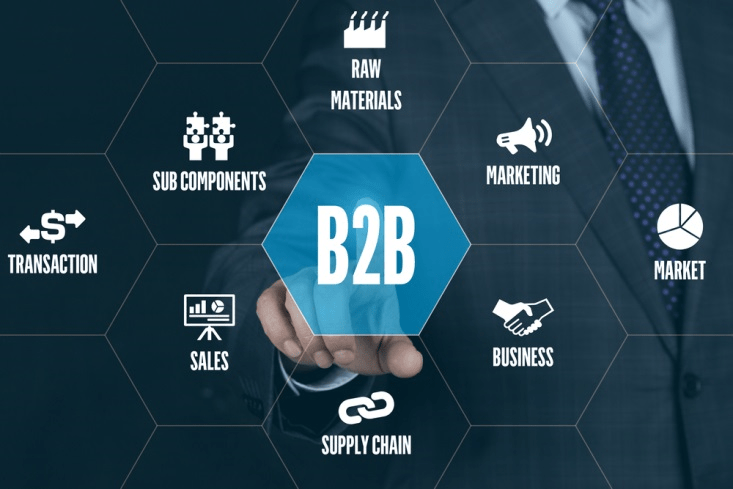 Source: securecdn.pymnts.com
Of late the B2B E-commerce industry has seen a paradigm shift in their sales approach as well. What used to be a single channel; direct selling model that was mostly done through online catalogs and wholesale purchasing is now moving towards an omnichannel selling.
At the core of this transformation lies the need for a faster, and more streamlined backend operation that is more efficient and reduces both energy and time for operational tasks.
All these disruptions in the B2B e-commerce business model, customer expectations, and supply chain have led to transformative innovations. In this blog, we take a look at some of the major B2B Ecommerce trends in 2018:
Effective Online B2B Marketing strategy is a game changer :

In 2018, the e-commerce websites would be expected to act as a one stop destination for everything a B2B buyer wants – from detailed catalogs for product and pricing information to online shopping and payments, from relevant quotes to real-time information.

An analysis of B2B ecommerce trends by Forrester suggested that 74% of B2B buyers do online research for at least half of their work purchases. Thus it is very important to have a solid e-commerce digital marketing strategy for B2B sellers. Identifying the right customer acquisition strategy and a content strategy is going to gain relevance for B2B space. This can be achieved through:

Identifying best social media strategy to promote and share 'valuable 'content that is relevant to your buyer's context.
Improve visibility in the online space through effective marketing strategy.
Establishing a brand trust by offering quality information through blogs, insightful videos, and infographics.
Using the power of Social media for social selling for influencing the buyer's purchasing decision and interactive customer engagement.

Customer Relationship Management is the key to Future:

B2B customers are also looking for enhanced customer experience which can only be achieved through a solid customer relation strategy. Interacting with the customer and offering real time answers to their queries and concerns helps establish brand trust and to identify and address the customer concerns. B2B e-commerce players need to fully tap the best of interactive tools like Chatbots, superior CRM tools and social media platforms – which would be largely determining the growth chart of the B2B space in the coming years.

Offering a rich Personalized Experience in B2B websites:

Today the success of any business, whether it is B2C or B2B, is largely dependent on how well they can cater to their customer. In today's era, which belongs to the service industry, satisfactory customer experience calls for an agile response, affordable prices, customized options that are in tandem with their buying habits.

Source: irp-cdn.multiscreensite.com

But the important challenge is to create a personalization strategy that takes into account the complexities associated with a B2B e-commerce, namely:

Diverse customer profile ranging from suppliers to dealers, to channel partners
Complicated product and service configuration
Variable Pricing structure and Order sizes
LTL shipping
Complex contractual terms such as quotes, POs

In the B2B e-commerce space, personalization of the websites would mean a smart use of advanced technologies and data analytics to capture user-centric data. This also means integrating their omni channel strategy with their marketing strategy for a self- service experience to their B2B buyers. Some of the B2B players have already embraced this B2B ecommerce trends by offering personalization features such as personalized catalogs, configurable product, price and quotes etc.

Progressive Web Apps:

Yet another disruptive B2B ecommerce trends that is a hot topic of discussion amongst the B2B sellers is that of the Progressive Web Apps (PWAs). PWAs have accentuated the user- friendliness and ease of navigation that came into the picture with mobile apps. PWAs are versatile web apps designed to offer the native app experience through a mobile browser. PWAs can be accessed through simple URLs, indexed by search engines, and even work offline.Progressive Web Apps endows the business with an improved customer-centric approach, faster and streamlined operations through highly responsive and easy to navigate web apps.

Research findings show that various business organizations that have already opted for PWAs have started seeing results in terms of increased conversion rate, more revenue, and reduced bounce rate.

Case in point is a B2B commerce giant Alibaba, who has managed to increase its conversion rate by a whopping 76% by building progressive Web Apps.

The AI Influence on B2B ecommerce trends:

In this data-backed era, where Machine learning (ML) and Artificial Intelligence (AI) are pretty much predicting the future course of all businesses, the B2B e-commerce players need to keep their eyes wide open. Many online retailers, especially in the B2C space, are already utilizing the power of AI to predict the consumer market pricings and trends, to learn the customer persona, and accordingly to offer a personalized shopping experience. This trend is reflecting in the B2B segment too.

B2C e-commerce sites are making use of AI to collect and analyze their user's data so as to offer customized features such as suggestive reorders, suggestive selling of supplements or catalogs.

AI can also help in improving the operational efficiency, and pace up the order processing through features such as auto replenish stock, advanced search options using voice recognition – to name a few.
Thus, it would be apt to say that the B2B e-commerce sector is all set to charter new growth path with the help of advanced data analytics and digital tools.