'Amazon lost $3.48m in 2007 During Two Hours of Downtime': What Goes into 24/7 IT Support and Monitoring for Ecommerce Websites
"In 2007 Amazon's net revenue was $14.8 billion which accounts to about $29,000 per minute.
In June 2007, Amazon.com crashed for roughly two hours. The estimated cost of this outage was a staggering $3.48 million."
From an article in the widely-read e-mag, Inc
With this fact, the importance of uninterrupted uptime of your ecommerce website cannot be disputed. But loss in revenue or sales per minute is only the tip of the iceberg.
In the same Inc article, the cost of website downtime is broken down in the following way: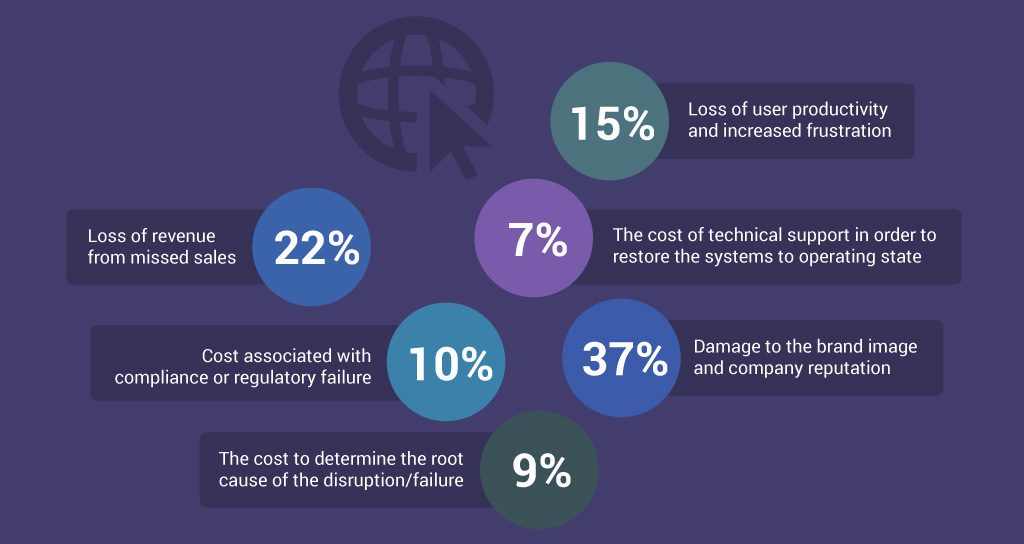 One of the best ways of ensuring near-zero downtime (NZDT) for ecommerce websites is by enlisting the services of an experienced ecommerce managed services provider for ecommerce website monitoring and maintenance.
For starters, here is why your ecommerce website needs an expert IT managed services partner:
A dedicated vendor will provide a periodic audit of your website to analyze performance issues, and suggest solutions for them.
The vendor will offer the dependability of 24×7 IT monitoring to ensure your website does not suffer the consequences of being down, and take corrective action when incidents arise.
A dedicated vendor providing you website maintenance services will keep away your anxieties of store downtime in a world where being available all the time is essential to survival in e-tail, thus allowing you to focus on business operations.
As an ecommerce website monitoring company, Embitel on-boards customers for its ecommerce website monitoring and maintenance services. This on-boarding process can be largely divided into 3 stages.
Step 1: Server hardening
Smooth website operations start with a secure system, so the first step taken when a client enlists Embitel's website maintenance services is server hardening. This means securing a system by reducing the surface of vulnerability.
Several steps are taken within server hardening too to make the website as secure as possible. These range from setting up new, secure credentials for users, to firewall installation.
After establishing a reasonable degree of security, it is safe to proceed to…
Step 2: Server setup and configuration
At every step of the setup and configuration stage, safety and risk minimization is paramount. This doesn't just mean a secure network, it also means preventing loss of data. So, at this stage, tools and hardware are installed to facilitate website maintenance backups and version control.
Configuration of the server includes installation of compatible packages for ecommerce website scalability and security.
Step 3: Maintenance and monitoring
24×7 IT monitoring is carried out with the aid of enterprise-class tools that keep a tab on several essential metrics. Besides this, Cron jobs are scheduled to ensure all tasks are completed at the right time, and steps are taken to ensure continued security and smooth operations.
Within the above three stages, there are a vast number of activities undertaken to cover all possible avenues of the website monitoring and maintenance responsibility. These are listed out below:
Architecting/Re-architecting the hosting servers with cost optimization
Installing and upgrading software application
Scaling the server as per usage/scale as you grow
Server software updates
Security patch updates
Web application firewall
Server user management
Database optimization
Server hardening
Fixing and debugging the server
Suggestions on the setup of load balancing and auto scaling
Managed backups and server maintenance,
Monitoring of CPU usage, performance and firewall
With this, the team begins their diligent and uninterrupted monitoring, ensuring that your website enjoys maximum uptime, and you minimize business losses due to technology failures.
To see the impact of Embitel's ecommerce web application support services, read the case study on our work for Malabar Gold & Diamonds here.