What's in-store for Ecommerce Merchants and Magento Developers: An Analysis of Magento 2.3.0 Release
After making headlines in the e-commerce world for becoming an integral part of the Adobe family, Magento is yet again the talk of the town before the end of 2018.
This time the reason is the official release of Magento 2.3.0 beta version.
Magento has announced the release of Magento 2.3.0 beta version with the aim of offering more "engaging and innovative shopping experiences".
The latest release of Magento is a treasure of new functionalities & tools along with bug fixes and feature enhancements – that are expected to help the merchants accelerate their business growth and allow Magento developers to build solutions rapidly and efficiently.
In this blog, we will look at what the latest release of Magento Commerce has in store for the merchants, end-users , and the community of ecommerce developers.
Highlights of the New Features Included in the Magento 2.3.0: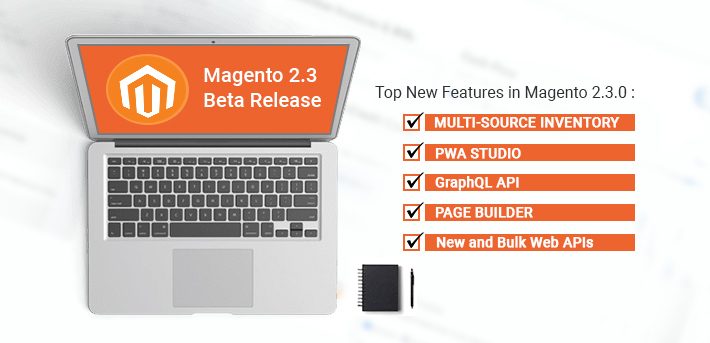 New features included in the Magento 2.3.0 Release.
What Merchants and End-Users Should Look Forward to in Magento 2.3.0:
MULTI-SOURCE INVENTORY (MSI): MSI is one of the most exciting features supported by the Magento 2.3.0. release. MSI enables the merchants to manage the inventory across multiple physical locations through a single Magento admin panel, thereby enhancing the overall efficiency of their stores.The MSI feature lets the e-commerce merchants to:

Assign products with specific quantities to each fulfillment sources including the warehouses, distribution centers or even third-party drop shippers.
Track any change in the inventory at each source.
Streamline operations by assigning priority to the inventory sources.
Seamlessly integration of the third-party inventory systems

The feature brings with it a novel approach for inventory management that helps the merchants to serve customers regardless of their location, the channel or the device they use for shopping.

MSI lets the magneto admins to easily manage their inventory spread across locations through a single panel. Image Credit: Magento

Magento Shipping: Magento 2.3.0 supports an easy Click & Collect shipping option. Through this, the end-users can choose a convenient collection location.
Magento 2 Payments: There has been a substantial improvement in the Payment option during the checkout in the latest version of Magento. The latest version lets the end user to change currency for an order before they complete the transaction.

What's in store for Magento Developers?

PWA STUDIO: Progressive Web Apps as a technology has been growing in popularity through its innate ability to create webstores that offer app-like experiences. This includes push notification, access in offline mode, ability to add a shortcut on home screen, faster loading speed, view on full screen etc.With the inclusion of a PWA studio, Magento has stepped up its game in mobile app development. The PWA Studio offers set of tools required to build Magento-powered PWA experiences.

Benefits offered by PWA studio:

Tools to personalize content and add local preferences
Innovative commerce and CMS theming to deliver an intuitive user experience
Modular component architecture to drive opportunities specially for the extension resellers
One code base, one deployment and app – to build as well as manage all channels and experiences

The PWA Studio is helpful in delivering an app-like browsing experience to the end users Image Credit: Magento

PAGE BUILDER: Page Builder is the content management functionality supported by Magento that comes with an intuitive, drag-and-drop interface enabling website admins to efficiently manage the website content.Benefits:

With a Page Builder, anyone can create new pages on their website, enrich products and categories, or easily launch content updates, without the support of a front-end expert.
The appearance and content of the website can be customized, and page-elements can be easily aligned with the help of a flexible grid system
Page Builder can be used to create dynamic content blocks or to launch content based on pre-fixed schedule.

Introduction of the GraphQL API: GraphQL is a popular data query language for API , used widely for building faster frontends while ensuring smooth transfer of data.Magento has introduced support for GraphQL API language in its latest release. This open up new opportunities for developers to fetch specific data elements from APIs in a single request and get faster and more predictable results , on slow networks.
Declarative schema: The declarative schema simplifies the installation and upgrade process associated with Magento and extensions.Using this Schema, the developers can define the database structure or update it with necessary changes in a seamless manner, and also convert the XML schema files into SQL statements- without performing any redundant operations.

Other Functional additions:

In addition to the above exciting feature additions, Magento 2.3.0 also came with following functional enhancements and bug fixes such as the following:

Inclusion of New and Bulk Web APIs: These APIs enable better control over the timing as well as the execution visibility of API calls, support scalable implementations and allow for faster performance– thus easing the development process for the Magento developers.
Improvements to release packaging + increase in test automation, leads to a faster and an efficient process of release.
New tools for Enhanced security–In order to ensure a secure operations and prevent fake logins through the webstore, Magento 2.3.0 has come up with security features like Google ReCAPTCHA and Two Factor Authentication.Further to prevent the occurrence of any accidental changes that could potentially affect the system performance, the new Magento version includes cache flush Access Control List ( ACL) . The cache flush ACL offers the user, as decided by the Magento admin, with a granular access to the cache management settings.
Enhancements in the site indexing performance – With the aim of bringing down the indexation time (by over 60%) and to support faster product updates, Magento 2.3.0 supports sharding and parallel processing of indexers.
Magento's tech stack has been released with some major updates that includes upgrades to Redis, Elasticsearch, MySQL,and compatibility with PHP. In addition, the Elasticsearch support which was earlier just available for the Magento Commerce will now be available for Magento Open Source also.Elasticsearch is an open-source distributed search and analytics engine used for advanced log analytics, security intelligence, full-text search, business analytics – and more.
Hope you liked this review of the Magento 2.3.0 beta features. If you want to know how upgrading to Magento 2.3.0 can boost your business, please get in touch with our Ecommerce Experts.