Why is Magento the Best B2B Ecommerce Platform for Ecommerce Website Development?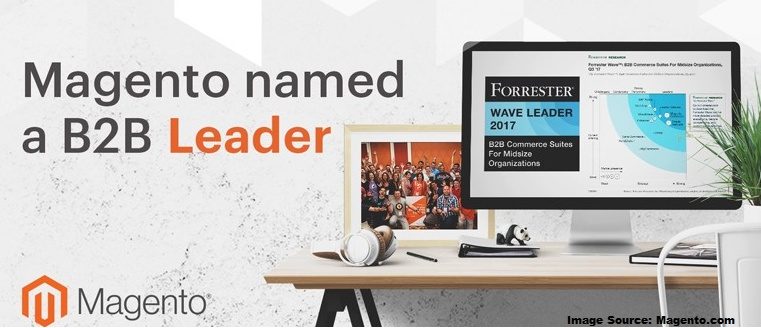 The B2B Ecommerce website development market is rapidly growing and B2B companies have realized the effectiveness of ecommerce.
B2B businesses have started treating ecommerce as a channel to not only engage with customers and achieve sales conversion but also to collect first hand data about the customer preferences and other details.
Like B2C, B2B commerce is also a fiercely competitive business segment. Protecting the market share from behemoths like Amazon is the priority for the large distributors and manufacturers.
Many B2B companies have started looking at ecommerce as a strategy to retain customers and build a loyal customer base.
Market research and B2B ecommerce
Forrester research predicts that companies will spend $2.4 billion on B2B commerce platforms by 2021.
Cloud based solutions are set to dominate the market as on-premise solutions are becoming less effective and are inefficient in handling the growing demand of the market in terms of content management, personalization and security.
Magento commerce has been named as a leader in the B2B commerce suite space in a recent report from Forrester research, "The Forrester Wave™: B2B Commerce Suites For Midsize Organizations, Q3 2017".
Forrester states that Magento is the "best fit for mid-sized B2B companies that want an open, feature-rich solution that can be extended easily and inexpensively."
Quotes from Mark Lavelle, CEO of Magento Commerce
"We're seeing a wave of global demand as more B2B companies adopt digital strategies driven by the desire to meet heightened client expectations and the need to differentiate through personalized, self-service experiences across multiple channels," said Mark Lavelle, CEO of Magento Commerce.
Now let's look at the reasons why Magento Commerce has been recognized as the leader in B2B Commerce segment by Forrester.
Magento Ecommerce Platform supports:
Personalized Customer Experience:
Personalization is the key for the success of any ecommerce business, especially for the mid market B2B companies. Magento is highly customizable and has extensions to provide customers a personalized buying experience using the customer data.
Magento is highly flexible to adapt to the growing market demand with features like machine learning, analytics and reporting to support merchants enhance the customer experiences.
Quick to Market:
Magento B2B solution is custom made to meet the demand of the B2B merchants. This helps any B2B merchants to go to market quickly than any other platform in the market. The huge number of Magento partners makes it very easy for merchants to launch their B2B ecommerce portal quickly.
Magento Community and Partner Network
Magento commerce marketplace is highly active and has many innovative extensions. These readymade plug and play extension make customizing Magento as per the need of the merchants super easy and hence reduce the development time.
Magento certified partners are a boon for the merchants as they can choose from a highly qualified network of developers to meet their budget and launch time. This is a huge advantage Magento has over its competitors.
Cloud based solution
The latest version, Magento 2.2, is a cloud based solution and has all the most important features packaged in one solution.
This serves as a huge advantage for any company looking to have a feature rich B2B ecommerce solution. They can opt for the Magento cloud based solution which can also be customized with the help of integration partners and Magento certified developers.
These features make Magento a power house in the B2B ecommerce market and provide an unassailable lead over its competitors.
We hope you have found these insights useful. Embitel is a full-service B2C and B2B ecommerce development firm which handles all aspects of an ecommerce business such as Magento design, Magento development, marketing and server support. Contact us to book a free consultation with our ecommerce developers.