Why You Should Be a hybris Developer @ Embitel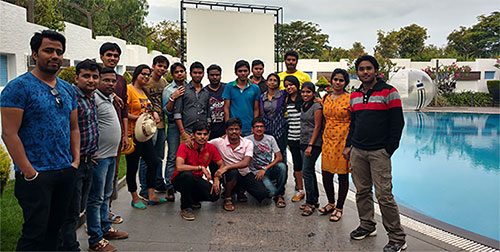 Embitel's hybris team works hard and has fun
Embitel has always prided itself on two things: its tendency to innovate for great customization, and its people-first policy—whether it's partners, clients, or employees.
Little wonder then we have a strong hybris team—robust yet agile, just like the platform. But what is it that our exceptional hybris talent enjoys about working at Embitel? They share some thoughts.
Attitude > Skill
"You may not have all the required technical knowledge or skill for the job, but if you have the right attitude, there definitely is room for you at Embitel," says Hemanth KR, Project Manager for hybris at Embitel. What's the 'right attitude'? The willingness to learn and the drive to overcome any challenges, Hemanth states.
Which brings us to the next win for the hybris team at Embitel…
Variety and challenge
Tiru A, Tech Lead, has enjoyed working on a variety of projects during his stint with the Embitel hybris team. "Exposure to clients and projects from different sectors, based in different geographies, each with a set of unique challenges – this is definitely not the place for someone who likes to take it easy," he says.
Being diverse and versatile
There is something distinctly different about the way things work for hybris developers at Embitel: they are exposed to projects from end to end, instead of being assigned to a particular technology or functionality. "This means an expansion of skill sets at a rapid pace," explains Hemanth.
Ditching the 'seniority preference'
Remember the old bureaucratic formula: older and longer-stint employees get the first climb up the growth ladder? Nobody at Embitel seems to know that. "If you're hardworking and have performed remarkably, you can expect recognition," says Monika Koul, HR Manager. Onshore projects, plum assignments, awards and promotions … Embitel has found many ways to reward those who deserve it.
No school rules
Arpit Garg, Business Development Manager (Digital Commerce) at Embitel says everybody loves the relatively relaxed work atmosphere at Embitel. "Working hours are flexible, out-of-the-box thinking is encouraged, and you don't have the management breathing down your neck," he says. "The only rule is to do your work, and do it well."