10 lessons B2C and B2B Ecommerce Businesses can Learn from Alibaba's Singles Day Sales?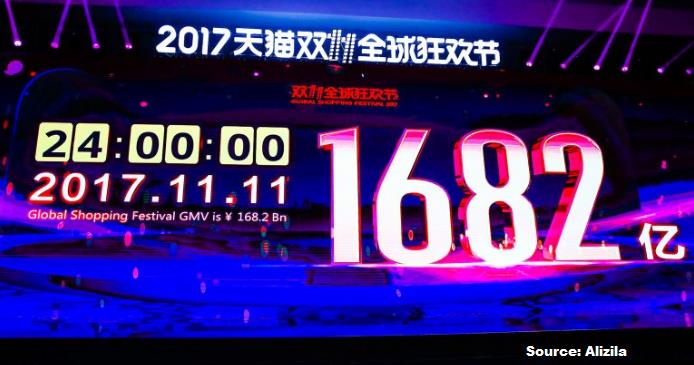 Alibaba the ecommerce giant grossed over $25 billion in sales in just 24 hours during the Singles day shopping festival held on Nov 11, 2017. With this record sale, which is 39% more than 2016 sales, Alibaba has set a new benchmark for all the ecommerce companies all over the world.
It was not just the shopping festival for the consumers but also for the merchants who have bought over $15M worth of goods in the B2B segment in the 24 hours shopping festival
[To get more insights and data regarding this shopping festival, check out our Alibaba Singles Day 2017 infographic blog post]
It is important to note that Alibaba processed 256,000 payment transactions through its Alipay platform during this 24 hours shopping frenzy. And 90% of the orders were placed through the mobile phones.
Now, let's look at some key learning that many B2B and B2C ecommerce websites can leverage from the Alibaba Group's singles day sales.
Provide Omni-Channel Shopping Experience

Alibaba converted 100,000 retail stores to "smart stores" so that consumers can have a good in-store shopping experience and use technologies such as facial recognition and location specific discount recommendations.

Not only Alibaba Group, but many other well-known brands have taken the omnichannel route.

Being able to blur the lines between online and offline and delivering a consistent shopping experience across channels is the number one learning from the 11.11 festival.

In-store technologies to ensure offline shopping is an experience

If shopping online is about convenience then shopping offline is about experience. Alibaba knows this well and has leveraged it in their strategy to provide a better in-store shopping experience.

In selected stores, Alibaba enabled AI powered fitting rooms in which consumers can get alternate clothing recommendations based on the selected apparels.

Also, consumers used augmented reality for trial and shopping of the beauty products. They used unmanned vending machines to have a smooth checkout experience.

Learning#2: Effective Omni-Channel strategy require implementation of relevant and cutting-edge in-store technologies.

Omni Channel Commerce + Gamification = Improved Customer Engagement

You have the ecommerce technology in place to deliver an Omnichannel shopping experience to your customers, what next? Now it is the time to drive more people to your stores, and convert your visit into sales. Alibaba did this by promoting augmented reality game "Catch the Cat" through their Taobao and Tmall apps.

This helped Alibaba Group to drive more footfalls to their offline stores.

Many global brands like KFC, Pizzahut and Disneyworld partnered with Alibaba to participate in this game. The key learning is that one needs to deploy engaging marketing and/or gamification techniques to achieve required conversions at online and offline shops.

Logistics and delivery is the backbone of your ecommerce success

Consumer's shopping experience is key to the success of any company and quick delivery plays a key role in providing a better customer experience for the ecommerce companies.

Alibaba streamlined their logistics using big data to provide timely delivery for their global shopping festival.

Quick fact: The first order of 11.11 festival was delivered in just 12 minutes of the purchase?

Key learning: One needs to have an excellent logistics infrastructure to provide a smooth shopping experience for your customers.

Robust Payment Gateway to keep the payments coming!

Alibaba processed 1.48 billions of payments through Alipay without any hassle. Work with your payment gateway partners and make sure the infrastructure is able handle the transactions during any major event without any issues.

You don't want to dissatisfy a customer who is ready to pay. Check and make sure there are no loop holes in this process.

What is your ecommerce technology infrastructure strategy?

Alibaba handled a maximum of 3,25,000 orders per second during the global shopping festival. To achieve this, Alibaba tested their servers multiple times and executed some really tough use-case scenarios in order to be ready to face any eventuality during the Singles day sales.

Alibaba used its intelligent engine "Da-ling" for server resource allocation during the shopping festival. This helped them to reduce the server load by 30%.

Alibaba Group has also developed a patrol robot to monitor the Alibaba cloud to help the Aliababa's IT Support team to optimize the cloud servers.

Key learning: One needs to have a strategy for ecommerce technology infrastructure to be able to cater to the online traffic at such a massive scale.

Your infrastructure needs support of CDN

For the shopping festival, Alibaba cloud used more than 1200 content delivery networks (CDN) to optimize the website and handle the spike in the traffic.

CDN was spread across 15 data locations globally to optimize and provide seamless experience across the world.

Key Learning: One need to arm the ecommerce business with robust servers backed by excellent CDN's to distribute and optimize traffic.

AI bots for better customer support and service

Alibaba's AI customer service bots are armed with many product data points to make them respond to customer queries round the clock. This has helped them to eliminate many precious hours of their customer support executives.

Your business can also use AI bots working as your 24/7 working customer service agent to answer many FAQ's of customers,

Implement Intelligent Marketing with AI

Alibaba has created multiple custom banner ads using Artificial intelligence powered designer application. The AI designer tool created more than 400 million customized online banner ads during the Singles day sale.

For a shopping festival of similar scale one can also create custom banners and marketing messages using AI powered tools by leveraging big data and machine learning techniques.

Key learning: Power your marketing with smart data and help your marketing team to implement marketing strategies based on the insights from the data.

Use Predictive Analytics for Smart Inventory management

Alibaba Group used predictive analytics based inventory system "Tmall Smart Choice" which helped merchants registered with Alibaba to identify the best selling items and plan for the inventory accordingly.

The predictive analysis is done by using various data points such as reputation, need, reviews etc to make it very accurate.

If you are a B2B or a B2C ecommerce business owner the key lesson from this is to forgo old inventory systems and replace with intelligent inventory systems which can help you to plan your inventory smartly and satisfy the need of your customers.
Conclusion
We hope our analysis on Alibaba's Singles day shopping festival has helped you to make better decisions.
Contact us if you need any help with ecommerce augmented reality applications, Geofencing, 24/7 server support or any other customer ecommerce development requirements. Our consultants are all ears to hear your requirements and help you with the implementation.