5 best Magento SEO Tricks for Ecommerce Websites
After spending months on Magento website development, painstakingly ensuring every detail and feature functions perfectly, you're finally ready to go live. But the work required to ensure success doesn't end at development—business owners must follow through with effective and consistent ecommerce SEO and digital marketing. As an ecommerce SEO company with extensive experience in Magento website development, we're going to share a few SEO tips for your Magento ecommerce website.
Start with the basics – URL Rewrites

Start optimizing your Magento site with basic configuration in the admin panel. Allow URL rewrites and keep your URLs search engine-friendly. To ensure the URLs aren't stuffed with unnecessary words, go to 'Add store code to URL' and select 'No'.
You can find the settings in the following path: General > Web > Search Engine Optimization

Header Settings

Replace the default title given for Magento websites (Magento commerce) with a more suitable title that includes relevant keywords or your brand name as this will impact the ranking of your page. The setting can be found under: General > Design > HTML Head
Keep the meta description and meta keywords empty as this field will change for each individual page. Having the same default meta description and meta keywords may lead to duplicate meta tags across multiple pages

Category Page, Product Page and Image Optimization

Magento lets you set the SEO details for each category page. Use this option to optimize all your category pages. You can modify the following SEO settings for each category page: Meta description, page title and URL value.

Similarly, meta data for the product pages must be filled out correctly, and concise yet appropriate product descriptions improve the page's performance. As an ecommerce website, most visitors are likely to reach the website when searching for a particular product in the search engine.

The other important factor to optimize on ecommerce product pages are the images. Firstly, ensure the files of the images have a relevant name. Second, give appropriate titles and alt tags for your images – this will help direct those who are searching in image search engines to your page, and will also be useful when customers are browsing your website through devices/programs where images don't load. The setting for this can be modified in each product page under the tab "Images"

Magento template optimization

These are tips that will help clean up your pages and make them easy pickings for the search engines:
Tag headings as per the relevance to its respective page. This means on the homepage, h1 tag goes to the logo. But on the category page, h1 is category title, and on product page, the h1 is the product name.
Your templates should not be cluttered unnecessarily with CSS and Javascript—move these to separate files instead. Lighter and cleaner templates make it easier for search engine spiders to crawl them.
Strive for fast loading of your website by enabling caching and good configuration with the host and server. Not only are you encouraging a website crawl, you also are ensuring you don't drive customers away with slow-loading website. Go to System > Cache Management to enable caching for your Magento site and improve your page load speed.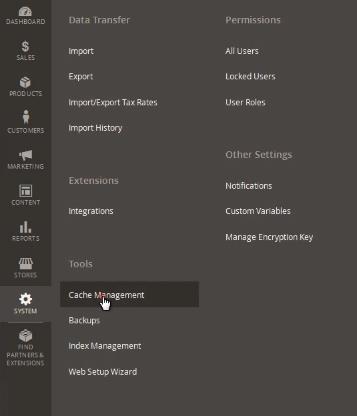 Use Canonical Tag to Avoid Duplication
Use canonical URLs to avoid content duplication. You can enable the canonical tag for both the product and category pages. The setting for the same can be found in the following path: General > Web > Search Engine Optimization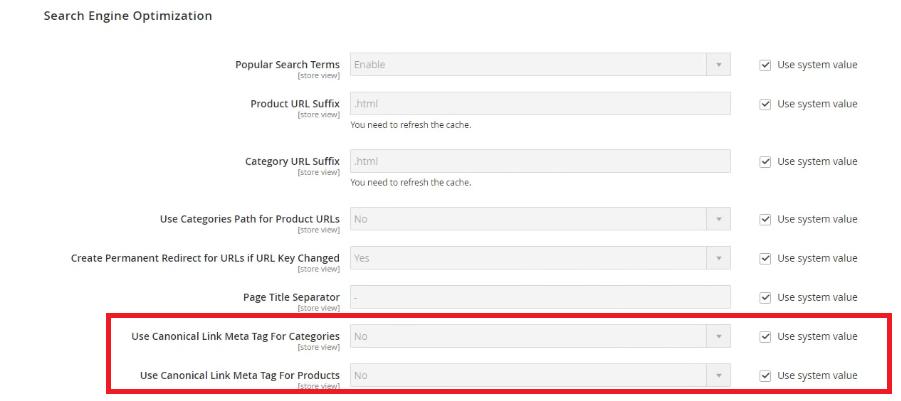 Need more tips to optimize your ecommerce website? Book a free ecommerce SEO consulting session with one of our digital marketing consultants to evaluate your website and create a free SEO analysis report for your website.