A Complete Guide on Customer Journey Mapping and User Experience
Customers are the core of your business plan, agree? To provide a great customer experience, you need to understand your customers. Treat them as a part of your venture.
Customer journey is not limited to you selling a products/service and customers buying it. Today, it has just got deeper. Companies need to recognize user behavior with their product/service. When, how, and where customers connect with your brand is a study that is of utmost importance in order to thrive in the market
Research shows that as much as 51% of the users move from a brand due to substandard customer experience and about 81% of the customers state that switching brands can be stopped if there is an improvement in the customer journey and customer experience.
Let us address the elephant in the room now. What is your strategy to convert a visitor who has spent time on your site but hasn't purchased anything? Are your customers happy with their experience and your service?
Lot of brands do not understand/perceive their customers as individuals. It is a fact. They are not entities but individuals who expect that they get better returns for what they are paying for a product/service.
Businesses should ensure that they help customers by meeting their expectations and thereby accomplishing their company's objectives. This should be a win-win situation for both. This gap can be bridged by using customer journey mapping approach.
It is not an easy task to know your customers and what they are expecting?! Customer journey mapping or user journey mapping will help you make calculated decisions. However, you have to address the below criteria before going ahead with the customer journey mapping.
Recognize the objectives and plan the process.
Understand how to apply and utilize the user data and information accordingly.
What is Customer Journey Mapping?
Customer journey mapping, also known as user journey mapping, refers to designing a customer journey map with your brand. It is a visual representation of every touchpoint and pain point of your customers.
This helps businesses to understand customer's viewpoints and aids in improving their customer service.
First and foremost, all of the customer touchpoints like website, social media platforms, interactions, chat history with sales and marketing teams, etc. are mapped out.
User journeys for various touchpoints based on each buyer persona are created. For instance, the millennial buyer persona is that they will be aware of the product on social channels, read reviews and research on your brand's mobile app, and finally purchase it on desktop or mobile itself.
A customer journey map should include each step like this including how your brand response should be noted.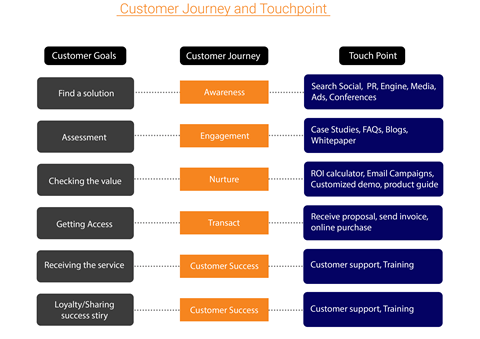 Why is customer journey mapping important?
Today customers expect omnichannel marketing and customer service. Irrespective of the size or type of the business, you should meet their requirements to thrive in the market. This is an apt approach where customers can receive support across various platforms like social media, messenger apps, or live chat.
Customer journey mapping is a strategic way to better understand your customer expectations and realize ways to optimize the customer experience. Businesses should ensure that personalization is achieved at every turn in the journey for every user and across all channels.
Customer journey mapping allows you to upgrade customer onboarding process. It helps you to understand different buyer personas as they move ahead from potential users to loyal customers in the sales funnel.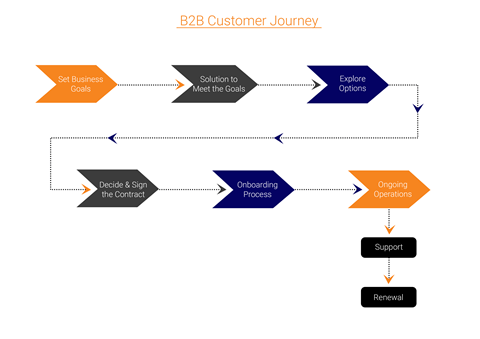 How Do We Use Customer Journey Mapping?
Customer engagement is more than getting traffic to your site or increasing the number of likes and visits on your social media platforms. Authentic engagement is about co-operation and realizing a suitable way to co-exist for customers and businesses together. It is about how much of a difference is your product or service making in an individual's lives.
You should use customer journey mapping to understand that customers on different channels should be treated differently as they prefer communications distinctively. Organizing collaborative workshops across teams will be beneficial in large companies.
Graphic representations of customer experience across channels will allow all the members of various teams to understand the entire experience from the customer's viewpoint. You will get answers to questions like, how they prefer to be addressed, what they think while browsing the products, what they like to see and do and how do they feel about the experience and service. Customer journey mapping helps in designing contextualized marketing campaigns & messages to promote a brand's offerings.
User Journey maps are the best way to discover the "what ifs" that come up during research and conceptual design.
Must have Components while Customer Journey Mapping
Personas: The main qualities which describes the needs, goals, thoughts, feelings, opinions, expectations, and pain points of the customers.
Timeline: Definite time frame (say, 1 week or 1 year) or fluctuating conditions which could be like awareness, decision-making, purchase, renewal.
Emotion: Graphs or diagrams describing frustration, irritation, anxiety, joy, happiness etc.
Touchpoints: User's actions and interactions with the brand.
Channels: Medium where the interaction takes place such as website, native app, call center, in-store.
Moments of Truth: A positive or negative interaction and its outcomes. Experiences that left a lasting impression and moments that made an unsatisfactory notion about your brand.
Supporting Attributes: Surrounding individuals like caregivers, friends, colleagues who might add into the experience.
Customer Journey Mapping Process
Goals Assessment

Evaluate enterprise goals for the product or service as the larger goal and have specific goals for customer journey mapping strategy.

Detailed Research

Ensure all relevant user research are done on quantitative and qualitative data insights of customer experience. Do whatever it takes to make a thorough research, use approaches like user interviews, contextual inquiry, ethnography, customer surveys, customer support, complaints, web analytics, social listening and competitive sense.

Analyze Touchpoint and Channels

Produce a list of the channels and customer touchpoints where interactions occur every day. Discuss about any other channels or touchpoints that can be added while mapping the journey.

Take for example, if the touchpoint is "making a payment", then the channels related with this touchpoint can be "pay online," "pay via mail" or "pay in person."

Empathy Mapping

Empathy maps portray various aspects of a persona and his/her experiences in any given scenario. This will help you in classifying your observations, understanding your customers extensively, and use the insights at appropriate times.

This method acts as the groundwork for journey mapping. The objective is to get an overall picture of your customer's thoughts, their sight, what they listen, what they say or do.

Designing with lenses

The purpose of brainstorming is to generate ideas using "lenses" or primary points based on brand's key features, key concepts of the brand ideology or problem-solving viewpoints and so on. By doing this activity, the whole team gets involved, heard and seen; and you never know where your next inspiration is from.

Affinity Diagram

Post the brainstorming with lenses activity, the next step is putting it down as diagrams and exploring possibilities and solutions for customers. In this method, ideas are sorted into categories and labeled.

Journey Outline

Now comes the most exciting part of the process – journey mapping. You put everything together – timeline, touchpoints, channels, platforms, emotional highs and lows and the new ideas that were generated by the teams Et Al.

There is no right way to draw the map, no manual, just go with your creative best.

Digital Representation

Not many companies have it as an elegant deliverable. It mostly ends up as sticky notes or sketches on white board. It is advisable to have a refined map illustrated so that you can always go back to refer them and for the better understanding of the team members. Having a visual designer who can design the journey map will go a long way.

Share and Apply

It is always recommended to maintain journey maps consistently. For instance, you can set a time frame say for a quarter or year and assess your past and current customer experiences and realize how much has changed and what remains the same.

Appreciate the effort

Once the journey maps are created, share it with all the stakeholders of the business. Appreciate the effort of everyone involved.
Conclusion
Journey mapping is a process that provides a holistic view of the customer experience by uncovering moments of both frustration and delight throughout a series of interactions. Done successfully, it reveals opportunities to address customers' pain points, alleviate fragmentation, and, ultimately, create a better experience for your users.
Although journey maps are generally a tangible achievement, what also matters is the entire process of creating the maps. It pushes your team to think deeper and helps you to connect with customers at an individual level.
Where do you stand in this whole schema of the thriving trend?