Decoding AEM Version Upgrade Best Practices for a Smooth Transition
AEM is the best modern solution to all things content today. AEM (Adobe Experience Manager) is a fantastic combination of DAM (Digital Asset Management) and CMS (Content Management Solution) which helps to resolve and optimize seamless workflow between marketing teams. The mojo is to provide the best customer service across all platforms like web, mobile, email and social media.
To achieve this, we need to be on par with the technology and latest features updates. This is where timely upgrades come into picture. To elevate your brand awareness and utilize time and resources, AEM upgrades are necessary.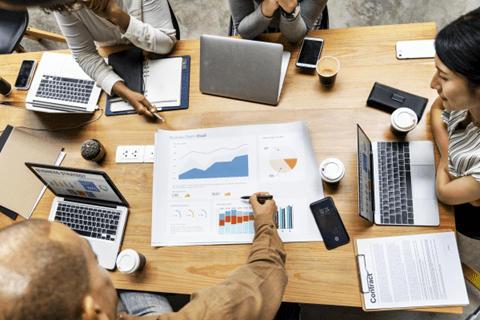 Did you know that up to 40% of technical experts do not consider an upgrade until the last minute. There are various reasons to it. But we have listed some strong grounds for upgrading the AEM versions. Read on!!
Why go for an AEM Upgrade?
The most evident reason for an upgrade is to leverage the benefits of the newest features and development in the functionalities of the framework. A lot of enterprises go for an AEM version upgrade to secure compliance with Adobe product maintenance and support policies.
Adobe supports previous versions of AEM in phases over a period of time. When you upgrade to newer versions you automatically get 100% support from Adobe for all the AEM applications. The newer versions will come with better performance and stability.
Upgrades are not as easy as it sounds. It calls for substantial time and effort from the resources. Multiple factors like complexity of current configuration, number of applications running, critical and non-critical tasks in apps, and end user requirements etc. Hence it is crucial to associate with a trusted partner with a reliable and proven record of Adobe and AEM expertise and who can efficiently and smoothly complete the upgrades.
What Happens During an AEM Upgrade?
There are few general steps during the AEM upgrade, but it mostly varies from client to client depending on their requirements and AEM platforms. However, the primary criterion is that client should have AEM versions within one or two previous models while upgrading.
A successful upgrade is one that involves thorough evaluation, planning, and implementation path which minimizes issues, delays, and costs.
Evaluation and Planning
Let's look at two main methods to perform successful AEM upgrades are:
Upgrades establishment: Use Adobe's in-place upgrade procedure and tool for the chosen version
New installs: Set up a new instance of the chosen AEM version, update the code for installing the chosen version. Complete the step with content migration and configuration (which includes workflows, custom OSGi configuration, etc.)
Analyze the client's business objectives and framework requirements before going with the AEM version upgrade. Below mentioned are a few essential scenarios and considerations to delve into:
Is it necessary for the client to retain versions and audit history for compliance? Here an in-place upgrade is generally recommended.
Status of pre-upgrade conditions and requirements? This step is of utmost importance for a successful in-place upgrade and should be checked prior to initiation of the upgrade process.
If the client wants to go for a "clean" setup? Some clients prefer to start fresh, so in such cases we suggest a new installation.
The client has too many API dependencies that requires a considerable workaround for the in-place procedure to work properly, what next? This is one such case where the client initially wanted an in-place upgrade but was advised to opt for a new install.
The upcoming steps in the AEM upgrade process depend on the approach chosen. The key steps for each approach are mentioned below. These steps differ depending on the client's current configuration and applications.
Upgrade Steps
A pre-upgrade maintenance check is done before going ahead with in-place upgrades. First, an AEM package associated with pre-upgrade maintenance optimization is installed. The latest AEM versions provide enhanced upgrade process, in-depth analysis of reports, early error detection, development and automation of pre-upgrade maintenance tasks. This not only facilitates a unified approach to handling maintenance tasks but also aids in evaluation of the results on demand whenever and wherever needed.
Post the installation of pre-upgrade maintenance optimization AEM package, configured maintenance tasks performance is checked at run time. The next step is to perform pre-upgrade compatibility checks to assess AEM instances like detecting APIs that aren't compatible with the chosen version and might fail after the upgrade.
Content migration is not needed during in-place upgrade as a copy is already available. After the completion of pre-upgrade tasks, the in-place upgrade is executed.
New AEM configuration, Installation, and Migrate Steps
Completely new installations involve more manual steps during content migration and configuration.
The fundamental methodology for a new installation is:
Building and establishing a new AEM instance or multiple instances
Renovating the code repository POMs (Project Object Model) requirements
Fixing any issues to install these dependencies to the new AEM instances
Setting up AEM
Content Migration
API or upgrade issues refactoring
Conducting regression testing
Typically, for shorter instances an AEM upgrade takes 7-10 weeks to finish. Whereas larger and more complex websites involve more testing which makes the upgrade cycle longer. If the sites have previously installed AEM versions or platforms, then the upgrade happens in considerably less time. Certain upgrades call for altering the client code base which will impact the project layout and timeline.
Embitel is a registered Adobe Partner with 15 plus years of expertise in the industry. We assist organizations to enhance their platforms efficiency and improve AEM security and stability. Contact our team at sales@embitel.com