Embitel Leadership Diaries: Why You Should Promote Ownership at Workplace
Embitel Leadership Diaries is a series of articles penned by employees to share their thoughts and experiences, personal and professional. This article is written by Dipanwita Jakkula, Delivery Manager, Ecommerce.
"Success on any major scale requires you to accept responsibility . . . . In the final analysis, the one quality that all successful people have is the ability to take on responsibility."
— Michael Korda

Editor-in-Chief, Simon & Schuster
Ownership – in personal and professional life flourishes only if the environment facilitates responsibility without fear.
Talking about ownership at workplace, I recall an instance from a project, which involved complex and challenging product development.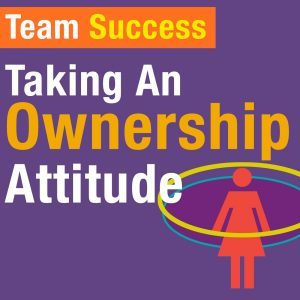 (Image Source – http://blog.strategiccoach.com/)
Our offshore team had completed software development & Unit Testing phase and was about to start System Testing (ST) when Murphy's Law manifested itself.
A couple of software modules had to be loaded on the newly designed test rig to start ST but the programs refused to load!
A day went by without progress. Subsequent investigations revealed that there was a backward compatibility issue and a lot of rework was needed to set things right.
Our team then decided to conduct a detailed Root Cause Analysis (RCA).
After letting the team simply talk among themselves for a while, the issue emerged. It turned out that an architect from the client's team had tweaked the architecture for this particular release and had forgotten to add the backward compatibility requirement in DOORS.
The architecture had been the same throughout past releases, so nobody realized any alterations/additions were required.
Before commencement of the project, it had been defined that architecture and initial requirements were the client's responsibility, and our team's work began from Requirement Analysis.
So one word, that was bandied about the most during our discussion was 'ownership.'
While we finally had put our finger on the problem, the tricky question of whose responsibility was it left each one of us pondering.
It made us realize that if only one goes a step beyond the assumed boundaries of responsibility to ensure how the overall work can be perfect, instead of being territorial and bureaucratic about it, a lot can be saved, and a lot can be gained.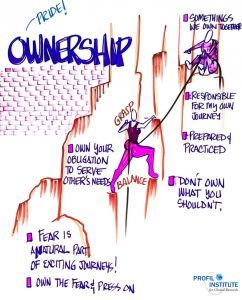 (Image Source – Profil Institue)
So as a leader, my quandary is how do we inculcate a sense of ownership in our team members? Ironic as it may sound, the sense of ownership cannot be inculcated.
Ownership as a trait is already present in every individual. But it manifests itself only when there is an environment of trust, a sense of belongingness to the organization one works with, a sense of belonging to the larger interests of the team.
It is the responsibility of the organization's leadership to create that atmosphere of trust, to remove the road blocks in the system, or in interactions which prevent individuals from assuming responsibility.
Empower individuals to draw up and execute their own plans. As a Manager (who aspires to be a good leader) one may review, monitor, provide support as needed, it is essential to believe and treat team members as important stakeholders in the project.
The attitude and behavior of managers (leaders) can act as a catalyst for creating an environment in which team members become firm believers of the greater cause of team's and organization's success.
This requires a shift in belief and behavior, and needs to percolate right from the top to the bottom. If an organization works towards strengthening this practice (may be by deploying the critical tools of reward and recognition). The rest will just follow.