Key Principles of CX – Customer Experience Design
It has become obvious that engaging and retaining customers and fulfilling their demands is the number one priority of companies, but isn't it challenging?
Oodles of choices have led to superfast and seamless service demands by customers. Companies must develop and execute competently in order to deliver exceptional user experiences.
As someone has truly said, first impression is the best impression. Companies must recognize the importance of customer experience at every touchpoint. They should not miss out on any opportunity that can help in building a strong brand identity.
You surely need a certain level of specialization to constantly deliver an exceptional customer experience in digital commerce. This is where Customer Experience (CX) Design comes to the rescue.
In layman terms, CX is a business function built to enhance the experience of every customer at every moment whenever they associate with your business.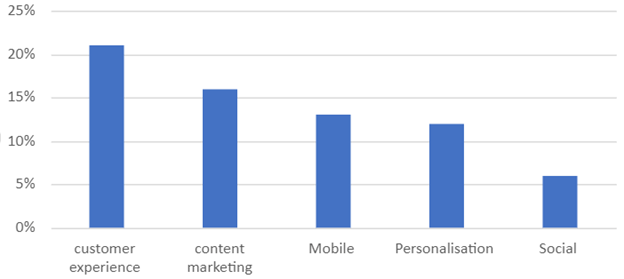 Business Opportunity Analysis
The above graph shows customer preferences while using the applications. Enterprises can look at it's as a business opportunity analysis and plan and execute on these lines.
What is CX Design?
We have heard about UX but what is CX? New version of UX? One might have lot of questions on this.
In simple terms, UX design is associated with the product and CX design is associated with the brand.
UX designers are focused on creating easy user experience on mobile devices, website or other kind of software that customers use. Whereas CX designers are responsible for co ordinating business objectives with the entire journey and experience of a customer during their interactions with the brand.
Let us begin by understanding CX and then CX design before we dive into CX design principles.
Customer Experience (CX) refers to the customer interactions and experiences with your business throughout the journey, right from initial contact to becoming a happy and loyal customer.
CX is a fundamental part of CRM – Customer Relationship Management, because positive experience is more likely to lead them to become a loyal customer. Investing in CX is the best move to retain customers.
CX design is the practice of creating clear and efficient interaction between the company and its customers. Customer experience can be divided into three parts: single interaction, customer journey, and lifetime relationship.
Key Principles of CX Design
The following principles are significant in CX design. Businesses should adapt them to successfully deliver exceptional digital experiences:
Goal- oriented customer experience design to enhance business performance.

The objective of any business is to deliver the design that they conceptualized for their services. The services should meet customer demands and may even exceed expectations.

It does not come naturally for few people in the design or development team to always deliver excellent customer service and experience. Hence it is the responsibility of the businesses to piece together the touchpoints that should be developed efficiently. This is the best way to deliver a great customer experience consistently.

Give human touch to CX

When was the last time you had a great customer experience? What made you feel good? It could have been an incident that made you feel acknowledged, personal recognition that made you feel special, attention to detail that made your day or a certain issue that was resolved without any hiccups. Chances are that you remember the "feeling", and that made the customer experience an exceptional one.

Adding this human touch in the services that businesses offer will go a long way in creating a great customer experience and converting them as loyal customers. Interactions form the base for a successful customer experience design.

This humane approach applies to the employees of businesses too. This leads you to our suggested method for CX design – co-creation. When a company brings different groups of people for knowledge sharing, innovations or sometimes a third-party individual as an adviser, then it is termed as co-creation.

Involve the organization into the CX design process

Once companies have clear knowledge about their CX and customers, it is best advised to co-create the experiences that they think should be delivered at every touchpoint.

What is the need to co-create you ask? From our experience on CX, we have established that no one knows your customers better than the business itself, and the employees working to get the business services/products in front of the customer. From bridging customer experience gaps, looking for opportunities, making success stories and/or rebuilding from failures, the front-line team members employed by the business know it best.

The senior management and leadership teams might not have a handle on the process in a similar way as the very team that interacts with customers day-in and day-out.

Plan and create an ideal customer experience

When a business plans to do a co-creation workshop, they must make sure that they include current state of customer journey with all the stages and touchpoints and their insights on customer milestones and their issues.

They should then divide the teams into smaller groups and make them articulate the following questions:
What should an excellent customer experience at each touchpoint look like?
How would each touchpoint make their customers feel?
Why and What changes should be made to accomplish the CX? It could be in terms of words, processes, actions, systems, tools, training or collabs.
By the end of the workshop, the business should have a road map on their ideal customer journey. They should be confident on planning, implementing and executing it within the time frame that was set for the task. They should also register the experience enhancements and note the business case for each and every change that was associated with the process.
Documentation of customer experience
After designing the customer experience, businesses should use Innovation Blueprint (a universal approach to embed a durable innovation facility into the organization) and Experience Guide (a complete guide to CX) to implement the collaborative ideas from the workshops.
They should then share the Innovation Blueprint, Experience Guide and other documents with their teams. Continuous feedback from the team will address the critical questions like 'why', 'what', 'how' and 'when' with value addition to the process.
Businesses should remember that motivation and responsibility are the key factors for employee engagement strategy.
Before We Sign Off….
In case you are seeking a partner to help you chalk out a winning customer experience design, we have got your back. We at Embitel create customer centric CMX (Customer Experience management) strategy across all touchpoints aligned with the branding goals of global businesses. We offer solutions like personalization, digital analytics, user journey mapping, UI/UX design, solution architecture and custom solutions development. Check out our page to know more.