Magento 2 Community Vs Enterprise Edition: A guide to Evaluate for Ecommerce IT Managers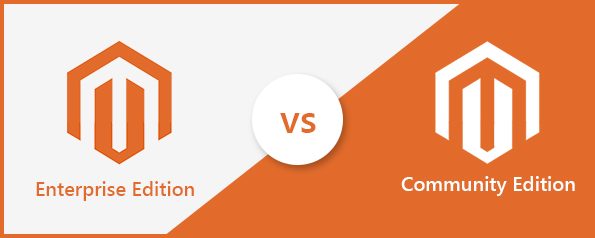 When comparing Magento 2 Community Edition and Magento 2 Enterprise Edition, the first visible difference is in cost. The license for Magento 2 Enterprise Edition comes at a higher cost, but this is explained by the advanced features and capabilities that come with it.
That's not to say Magento Community Edition isn't useful. Each edition suits different needs, and those who opt for Magento Enterprise Edition get the features of Community Edition plus some more.
So which one could be a worthy investment for you? Let's find out by digging deeper into the details.
Magento 2 Community Edition – the features and ecommerce implementation
Magento 2 Community Edition gives you everything that you need for complete ecommerce website development. To list some of the features that come bundled with it:
Website Management features such as multiple online stores From a single admin area, web services API for easy integration between Magento and any third-party application
Custom website design and styling
Checkout features like one-page online checkout
Payment features such as integration with Amazon Payments, PayPal, Authorize.net, and Google Checkout; SSL Security Support for all orders and transactions, online tax and shipping calculation
Shipping features integration with UPS, FedEx, USPS
Multiple shipments on a single online order, free shipping functionality, manage shipping by weight and destination
Search Engine optimization
Google Analytics and reporting
Order management
Catalog management
With Magento Community Edition, development of a fully functional and sophisticated webstore is possible. If one needs to incorporate additional features, you can easily find extensions on the Magento Marketplace.
Magento 2 Enterprise Edition – the features and ecommerce implementation support
The Magento Enterprise Edition is a more viable option if your ecommerce website requires high performance and scalability. Some of its additional features are:
24/7 technical support from Magento for every problem related to web store, control update implementation and responding to customers' queries.
While using Magento Community Edition, you would be able to organize its technical support in two ways – either appoint a Magento support team or outsource task to someone. Here, you have to keep in mind that to keep your web store efficient and well performing, you should have to spend almost 3% to 10% eCommerce revenue on platform's maintenance.
A hallmark of this new version is scalability and efficiency. The Enterprise Edition is designed to ensure out-of-the box performance for fast growing businesses and though they sell at fast pace, the platform offers excellent user experience.
It also comes with client-side performance optimization, such as minimizing and bundling JavaScript, compressing images, and better browser caching for static content. Apache Varnish caching leads to improvement on the server side. Also present are standalone databases for order management, product management and checkout with support for MySQL Cluster.
Enterprise Edition ensures faster growth for web stores. The platform is particularly designed for SaaS-like upgrades that make site scheduling easier and allow CMS pages to save on a versioning system that can revert previous copies whenever needed. Enterprise Edition enables web owners to select any of the deployment options to complement their business needs, consisting of on-premise, cloud and managed hosting.
Inclusion of advanced features such as Solr search, Google Tag Manager support, and extended admin rights management
Customer Attribute Management – The ability to manage customer attributes and create custom customer attributes
Magento Enterprise or Community Edition – which one to choose?
The answer to this question depends on your business needs. If you're a relatively small-sized business, or have simple requirements with a small catalog or customer records, the community edition should fulfil your needs easily.
On the other hand, if your requirements include significant scope scalability, or you have complex business requirements like multi-website stores, or integration of a different ERP, Magento 2 Enterprise Edition will offer a more robust platform for your needs.
That is not to say the Magento 2 Community Edition cannot be customized for complex requirements, but development time and cost will increase.
So use this information along with a solid understanding of your business requirements to identify the version of Magento 2 for your business.
If you'd still like advice on choosing the right platform, our ecommerce consultants can guide you to make the right choice. And our certified Magento 2 developers can help you execute a complete webstore on Magento 2.