Magento ecommerce Implementation in the Middle East
At almost 30% market share, Magento commerce is the most popular ecommerce platform globally. It's not surprising—Magento is stable, cost-effective (especially for small and medium enterprises), offers flexibility and is compatible with a vast range of plug-ins and extensions.
Magento's capabilities make it a great choice for businesses in the Middle East.
As one of the most under-penetrated markets, ecommerce sales in the Middle East are currently valued at about $3billion per year, and estimated to reach $70 billion by 2025.
"Ventures that are operational or will be operational over the next 12 to 18 months will enjoy early mover advantages," says Rahul Rathi, head of retail at GRMC Advisory Services, with reference to ecommerce in the region.
These early movers can tap into the potential of Magento to enjoy the benefits of a lucrative market.
To demonstrate the versatility and completeness that Magento offers as a platform, we have put together a list of successful Magento webstores in the Middle East across a variety of domains.
Ubuy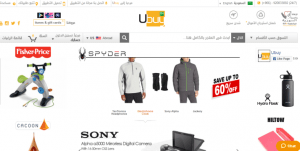 As a lifestyle marketplace, Ubuy has products across several categories for sale in several Middle East countries—UAE, Saudi Arabia, Qatar, Bahrain, Jordan, Oman and more.
Ubuy has been implemented on Magento platform, since it supports its large SKU count and dual-language requirement (Arabic and English).
The platform also supports multi-store implementation, with a different store for each country.
Ubuy is integrated with internationally-recognized as well as indigenous payment gateways, and has an Android and iOS app.
If there's any webstore that showcases the impact of Magento platform, it's Ubuy. It includes features such as:
Customer touchpoints across web and mobile sales channels,
a product list that cuts across categories,
multi-language and multi-store implementation.
Ubuy utilizes the capabilities of Magento ecommerce platform thoroughly.
Digumz
An online game rental store, Digumz[dot]com has been implemented on Magento 1.7. The webstore is multilingual and offers multiple currency options for users.
The unique requirement of a rental business is the need to track every item in the inventory—available, borrowed, out of circulation—as well record its history.
This tracking has been enabled on its Magento webstore, along with a feature that lets users see their position in the queue for the desired item as well as the expected time of delivery.
Digumz has enhanced the browsing and shopping experience on its Magento store with a responsive gaming theme that has helped increase its popularity.
Basicxx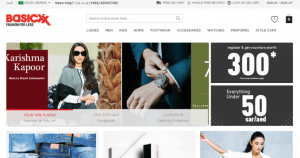 A popular clothing store in Saudi Arabia and the UAE, Basicxx has a successful online store on Magento ecommerce platform.
Through this webstore, the brand employs useful strategies such as upselling and cross-selling, and timed banners and promotions.
Basicxx[dot]com, like most webstores in the Middle East, has an Arabic as well English webstore and has developed a different theme for each store to reinforce its identity.
Implementation of a Lazy Loader on the store ensures user comfort, and integration of a local third-party payment gateway like Payfort has helped the webstore build credibility.
The brand has also enabled tracking of user activity on its store to help analyse shoppers' behavior and use analytics to boost sales.
1 Platinum Concierge
The market for luxury products and experiences is significantly large in the UAE, and it's vital for this segment to have online presence too.
1platinumconcierge[dot]com reaches out through a Magento commerce webstore to make its premium concierge services available to its customers online.
1 Platinum Concierge uses its Magento store to share information about its services, membership and loyalty program. Besides that, it offers gift cards for sale.
Unlike regular ecommerce sites, which focus on product variety and sale, this webstore focuses on conveying a premium experience through design and UX.
As early movers backed by a strong platform, these 4 Magento stores in the Middle East are already enjoying the benefits of their investment in Magento ecommerce platform.
But these are just examples which that go to show the possibilities with Magento Commerce are endless and other Middle East brands should not hesitate to explore them.