Does the Future of Industrial Asset Management Belong to Predictive Maintenance?
Unexpected machine downtimes can be one of the leading causes of economic loss for an industrial business, specifically in the manufacturing domain.
According to various published reports, automotive manufacturing can suffer from downtime losses amounting to $1.3 million per hour. Also, market analysts have found that an average factory unit can have downtime costs ranging between 5 and 20 percent of its productive capacity.
The machine downtime could be due to damaged or malfunctioning equipment, a fault in the connection line or the underlying software code, or fluctuation in external factors such as pressure, temperature or power.
All this makes it both necessary and challenging for a business to be able to anticipate the future occurrence of the faults. This anticipation is very critical in order to prevent the downtime or to be better prepared to minimize the loss.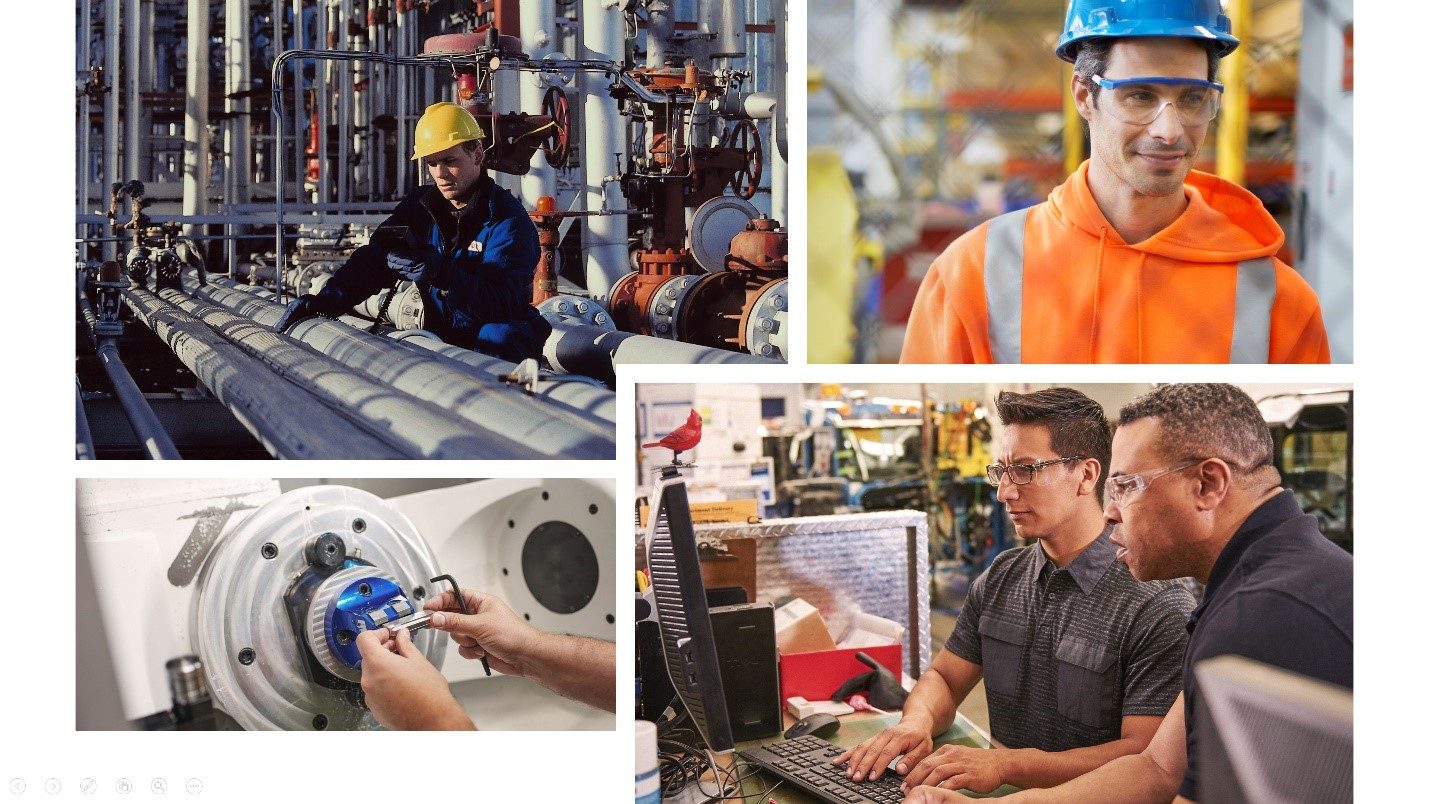 Future of Industrial Asset Management; Image Credit: Microsoft
Redefining Industrial Asset Management Practices with Predictive Maintenance:
Predictive maintenance will be an ideal asset maintenance strategy for any business dealing with capital-intensive assets. It is also best suited for manufacturing facilities looking for ways to reduce machine downtime costs.
Predictive Maintenance is a system and process, which when implemented, has the potential to help businesses to cut down loses by enabling them to predict the costly machinery faults, unexpected shutdowns and schedule the required maintenance operation.
Predictive maintenance, especially in the context of industrial production, is said to increase productivity by 25%, decrease events of breakdowns by 70% while also reducing maintenance costs by 25%.
Power of Predictive Maintenance
Predictive maintenance solutions offer a distinctive advantage –  it allows to perform most of the evaluation and maintenance activities while in service without having to disrupt the business operations.
Needless to say this helps in greatly reducing the factory downtime for maintenance activities.
Additionally Predictive Maintenance solutions help businesses to:
Improve Asset Availability
Improved Work-force Productivity
Optimize Energy consumption
Lower operational costs
Reduce occurrence of fatal accidents due to faulty or poorly-maintained equipment
Have a Fool-proof Industrial Asset management & maintenance system
Statistical analysis of the Predictive Maintenance Market:
As Predictive Maintenance is gaining popularity across the industrial verticals, market experts and researchers have made some interesting observations about its future course.
A report [Global Predictive Maintenance Market By Component, By Deployment Type, By End User, Competition Forecast & Opportunities, 2012 – 2022] published by TechSci Research suggests that the global predictive maintenance market is projected to grow at a CAGR of over 31% during 2017 – 2022.
The report suggests that the predictive maintenance has emerged as a popular solution for industrial asset management and is being adopted by various industry domains including manufacturing, transportation, healthcare, defense, energy and utilities – to name a few.
Rapid advances at the technology front, mainly due to IoT (internet of things), has created a strong case for investments in predictive maintenance solutions. From UPS battery monitoring in industrial/commercial facilities to continuous air fleet management to thermal power plants monitoring, the spectrum of applications that are leveraging predictive maintenance solutions seems to be ever-evolving.
The ever increasing popularity of the predictive maintenance solutions can be attributed to:
Advent of secure cloud computing platforms
Widespread availability of wireless communication technology
Penetration of IoT based devices and advances in analytics
Rapid advancement in industrial sensor technology
Progress in machine learning tools
These technological advances has made it possible to execute real-time evaluation of machineries and opened up newer and faster modes of M2M communication.
This in turn has made it possible to collect, analyze critical data related to the actual condition of industrial assets, enabling informed maintenance decisions to be taken. The positive market sentiment towards predictive maintenance based systems is also driven by:
Need to replace outdated infrastructure
Tightening market competition to deliver faster and better
Shrinking profit brackets
The need to meet production targets without being interrupted by unplanned machine downtimes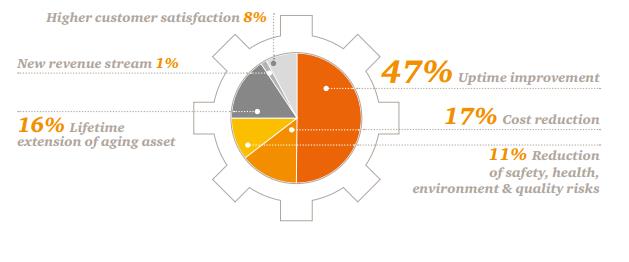 Reasons for widespread adoption of predictive maintenance. Image Credit: pwc.nl
Predictive Maintenance vs Traditional Maintenance Methods:
In order to understand why predictive maintenance is fast gaining popularity over the traditional methods of industrial maintenance, let us take a brief look at what each of the technique mean.
The Industrial Asset Maintenance Techniques are Broadly Classified into:
Reactive Maintenance: is carried out when the equipment failure has already occurred and maintenance is done in response to the failure. This type of maintenance activity is carried out when the application or the equipment relatively of low value.
Preventive/ Planned Maintenance: is carried out in pre-set intervals where the machines health is analyzed for any traces of failure. While this is cost-effective, the entire fault detection and maintenance process depends on how effectively the fault was detected at the scheduled time. And this sometimes means replacing equipment, which has been detected with a defect, even if it could have more useful lifespan.
Proactive/ Condition Based Maintenance (CBM): A data-driven approach, the condition based maintenance entails equipment monitoring based on its actual conditions. Here, the equipment is monitored for any fluctuation in performance or a wear and tear in any equipment that could lead to greater harm to the entire industrial process.  Considered a more accurate maintenance activity than preventive maintenance, CBM analyses the root cause of the equipment failure and takes into account any signal towards a slackening equipment performance.
Predictive Maintenance: is carried out with the help of efficient sensors, and intelligent control systems that send real-time data about the condition of the equipment. The main advantage of the predictive maintenance is it's a continuous process and does not require the machinery to be stalled or shut down for monitoring purpose.
Also, since predictive maintenance makes use of insightful and real time data about the machinery, it helps in pattern learning and pin pointing the root cause that may otherwise go unnoticed.
Additionally, coupled with advanced data analytics tools and machine learning techniques, Predictive Maintenance can also help in making efficient and informed maintenance decisions and gain better insights into the equipment health.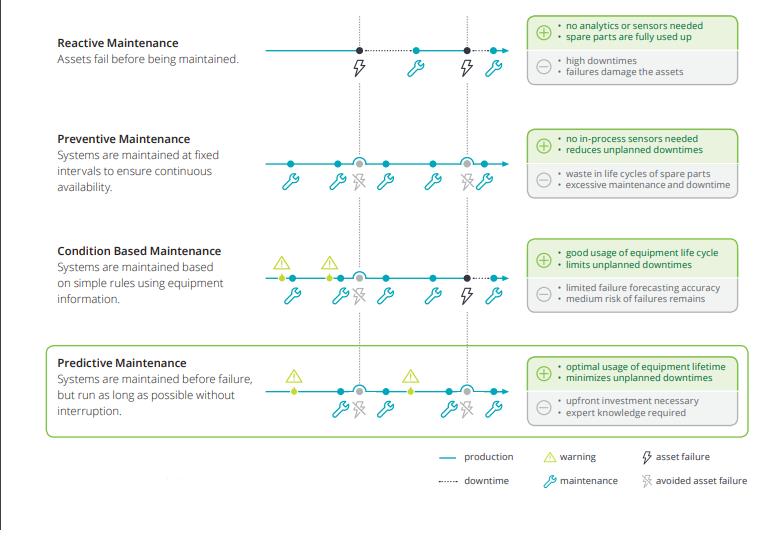 Difference between varius Industrial Asset Maintenance Activities. Image Credit: Deloitte
The investment in future:
The need to mitigate technological risks, and reduce operational costs and improve profit margins has strongly favored businesses to adopt predictive maintenance solutions as their long term strategy.
Many of the business organizations have already witnessed drastic changes with strategic investment in predictive maintenance solutions for industrial asset management. In fact, various research findings have suggested that organizations that have adopted predictive maintenance technology have reported 25%-30% efficiency gains.
Deloitte, in a recent report on Predictive Maintenance for Industry 4.0, has observed that predictive maintenance solutions helps increase equipment uptime by 10 to 20%, while reducing the maintenance cost by 5 to 10%, along with a significant reduction in maintenance planning time by 20 to 50%.
Summarizing the Predictive Maintenance (PdM) benefits:
Real time information about equipment condition without any downtime
Bases real time data and advanced analytical tools to make maintenance related decisions
Offers greater transparency about equipment condition through data collected through sensors.
Predict equipment failures well in advance so that necessary pro-active maintenance actions can be performed.
In a nutshell, predictive maintenance with the help of advanced machine learning algorithms will change how industries view asset management as a process while helping them increasing their operational efficiencies while focusing on a sustainable growth.