Unraveling the Story of Evolution of IoT and Its Rapid Adoption
IoT is no longer a new kid on the block and has paved a journey so eventful and so successful since its invention, that today IoT is one of the topmost business growth drivers.
So, isn't it interesting to know how IoT has evolved over the time to be in the mainstream business today?
This blog is a humble attempt to understand that.
The Need for M2M Connectivity had Always Been There..
Though the concept of connecting the machines or the physical systems have been a subject of interest for the technology innovators for quite a long time and various inventions  have been made in this regard.
For a very long time, RFID was being used by the manufacturers of consumer goods and retailers on the shipping pallets for easy inventory management. Though at that time, " IoT" as a term was never envisaged, the basic context of having various physical systems communicate with each other over a distance in order to improve operational efficiency had always been the objective.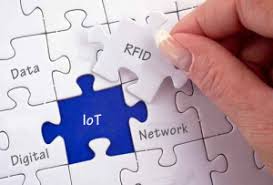 Image: From RFID to IoT. Image Credit: mojix
Yet, the breakthrough came with the idea of reinventing RFID into a networking technology by the MIT professor, Kevin Ashton, who coined the term Internet of Things (IoT).
Once the IoT began to be used for integrating such approaches (connecting and remotely monitoring various entities) into a common framework, there has been no looking back.
The Chicken and Egg Analogy
Thus it would not be wrong to compare the evolution of IoT from RFID with the chicken or the egg causality dilemma.
Though IoT as term was coined by Ashton, to represent linking of physical objects through RFID, but the idea of connecting physical systems has existed even before.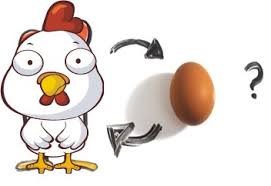 Image:
Evolution of IoT is analogous to the chicken-egg dilemma: Image credit: Pinterest
The Gradual Evolution of Internet of Things (IoT)
Let us have a look at how the evolution of IoT as a concept happened over a period of time along with the timelines:
Year 1999: Kevin Ashton , co-founder of the Auto-ID (for Automatic Identification) Center at MIT coined the term "Internet of things ". His definition of IoT was based on reinventing RFID as a networking technology by linking objects to the internet using the RFID tag.
---
Ashton's vison was to create a system "where computers would be capable of gathering data without human help and render it into useful information, which would be possible with technologies like sensors and Radio Frequency Identification (RFID) that enable computers to observe, identify and understand the world."
---
Year 1999: Device to Device (D2D) communication as a concept was coined by Bill Joy as part of his "Six Webs" framework at the World Economic Forum.
Year 2000: LG Internet Digital DIOS, the first Internet-connected refrigerator in the world was invented. The refrigerator used a LAN port for IP connectivity.
Year 2001: David Brock, co-director at the Auto-ID Center, MIT,  proposed a new object identification scheme, the Electronic Product Code (EPC), instead of the conventional Universal Product Code (UPC or 'bar code') for unique identification and tracking of objects throughout the product life cycle using the infrastructure/internet."
Year 2003: The  "Project JXTA-C: Enabling a Web of Things" is published by Bernard Traversat and team at the 36th Annual Hawaii International Conference.
According to them, the Project JXTA's aim is to specify a standard set of protocols for ad hoc, pervasive, peer-to-peer computing as a foundation of the upcoming Web of Things.
Year 2003: A special kind of network to connect many of the millions of tags that are already in the world was launched at the McCormick Place conference center.
The launch of electronic product code (EPC) network was attended by numerous delegates from across the worlds of retail, technology and academia.
Their aim was to replace the global barcode with a universal system that can provide a unique number for every object in the world. Some have already started calling this network 'the internet of things'.
& some more parallel inventions and experiments later…
 Year 2005: The faculty at the Interaction Design Institute Ivrea (IDII), Italy, invents a single-board microcontroller to be used in interactive projects being developed their students.
Later in that year, the International Telecommunications Union published a report titled "The Internet of Things", one of the 7 part report on internet.
Year 2008: Different industry stakeholders come together to form the IPSO Alliance to promote connected devices. This was a big leap towards having the IoT implemented for large scale business in real production setups.
2016 and Beyond: We have connected home, connected cars, IoT enabled manufacturing plants, and IoT based solar trackers.
Internet of Things has spread its wings across the industries and a newer term "Enterprise IoT (EIoT) " has been established that includes devices used in business and corporate setups . As per the market experts, there would be about 50 billion connected devices by 2020.
Although, the definition of IoT has changed from what Kevin Ashton had envisioned it to be with numerous technology inventions, the founding principle of having a network of interconnected devices that are interacting with each other and the surroundings to collect and analyze  information using internet has remained the same.
Over the time the RFID based IoT model failed to gain enough attention due to limited connectivity option, high cost of devices and infrastructure. Plus, the RFID based system was not deemed fit for large scale production set up such as the industrial automation. But IoT continued to evolve due to advancements in IP based network connectivity and various other technical innovations that made M2M connection possible over broader range.
The Hows and Whys of Rapid Adoption of IoT
So far we discussed about how IoT has evolved step by step , over a period of time. However, this discussion will be incomplete without looking at the key factors that has led to the rapid adoption of IoT across the industries today.
Some of the key drivers of the widespread adoption of IoT across the industries can be summarized as:
Advancement in Connectivity and network capabilities
Improvement in cloud computing
Invention of Data analytical tools and rapid improvement in data handling capabilities
Availability of low-cost devices, plus reduced computing and memory costs.
Advancement in the networking capabilities– Today, there are numerous wireless technologies available in the market that enable communication among devices.
Some of the widely used networking technologies range from Wi-Fi to Bluetooth, from ZigBee to Z-Wave, from DECT  to Thread. In addition to these, AllSeen, DLNA, and UPnP , the peer-to-peer communication technologies are enabling direct device connectivity without the need for an access point
Improvement in cloud computing: The rapid improvement in the cloud capabilities has been a significant factor in making IoT so accessible and widespread.
That's because the cloud provides a low-cost, and an always-on place for storing and processing data/ information.
Availability of affordable cloud infrastructure has facilitated seamless offloading of storage and computing related tasks onto the cloud servers from the IoT devices. This in turn has made it easier for many industries to embrace IoT faster. Today, IoT and cloud are inextricably linked and are implemented to simplify complex business problems.
Reduced costs – The availability of low cost sensors along with gradual decrease in the cost of connected devices has helped businesses- both mid-size and small scale ones –  to look at IoT as a viable technique.
Thanks to the numerous technical advancements made over the year, today the computation costs, the memory costs and wireless connectivity costs all have been made affordable for more users.
Advancements in data handling and analysis – Over the past decade, data handling as well data analytical capacity has improved by manifolds. Data collection and analysis being the USP of an IoT based system, advancements in data analytics has definitely opened up newer IoT use cases.
Today there are multitudes of connected devices that interact and exchange humongous volumes of data – that too in varies data formats.
The magic of converting data into actionable decisions and to make revenue out of them was possible with the advent of Big data based analytical tools.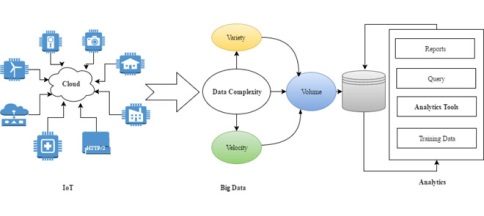 Image: The IoT adoption and Big data connection;  Image credit: IEEE
Numerous data analytics techniques such as Spatial Analytics, Time Series Analytics, Streaming Analytics are being used to analyze the data which vary both in formats and structure (structures and unstructured data, Location based data and time based data..).
Thus, advancements in the field of data analytics has not only helped business in widespread adoption of IoT, but also opened up newer opportunities to create and scale business.
In addition to these factors, the rapid adoption of IoT has been made possible by:
– Improvements in areas like data traffic, storage and processing capacity, data volumes & more..
– Invention of newer standards enabling connectivity between IoT hardware and software from different providers.
Concluding Thoughts:
Like the legendary quote that goes like "Rome was not built in a day", the evolution of IoT too evolved gradually over a period of time, with numerous parallel experiments being undertaken.
Though IoT's beginning can be traced back to the Ashton's RFID experiment at the MIT's Auto ID Centre, the modern IoT is a convergence of numerous technologies such as cloud computing, wireless communication, data analytics among many others.