IO CIF Connector for AEM Improves Marketing Agility & Offers Immersive User Experiences
Adobe Experience Manager (AEM) features like the Commerce Integration Framework (CIF) provide an easy path to integrate the platform with ecommerce engines using GraphQL. Accessing ecommerce store data, displaying it, collecting responses from website users, etc. can all be accomplished by the CIF.
With AEM and Commerce integration, website visitors can register and start shopping immediately. They will be able to view price changes instantaneously as well.
The best part is that these additions to AEM help companies deliver personalized and exclusive customer experiences.
IO CIF Connecter from Embitel and Diconium
The Digital Experience teams at Embitel and Diconium have gone a step ahead and developed an IO CIF (Commerce Integration Framework) Connector.
The IO CIF Connector acts as an interface which links the marketer's AEM repositories with third-party commerce platforms like SAP Commerce and Commercetools. It basically acts as a bridge between the frontend and the backend.
Using the IO CIF Connector, ecommerce enterprises can leverage the maximum benefits of Adobe Experience Manager as it integrates seamlessly within the business workflow.
IO CIF Connector Demo
This demo of the IO CIF Connector shows how it enables marketers to easily enhance the website to offer relevant shopping experiences. In this demo, we see…
How marketers are facilitated with IO CIF features which helps them to create better user experiences without complexities.
How to increase sales and conversion by providing seamless shopping experiences
Making every page shoppable and helping customers add the products into carts from anywhere and any device
How to integrate IO CIF Connector with any third-party tool smoothly
Detailed explanation of Drag-and-drop features
How to bridge the gap between content ad commerce and create exceptional experiences for customers
Why Should You Opt for the IO CIF Connector?
IO CIF Connector is an easy plugin app based on GraphQL. It takes less time to track, requests are processed easily, the robustness of the software is fast. It also accommodates a database of any order and size.
The best thing is it took only 4 developers to fructify this product within 6 months. The results were incredible, the product became easy to handle, better cross-selling options, dynamic, personalized and relevant shopping experience for each customer.
Advantages of IO CIF Connector
Customization at every touchpoint for every customer based on their profiles.
Enhanced content creation and delivery
Availability of 'preview' option for content before execution on various devices
Purchasing process made smooth and easy with the availability of dynamic pages
DAM (Digital Asset Management) tool to manage all kinds of assets
Efficient cross-selling through automated product manifesto
We discuss in detail in the article below the product developed for our client and its outcomes.
Technical Specifications of IO CIF Connector
IO CIF Connector is primarily used to revamp the data from SAP Hybris/ Commercetools into a functional format by AEM and other Adobe Experience Cloud products.
It is based on Adobe I/O and Apache Open-whisk (OW) framework.
The principal constituents of the new commerce services are serverless functions (OW actions). These OW actions get linked with the system or other endpoints through their APIs and can be installed on Adobe I/O Runtime. The actions are performed in response to the events. OW oversees the architecture, servers and scalability.
The AEM and SAP Hybris / Commercetools offer a CDN (Content Delivery Network) for your assets that allows your content-rich pages to load faster. AEM allows you to personalize not only content but also images and video making the entire page worth browsing. Also, just with a single click on the content and instantly you can check the cart for added items.
The product is deployed diligently with Adobe Experience Manager, Adobe's comprehensive content management system within Adobe Marketing Cloud. SAP Hybris / Commercetools have been upgraded to support Adobe Experience Manager's new features.
AEM's newly stated functionalities support dynamic requests and experiences, thereby empowering organizations to quickly and smoothly apply commerce wherever possible and leverage the benefits. The experiences could be related to in-store associate apps, digital signage, mobile and IoT devices, or social commerce to build context-specific transactions.
Customer Success Story
Customer sees a remarkable increase in online sales
Unified and smooth integration of B2C and B2B commerce platforms
Assistance in building a completely digitalized after 'pre-sales' process
Go Live went earlier and successfully than the scheduled time
Roll-out in 4 countries within 3 months of launch
Architecture Design

CIF Integration Design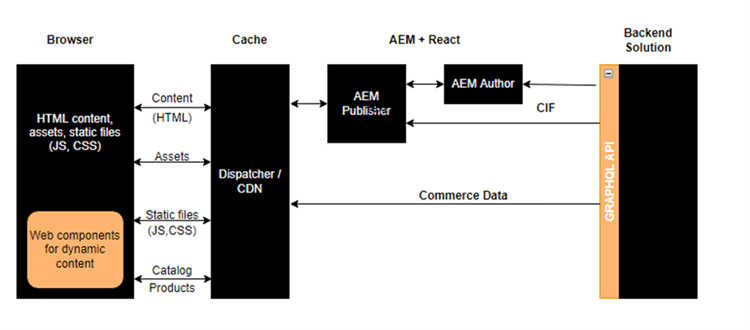 Significant Outcomes of the Project
Delivered customized and immersive shopping experiences at scale.
Simplified assessment and control on building, maintenance and testing of product and experiences.
Easy availability of ready to use elements and IT agility for flexible solution framework.
Conclusion
AEM's add-ons have been a boon to users, developers and marketers alike. With the addition of IO CIF Connector into the kitty, AEM has empowered customers into creating better customization and nuanced experiences for users everywhere.
The incredible framework of IO CIF Connector helps in any third-party integration happen seamlessly and efficiently. The results so far have been fantastic. Customers across the globe have vouched for unprecedented flexibility with this AEM extension.
IO CIF Connector is definitely a time-saving and economical commerce solution.
We at Embitel provide end-to-end ecommerce solutions to our esteemed clientele globally. Schedule a call with our sales team to find out more: sales@embitel.com