Grocery webstore features for a seamless shopping experience – hybris RDS demo (Part I)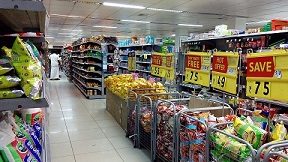 As an FMCG and grocery retailer in India, when you take your business online, your webstore isn't just another stream of revenue to supplement your brick-and-mortar outlet. To actually enjoy a share of the world's fastest growing ecommerce market, your webstore needs to be designed and built in a way that ensures:
an end-to-end replication of business operations
it runs as a channel integrated with your offline stores
it delivers a seamless shopping experience along with convenience
it enhances the faith and loyalty your brand has build over years
To implement a webstore that reflects these, our Ecommerce Consultant has listed out the must-have features for your grocery and FMCG webstore, all of which are present in Embitel's hybris-based rapid deployment system, CPG LaunchPro 100. These features can be divided into two categories:
Front-end features that enhance the end-user online shopping experience
Back-end features that ensure end-to-end replication of your marketing and business operations
This post will discuss some of the front-end features.
This post is also the part of a series to demonstrate a SAP hybris based Rapid Deployment Solution (RDS) – CPG LaunchPRO 100 – designed for enabling the B2B/B2C online channel for your grocery/FMCG/consumer goods business. This pre-tested and pre-packaged ecommerce solution lets you launch your grocery and consumer packaged goods business online in as little as 100 days.
List of front-end features for an online grocery store:
Responsive design & native mobile app
Because people like to shop on the go, especially for everyday necessities, it is imperative for your webstore's UI design to be compatible with all devices (desktop, mobiles and tablets too)
A responsive desktop webstore is pre-packaged within the 100-day implementation scope of CPG LaunchPro 100.
User personalization to support up-sell and cross-sell strategies
The grocery and CPG industry is volume-driven, and margins are low. So retailers deploy up-selling and cross-selling strategies to increase sales volume by offering packaged or bundled goods to customers.
To support such strategies, LaunchPro 100 has in-built features. At the time of registration, the customer's dietary and personal preferences are requested. These details, and browsing and purchase history are utilized to design up-sell and cross-sell of products. This is done through a vital personalized selection on your webstore which displays promotional offers and recommendations, specific to each user.
Simplified product search with call-to-action for better conversion

Research suggests that an average shopper's grocery basket has 15-20 items.
The purchase process involving the search, selection and add to cart is made faster and easier in the RDS by displaying product information (image, price, quantity) and add to cart button in the search bar itself, thus encouraging purchase.
Support for selling perishables by weight
The unique thing about shopping for fruits and veggies is quantity. Unlike other goods, which are sold as individual units, these items are usually sold by weight, and this needs to be accommodated in your webstore too.
LaunchPro 100 supports features that allow you to have different quantities on offer by weight, with corresponding prices.
Product variants displayed on the product-details page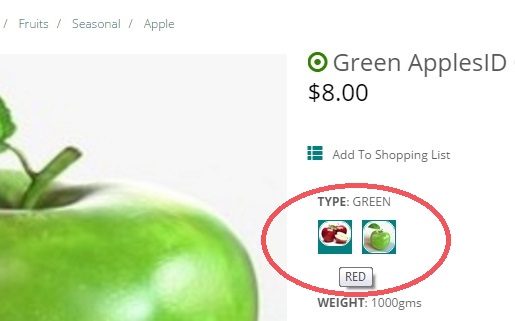 When it comes to shopping for daily needs, people are creatures of habit, preferring to stick to tried and tested variants. So when consumers shop for apples, they may have specific preferences: green, or Washington, or Himachal.
Keeping this is mind for CPG LaunchPro 100, when your customer lands on a specific product page, the other product varieties are automatically listed there, offering the customer choice and easy access.
Clarity to avoid double purchases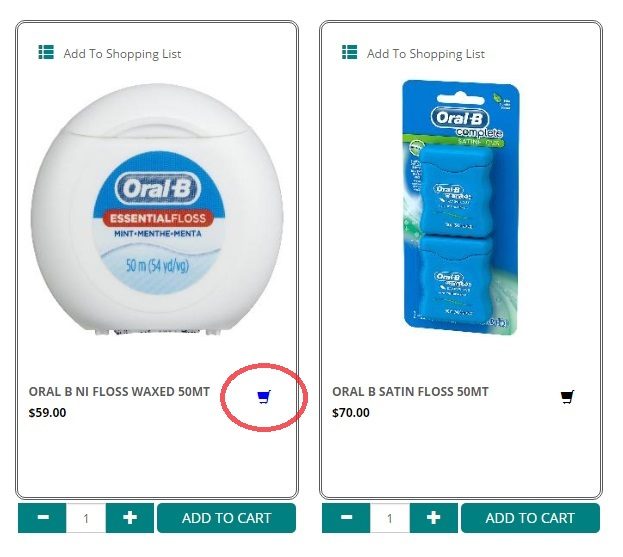 Grocery shopping involves the purchase of several items, often in small quantities. Consumers sometimes end up ordering the same item twice, especially if there isn't a clear distinction of items already added to cart, making them feel they have wasted money. In order to avoid this, items added to the cart should be clearly distinguished.
To avoid any such confusion for the customer, once an item is added to cart, it is distinguished by a different colour on the product-list page in our RDS. This helps the consumer prevent double purchases.
A more organized shopping experience with multiple shopping lists
The consumer habit, for periodic shopping like groceries, is to create a list to ensure purchase of all that is required.
The hybris-RDS allows each customer to create multiple shopping lists as per his/her convenience: fruits, vegetables, dairy, or any other segment. These lists can be consolidated and even allow for purchase of all items with a single click. These lists stay saved in each customer's account, and can be pulled out for reference of use any time, over and over again
While these features revolve around the customer's browsing and decision-making experience, the next post will demonstrate the segment-specific features implemented during checkout.
What is CPG LaunchPro 100?

CPG LaunchPro 100 is a cloud-based rapid deployment system on hybris platform to facilitate end-to-end implementation for an online grocery and PMCG business in as little as 100 days. This RDS has been developed and is being implemented by Embitel Technologies.

The RDS offers savings on implementation time and cost, and Embitel's experience in working on hybris for this sector means you get the assurance of quality.