How Ecommerce Gained Grounds in the Middle East Post Pandemic
Post pandemic recovery is underway everywhere. The Middle East is no different from others, but it is winning the eCommerce sector steadily and how! The economy has been impacted in such a way that it has become a blessing in disguise to the marketers and retailers. It has paved the path for technology like never before.
Today, consumers and businesses are moving to digital channels and the transformation is happening at a bigger level. According to a survey by Ernst & Young, shopping habits of almost 92% of consumers has changed in the UAE and Saudi Arabia.
A large number of companies are already buying most of their supplies online and a majority of them predict that B2B ecommerce likely to become predominant in years to come. Electronics, computing, fashion and beauty industry are the sectors which will leverage this trend enormously.
Albeit their financial apprehensions, it is notable that 49% of Middle Eastern respondents are willing to spend more in the coming months, as compared to China, France, Germany and the UK. However, one can expect the changes in their buying habits. Before the lockdown, consumers preferred travel, accommodation and entertainment. Consequently, post-Covid 19, consumers are willing to spend more on groceries, entertainment and media.
Key Factors that Enabled Ecommerce Transformation
Expansion of Internet, smartphone, and broadband

In 2019, the Middle East had an estimated 174 million people using smartphones and about 67.2% internet expansion rate. This high percentage shows the connectivity range and tech savvy consumers in the region. Easy access to information, transaction speed and luxurious utilization at their fingertips are things that the consumers value here.

Digital Banking and Payments Architecture

With progress in digitization, one can clearly see the rise in digital banking (both mobile and online banking) in the Middle Eastern region. When it comes to digital banking, MENA offers a high ceiling to the growth of e-commerce. More recent reports show that high digital banking penetration has transformed into high consumption by customers and over 85% of personal loans for a major bank in the UAE are opened digitally since 2019.

Supportive Administrative Setting

Ultimately, the growth of any economy hugely depends on a supportive regulatory environment. The Middle East has several initiatives and policies that encourage people to invest in e-commerce sector. One such initiative is CommerCity. It is an economic free zone customized for e-commerce opportunities. In 2018, the Arab League established the Arab Federation for Digital Economy, a beneficiary to the Arab Federation for e-Commerce, to ease cross-border and regional collaboration, representing the region's enthusiasm for digital transformation.
Benefits of Accelerating the Ecommerce Transformation
With a scalable channel to interact with customers, retain and attract customer spends, get ROI from the demand disruption that was caused during COVID-19
Aids in rising entrepreneurship and innovation. You can incentivize localization of e-commerce businesses and cost reduction in a badly-off environment
It has proven to be more convenient, offers more choices for customers, profitable prices; along with this, one can see a better and bigger market expansion with targeted engagement between businesses and customers via digital channels
This paves way to collaborate with regional and international markets and reach out to people globally.
Surprisingly, the lockdown has made the consumers who previously resisted change to try out online retail channels. These customers are now willing to continue using online services even after the pandemic is over. It is certain that digital engagement by Middle East consumers will become influential and expand to new horizons for good. At the same time, it will now be a monumental responsibility on retailers' part to make the best use of the insights and analytics and target customers and deliver customer expectations better.
Another important point to note is that there are customers who are buying more products online and they might also be first time shoppers. They are exploring options like visiting the stores to check the catalogue and buying online. Cost and value addition will be of paramount importance for retailers as they have to pursue sophisticated, tech-savvy customers, both online and in-store. There has been an increase in requirement for digital payment gateway and credit solutions.
In the wake of Covid-19, people have started giving prominence to health and wellness. This trend is gaining popularity and hence the spending patterns have also shifted for a section of consumers. Retailers should acknowledge this development and leverage the trend to reap benefits.
At the same time the catchphrases that retailers should follow closely are flexibility and resilience. Businesses should cater to customers and meet their expectations with ease and customer loyalty should not be taken for granted.
Some of the most ambitious companies have started developing the next level of retail marketing I.e AR (Augmented Reality). They are working with big guns of various industries or working towards pilots. The impact of virtual reality for shopping is extraordinary; imagine, you can indulge in the in-store experience from your living room. There has been a tremendous level of innovation over the past few months, with retailers largely utilizing technology to help online customers picture themselves trying out premium products.
The Middle East Mall Experience: Yay or Nay?
Eventually, it is a fact that, technology has not yet reached a stage where one can experience the products like they do in physical stores. The touch, feel, smell and interaction cannot be done online. We can safely say that a bridge between both, like hybrid shopping experiences where both online and physical stores are likely to be the norm.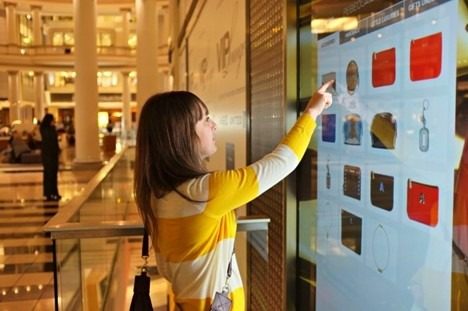 We should not ignore the crucial social factor that malls play in the Middle East. People will continue visiting the mall for shopping, dining, entertainment and more with necessary measures of social distancing.
The masterstroke here is to maintain a happy place where both digital and physical stores co-exist with a strong supply chain set up.
In the past 14 years, Embitel has been helping its customers, both large and small sized businesses in charting a successful digital transformation journey. Check out our customer success stories to know how we have collaborated with leading business organizations to transform their digital strategy into reality.