How Modern Retailers can Leverage Internet of Things for Supply Chain Management
Increasing complexity of consumer demands, tightening market competition combined with digital disruption has driven the retail chains to go for a major overhaul of their operations – specifically the Supply Chain Management.
Today, modern retailers, are focusing on streamlining their supply chain, improving inventory management, enhancing logistics and transportation to meet the consumer demands and increase profitability.
Integrated Supply Chain Management (SCM) in times of IoT
The new age SCM is defined by parameters such as rapid, scalable, intelligent and connected.
A majority of business organizations are redesigning their supply chain management to make them new age. And the aim here is not only meet the consumer needs but also to address the major bottlenecks in the growth trajectory.
Following are some of the key supply chain related challenges confronting retailers across the world.
Delayed order delivery
Unpredictability of market trends
Demand – supply disparity
Internet of Things (IoT) is believed to deliver efficient and rapid solutions required to address these supply chain challenges by leveraging embedded sensor technology, Data science, Predictive maintenance and Machine Learning.
According to a new report from Aruba Networks, by 2019, 79% of retail organizations would have adopted Internet of Things (IoT) technology and 77% believe it will transform the retail industry.
Thus, IoT is surely going to determine the future course of retail organizations and bringing disruptive changes in their supply chain management systems.
How to Leverage IoT Benefits to transform Your Supply Chain:
Organizations are restructuring their supply chain management systems to distribute the supplies evenly across the value chain and improve the speed to market using IoT .
The Aruba report says that the majority of retail merchants find use of IoT in supply chain management, real time product tracking, warehouse and distribution management, ambience control (heating, lighting), and also for customized promotions.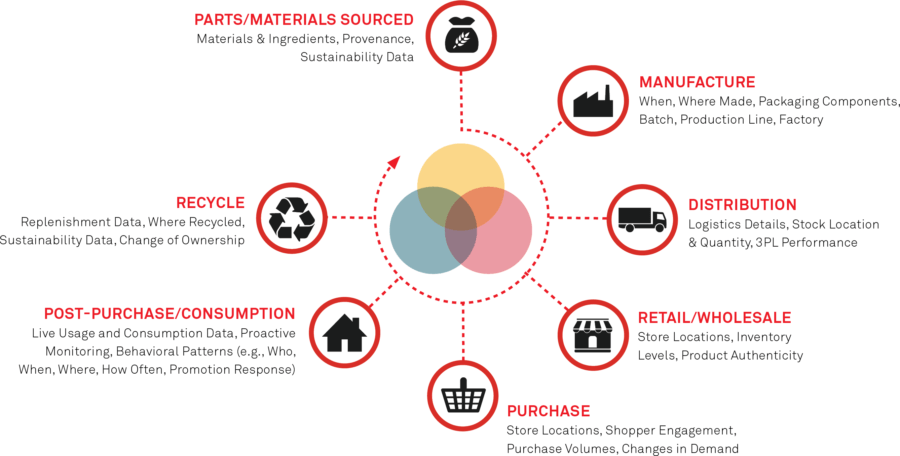 Image Credit: evrythng.com
As a business organization looking for scaling retail operations and creating an integrated supply chain, you may want to leverage the following features of IoT in supply chain management :
Product tracking: Real-time monitoring and accurate tracking of the supply throughout the product life cycle using location based services (Geofencing, telematics) is bound to help you ensure timely and quality delivery of services and improve customer satisfaction.
Improve Transactional Efficiency: Most retailers struggle with consumers complaining about delayed product delivery, damaged or misplaced order.These instances could be prevented using the power of cognitive computing to analyze data and offer deep insights.

Cognitive computing techniques help in keeping track of inventory and consumption levels; and in auto-replenishing the stocks, as and when needed, using efficient algorithms. Cognitive computing can offer end-to-end visibility of entire product shipment processes and automate the delivery process so that the supplies reach the consumer on time and in good shape.

Thus, cognitive computing algorithms are also helping retailers in

Reducing the ordering-to-shelf cycle time
Reducing Supply – demand disparity
Reduce instances of lost or damaged goods





Image Source: orbcomm.com

Efficient Inventory management: With the help of IoT, the supply chain stake holders can build an efficient inventory system. In such a system, the information related to finished products, volume and time of orders, raw material availability, inventory and manufacturing capacity – all are captured using intelligent IoT devices.Needless to say, such a streamlined inventory system will help in increasing profitability, reducing loss due to waste and damage, and improve customer satisfaction through on-time delivery.
Thus, IOT empowers your supply chain management by facilitating more visibility, better planning, and efficient (both time and performance based) execution by creating a highly connected and traceable ecosystem. And it is crucial for you to know when and how to adopt IoT to suit your business model.