Looking back @ 2016: Our year in ecommerce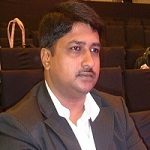 Arun Kumar, Head of Ecommerce at Embitel, recounts noteworthy happenings at Embitel in the last 12 months.
"As the year started, we were certified as one of the few early Magento 2 Trained Solution Partners in India. We've successfully implemented projects on Magento for clients from various parts of the world, and we were excited to offer a new, more agile and scalable version of the platform.
"In 2016, we established our proficiency in implementation for the food & beverage industry. Besides our mobile and web projects for clients in India as well as the Middle East, I'm proud to share news of Embitel's rapid deployment solution (RDS) for the sector.
We've spent months drawing on our work experience in the sector and developed a hybris-based RDS that supports the distinctive needs of the F&B industry. It's a win-win scenario: we can implement efficiently and quickly, the client saves on time and cost.
The interest and enquiries generated by this solution have most certainly been encouraging!
"A new milestone for us this year has been our first project for a financial services company. With the large number of products and services on offer, implementation for a financial services company presents unique challenges, and I take pride in our team's success!
"We've recently expanded our repertoire by becoming an SAP Value Added Reseller (VAR). As a VAR, we now offer our clients the convenience of purchasing SAP licenses directly from us, instead of having to coordinate with the licenser and the service integrator.
"Our success comes from our clients' satisfaction, so we're constantly working to better ourselves and our offerings. Our teams are continuously pushing their limits, and have had some fine accomplishments this year, such as implementation of omnichannel retail through apps and webstores, integration of large database into apps etc.
To better our processes, we've introduced an automation framework to automate testing and deployment. Efficiency in our processes translates to better outcomes for our clients, and we're always striving towards that.
And now, we're ready to set our sights higher and do better than ever in 2017!"