Magento 2 v/s Magento 1.X benchmark tests: Results reveal why magento 2 migration is a good idea
When Magento Commerce announced Magento 2 platform with much fanfare, the question asked everywhere was obvious – is it really so much better?
So the brand decided to put the new platform to test. It compared the performance of Magento 2 against Magento 1.14.2 on several parameters. The results speak for themselves.
Magento 2 features
Magento Commerce promises faster, easier and cost effective development. A modern architecture with great flexibility and scalability and ease of customization, Magento backs these claims with the support of the following features:
On the client side:
a layered architecture with four tiers that are optimized for performance and scalability. Different components can be scaled independently to meet the requirements of different business use cases and different loads onthe system.
improvement in page response and load times by improving the way the application interacts with the browser as well as reduces the amount ofdata that must be returned from the server to render web pages.
Magento 2.0 maximizes the usage of the browser cache for storing assets, thus minimizing the amount of content that needs to be downloaded to render any subsequent page.
Improvement of response time by using asynchronous processing during checkoutand cart operations.
extensive use of caching of page content and static assets on the server to accelerate response times.
On the server side:
optional asynchronous updates for ordermanagement and product data to make concurrent operations efficient and to eliminate gridlock orblocking operations during updates, when multiple Admin users are working simultaneously.
job queue-based on Rabbit MQ, which allows for asynchronous processing of jobs, and improved scalability
tuning andoptimization of the databases to better handle high traffic and transaction volumes
the ability to use different databases for different sub-systems or areas ofthe application, thus allowing for different functionalareas to be scaled independently depending on the system load and unique needs of the business
Magento 2 v/s Magento 1.x: The results
Magento 1.14.2 and Magento 2 were pitted against each other and the upgrade came out tops in case for both small as well as large businesses. The following situations were played out:
Catalog browsing
Adding both a simple and configurable product to the cart
Completing the full checkout process (all steps) as a customer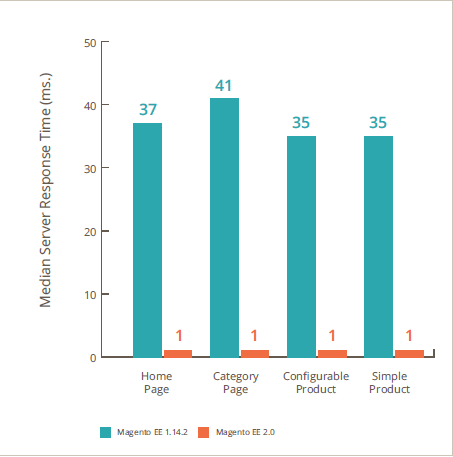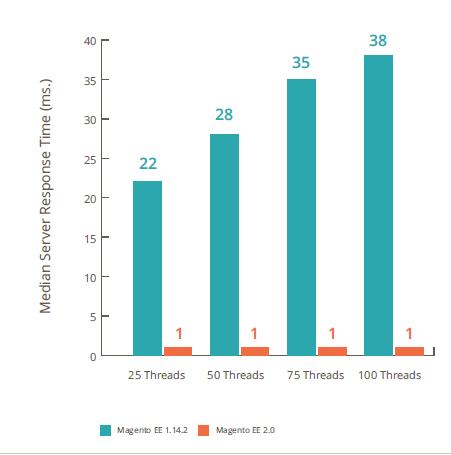 Throughput, or the ability to process orders per hour. A significant increase for Magento 2.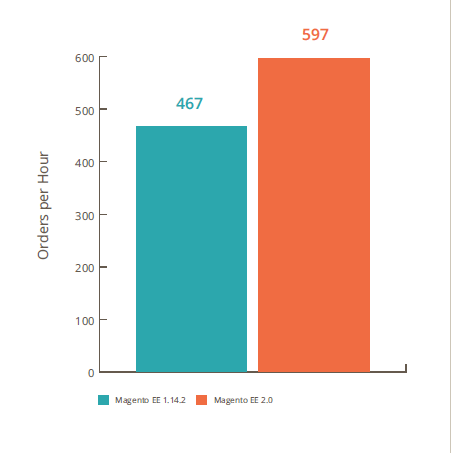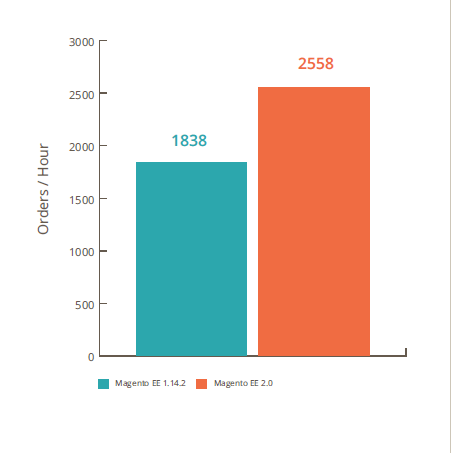 Catalog browsing is much faster with Magento 2 thanks to nearly instant responses for cached content and faster generation of new pages in case of a cache miss.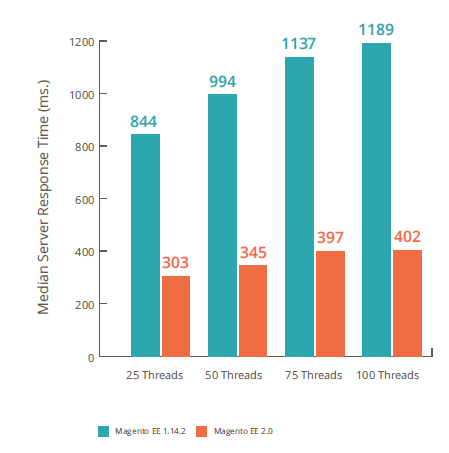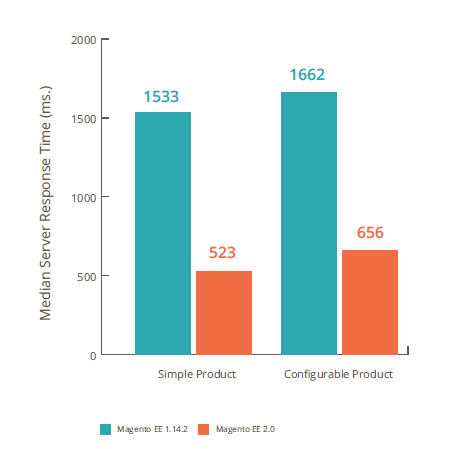 Server response time when adding products to cart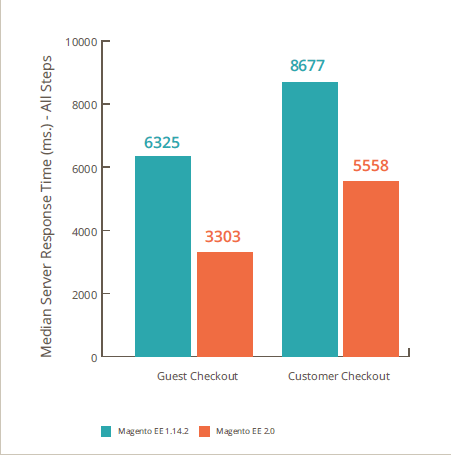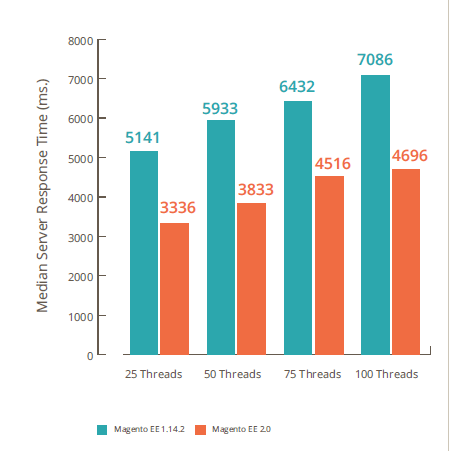 A comparison of the consolidated server response time for all steps of the checkout process.
The verdict is evident: Magento 2.0 wins hands down. It
Processes up to 39% more orders per hour
Delivers nearly instant server response times for catalog browsing
Enables up to 66% faster add-to-cart server response times
Provides up to 51% faster end-to-end checkout times
In conclusion, Magento 2.0 is a highly efficient ecommerce platform that performs better at scale compared to previous Magento versions.
It's marked performance and scalability, combined with new functionality, powerful business user tools, and unprecedented flexibility to create tailored shopping experiences make it the next generation solution that is right for your business.
To understand more about Magento 2.0 performance and scalability enhancements, recommended product configurations, and benchmark tests, get your copy of the whitepaper "Magento 2.0 Site Performance and Scalability Optimizations" in your inbox now.

What is Magento 2.0?
Magento 2.0 is a next generation open source digital commerce platform developed by Magento Commerce (an eBay Company).This new platform empowers B2C and B2B businesses to quickly and cost-effectively deliver engaging omnichannel shopping experiences.Magento 2.0 also offers enhanced performance and scalability, new features to boost conversion rates, and business agility and productivity improvements.

Source : Magento[dot]com
Need help with Magento 2 migration? Visit our Magento 2 Migration insight page to learn the step-by-step guide on migration.