The Next-Gen Modern Gantt Tool is Changing Our Approach to Work
The Traditional Gantt chart is a dated thing. A modern and complex work environment today needs something more powerful and structured. Today's projects are multi-layered and stretched out for a few years. A simple Gantt chart will not fit the bill.
There are methodologies that integrate cross-functional teams. There are a few practices that use a flow-to-work strategy and carry out the team's efficiency in order to execute the priority tasks on time. Gantt chart is not designed to do such tasks.
For a project manager, communicating with different teams to recognize gaps in the project is inevitable. So, they use Gantt charts to track project schedule and show interlinks between tasks.
What is a Gantt Chart?
A Gantt chart is essentially a horizontal bar chart used in project management for a visual representation of a project plan over a period of time.
When Should Gantt chart be used?
For efficient time management when a project has a hard deadline.
For a seamless coordination, when multiple teams and people are involved in the project.
For easy and visual access of timeline of the project to anyone involved in it.
To manage multiple projects and balance the workloads.
Gantt chart is still prevalent in most companies and a lot of enterprises benefit from it. The Gantt chart just needed a makeover. Traditional Gantt charts were handy but needed some features upgradation to support complex implementation of projects.
The Gen Next Gantt Chart
Contemplating the above-mentioned factors, Freshworks has released an intuitive Gantt chart with a new generation project management module. This feature helps you get an overview of tasks and track the progress of workflows and plan accordingly. These Gantt charts comprise task lists, sub-tasks, and interdependency of tasks against a defined timescale.
The features that are part of the new Gantt chart are:
A visual representation of the project tasks and their timelines
Task breakdown into sub-tasks by the owner
Color-coded task status
Ability to add and view the dependency between tasks
Filtering contents of the Gantt based on status, owners, team members, priorities, and other features.
A pop-up box with task details when you move around the chart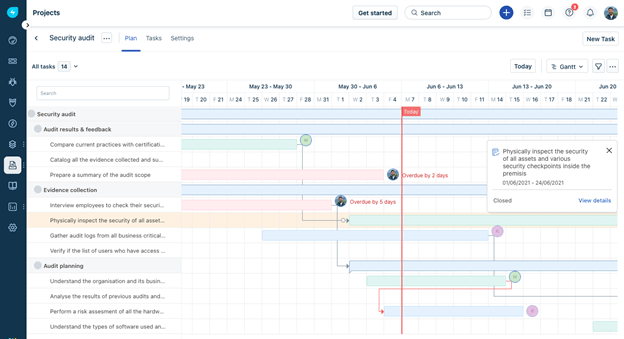 Picture Credit – Freshservice Gantt Chart
Furthermore, Gantt charts simplify project manager's job to a great deal. Below are few steps that are good to start with.
Draw a horizontal line and visually map out the project plan. Start and end date for that task will be added automatically. Drag the line to increase/decrease the duration of the task.
Hover the mouse over the project task to add task dependency.
Break down a task into smaller sub-tasks. When the end date of the sub-task is added, the new end date for the parent task gets updated automatically.
In case you want to reschedule the timeline of any task, just dragging the line will automatically reschedule all its subtasks.
Conclusion
The traditional Gantt chart is now being re-presented as a sleek and brand-new feature in the market. It is not just a bar chart for scheduling, it has now become a project map. The bird's eye view of the project gives clarity to all the members of the team involved in the project. For effective management of complex implementation projects, you need an expert team like Embitel. Being a registered partner of Freshworks, we offer freshservice and project enhancements. Contact our team today to know more.