SAP hybris – a leader in Gartner's Magic Quadrant for Digital Commerce (free download)
Gartner has released its 'Magic Quadrant for Digital Commerce' for 2016, and SAP hybris commerce has emerged as a 'leader' along with IBM, Oracle and Demandware.
The quadrant splits digital commerce technology vendors into 4 categories-leaders, challengers, visionaries, and niche players-on the basis of completeness of vision and the ability to execute.
The Magic Quadrant for Digital Commerce, 2016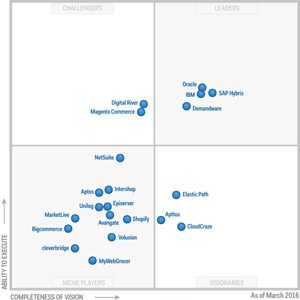 Leaders "demonstrate the ability to provide a depth and breadth of commerce functionality; to deliver commerce capabilities across multiple industries and business models; to deliver commerce platforms that can scale up to support large transaction volumes and high levels of GMV for online sales; to provide sales and support services both directly and through an ecosystem of application, services and integration partners; and to deliver additional application functionality that integrates with their core ecommerce platform".
Source: Gartner (March 2016)
Hybris checks all those boxes!
What makes SAP hybris a leading digital ecommerce platform
The Gartner report states that hybris "offers robust support for both B2B and B2C business models and has customers in a wide range of industries around the world."
Why? It lists these strengths of SAP hybris:
Growth and vision: Hybris has become one of the more frequently evaluated and deployed digital commerce solutions in multiple industries, including manufacturing, retail, telecommunications, wholesale, high technology and life sciences.
Rich functionality: SAP hybris offers strong localization capabilities, including the ability to detect the appropriate currency and language for a site. Reference customers commended the relative ease of localizing sites in multiple languages. The platform also handles the sale of digital goods through more native functionality than some of its larger competitors.
Accelerators: Reference customers observed that "hybris accelerators," used as starting templates for commerce webstores, can shorten and simplify implementations.
It's all true.
Embitel's hybris team has successfully delivered several B2B and B2C hybris projects for conglomerates and leading industry players, and it's tough to find as agile a platform.
If you'd like to channel the strengths of hybris for your business, write to us at sales@embitel.com to help you out.
You can read the entire report on the Gartner Magic Quadrant here.