Talk Of The Town – Embitel's Proprietary Splitting Order Extension on Magento Platform
The e-commerce industry is expanding every day and Magento has been one of the front-runners in this corp. Today running an e-commerce business has become mainstream, you can reap the benefits in many folds, but it is surely not a cakewalk. Retailers and merchants with online shops must ensure that they need to be on top of the technology and trends to beat the high competition. To thrive in this sector, they must be consistently innovative and agile with ideation and strategy.
Competition in the commerce industry is strong. New age problems require new age solutions that are quicker to implement and efficient with results.
Multiple order management is one of the common challenges faced by online retailers, where one large single order made by the customer consists of multiple orders. It gets even more challenging for the backend executives when each of the ordered items is in different geographical locations/repositories. Order consolidation is not only expensive but also time consuming.
At times, large orders cannot be delivered all at once because certain products are available while others are not. So, the ones that are available are shipped first. Based on the availability of the products, as a common practice to the shipment is split into multiple packages.
If the ordered items are fragile then not only does it take extra room, but also extra care needs to be taken to ensure it is delivered intact. Dimensional weights are something that should be noted too. It is about getting it right w.r.t packaging and size. Surcharges are the default for heavy and oversized shipments.
Many a times, the items are out of stock. Making customers hold the order until everything is available is definitely not a good practice and you might be losing customers for good.
Hence merchants seek the help of extensions that come with great problem-solving capabilities and can be personalized based on their requirements.
Introducing Embitel's Proprietary Splitting Order Extension on Magento
This June 2021, we released our exclusive plugin to users globally. It is the splitting order extension on Magento called M2 plugin Split Order version 1.0.1. The plugin is compatible with various Magento versions like 2.3 and 2.4 for community edition, on-prem edition, and cloud edition. Phew!! How cool is that?!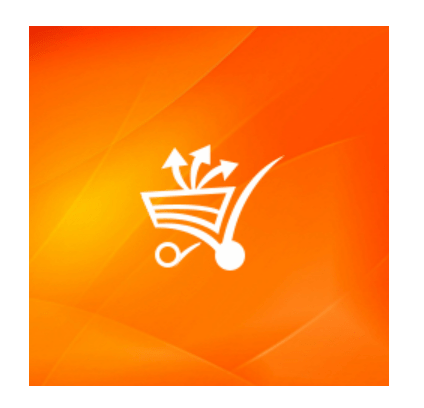 Splitting Order on Checkout is one of the extensions working remarkably well for all the e-stores and vendors are delighted with this plugin. It is the most significant Magento Extension for any e-store.
The extension allows splitting one big order into separate orders. M2 plugin Split Order version 1.0.1 allows easy configuration to split an order into distinct orders based on the set precedent.
Key Features of the Splitting Order Extension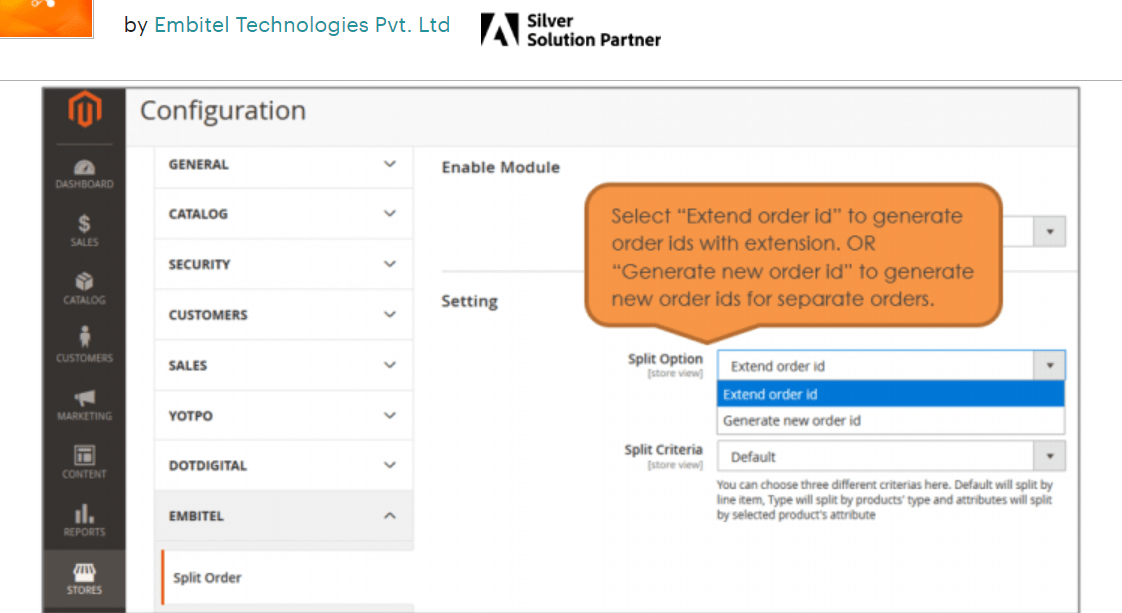 Splitting order based on the selected benchmarks-

Default – you can split orders for each line item.
Product Type – You can split orders based on the product type (Simple, Configurable, etc.). Order line items are grouped by type; each order must contain same product type.
Product Attribute – Orders are split depending upon the selected attribute that exists in order line items.
For instance – If the "Size" attribute is selected, and the order has 3-line items out of which two line-items has a size attribute, and one doesn't have the size attribute; it will get split into 2 separate orders.
Product Attribute Value – Orders are split in line with the selected attribute value.
For example: If "Color" attribute is selected, and the order contains 5-line items out of which two has color "red", and one has color as "blue" and rest three doesn't have "color" attribute; the order will get split into 3 separate orders – 1) having color red; 2) having color blue, and 3) all items with no color attribute.

Create Separate Order ID's – This is one of the predominant features that any E-business should be looking into. Separate order ids can be generated automatically for multiple orders. You can split the order on checkout before placing the order.
Effortless Order Management – The invoices generated, and shipment can be managed separately which is efficient for order management. The admin can generate respective invoices and shipment for each order id, shipping charges and taxes are applied to each item individually after splitting the order. Discounts are divided between multiple orders based on items.
Happy Customers – Customers get a better view of their account. They can check the availability of their multiple orders along with reviewing order details individually and accurately. The customers can track each item based on their order id. They can cancel any undesired product individually without canceling an entire order.
Cost and Time Saving – Order Splitting facilitates fast-delivery of all the products in stock. Additionally, it helps in cost reduction, along with saving delivery and maintenance time. Order management analysis is done efficiently.
Improve Your Sales – The above features of M2 splitting order extension will make your service a seamless and effective one. No doubt this will increase customer satisfaction and increase sales. This extension is a breather that businesses were looking for.
Quality Report
Passed all installation and varnish tests,
Cleared Plagiarism Check
Matched the Coding Standard
Malware Check Done
Manual Testing Passed
Progress in Marketing Review
The above-mentioned tests were done on the latest versions of Magento that existed for the compatible release lines while submitting the extension. All other software in their latest versions were used.
Why Choose Us?
The underlying advantage of Splitting Order is that it supports promotions and assists in making marketing decisions. It is easy to install and comes with variety of other features which can be customized according to merchant's requirements.
Embitel's patented plugin – M2 plugin Splitting Order Extension comes with a great support policy. We offer free lifetime updates and free support for 3 months on your purchase. Our Magento developers are just an email/call away.
Check with your team when is the best time to get this plugin implemented in your enterprise.