How Ecommerce Players Can Brace Themselves for the Upcoming Eid Online Shopping Rush?
As the delicious scent of 'kolak,' a classic Indonesian delicacy, fills the air and heralds the start of Ramadan, marketers around Indonesia and the Middle East will be gearing up for one of the busiest times in the marketing calendar for Ramadan online shopping.
The end of Ramadan heralds the most important event in the Islamic world, Eid or Eid-al-Fitr. With Ramadan just around the corner and close to 1.8 billion Muslims observing the same, the eCommerce market will witness a significant surge in online Ramadan sales.
The Islamic Calendar's holy month brings a tremendous increase in transactions. Both traditional businesses and internet retailers are expected to experience significant growth. It is quite usual in nations such as Indonesia, Bangladesh, and the Middle East to see many discount labels around the businesses.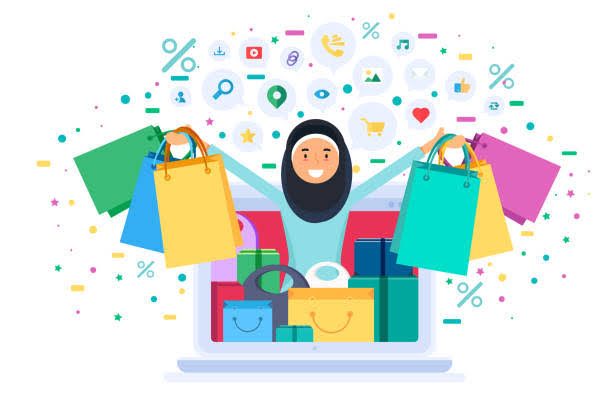 It's about time for those brands that wish to engage Indonesians and people residing in the Middle East during Ramadan 2023 to begin researching the most recent purchasing trends and Ramadan consumer information. The way Indonesians shop has transformed over the years, presenting new chances for companies to interact with individuals in immediate, personal, and seamless ways.
Things to Consider When Improving your eCommerce Website Experience
Seamless Navigation

A customer's user experience primarily depends on user-friendliness and the ease of navigation on the website. You must look into aspects such as user interaction when designing your eCommerce website.

Online Catalog

The online catalog refers to the product listing on the website. Search interest in fasting-related items or products regarded as "good for me during fasting," such as dairy, juice, and essential foods, begins two weeks before Ramadan and increases two weeks before fasting begins. To offer a better user experience, the availability and convenience of sorting items from hundreds or even thousands of products become critical.

Simple Check-out System

Brands must also make every instant and client touchpoint count, whether online or offline. The sale is not complete until the consumer pays. A check-out system must be straightforward and easy to use, as most customers will abandon their purchase if the last procedure is too complicated for them.

Secure Payment Gateway

A secure payment gateway is a payment mechanism embedded into a website that allows customers to buy with simplicity. Variable payment alternatives, secure protocol, security, and privacy are just a few of the most significant considerations throughout the check-out process.

Data Privacy

Most clients provide both personal and financial information to businesses or dealers. Organizations must recognize the importance of user privacy and safety. The consumer will not buy or pay unless they feel safe.

Security

To commit to their security, the supply of SSL protocol, privacy policy, security compliance, and any legal tender with a third party must be offered to the consumer in advance.

Reliable Customer Support

Customer service is vital both during the website visit and after the transaction. Constant contact with the consumer will guide them through the sales process, and a post-sales relationship is essential to keep the customer. Prompt response, frequently asked questions, online chat platforms, and various contact methods are vital aspects of effective customer service.
How Marketers can Engage Their Customers
Indonesians frequently conduct internet research before purchasing a product or service to ensure they make the proper selection. Before clicking "buy," over 80% of Indonesians believe they require a reputable source of information, and 94% want to read as much relevant information as possible. Throughout Ramadan, continue to engage your audience with exclusive discounts, specialized content, and gift ideas. Maintaining customized relationships will keep you at the front of people's minds when it comes time to buy something unique for their loved ones.
Make appealing deals for the impending Eid-al-Fitr. This is when Muslims go to merchants to buy new clothing, jewelry, and luxury products. Consider interactive ad formats to engage key buyers as individuals spend more time at home and seek entertainment.
Provide convenient shopping and home delivery for vital commodities. During Ramadan, people consume more required items such as food and beverages; hence, catering to the necessities might enhance your sales.
Getting the timing right is everything. When people break their fasts (Iftar) or begin fasting (Suhoor), these are perfect opportunities to convey individualized messages. Because that is when customers are most active. It's a good moment to show your consumers that you care about them. Sending reminders about the start of Suhoor and goodwill messages after Iftar can win customers' hearts.
Ramadan is a period of great potential for all companies. For those industries that have been impacted the worst, make sure your users remember you with a good message. Creativity has no bounds when lifting people's spirits during these difficult times. Establish a strong brand image by connecting with your users through relevant and value-driven content.
People will expect companies to meet them wherever they are, online or offline, as purchasing habits in Indonesia shift and digital consumption in the country expands. Brands that develop a robust omnichannel presence and provide individuals with valuable and tailored information throughout their purchasing experience will be well-positioned to move ahead and optimize growth potential during the Eid season.
To accelerate your online sales during Ramadan and Eid, partner with a reliable ecommerce service provider like Embitel and send them an ecommerce rfp. Let's get together and catapult your sales to new heights!