Woocommerce vs Magento Commerce: Which eCommerce Platform is Best for your Online Business?
Choosing between Woocommerce and Magento is a tough decision-making task for companies / individuals, who plan to start an ecommerce business.
Both the platforms, for ecommerce development, offer rich features and are very popular among the ecommerce developers community.
In this blog we will discuss the features such as setup, security, performance, community support of both the platforms. The objective of this blog is to serve as an evaluation guide for you in order to help you select the more suitable ecommerce platform.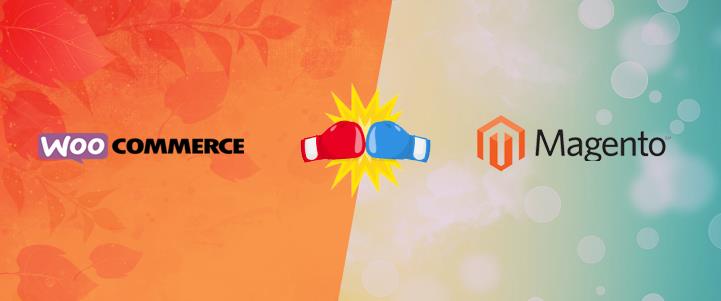 Key Difference
Woo Commerce
Magento Commerce
Woocommerce is a plugin for the wordpress platform.

WordPress is built as a content management system and Woocommerce works on top of this content management system.

It has all the features required to build a simple ecommerce web-store.

MagentoCommerce is a platform which is built just for ecommerce websites and supports lot of customizations to develop a robust ecommerce store.

Magento can be used to build ecommerce websites from simple to complex ecommerce store.
Community Support
Woocommerce and Magento are backed by huge community of users. There are plenty of plugins/extension available (both free and paid) to enhance and improve the features of the ecommerce store.
Brainstorm the functionalities required for your web-store and evaluate the available plugins/extensions that can help you to implement the ecommerce website requirements
Do check if the shortlisted website plugins are available free or need to be purchased.
Magento Marketplace
Magento marketplace has 3521 extensions to power various critical features and functions of your ecommerce website.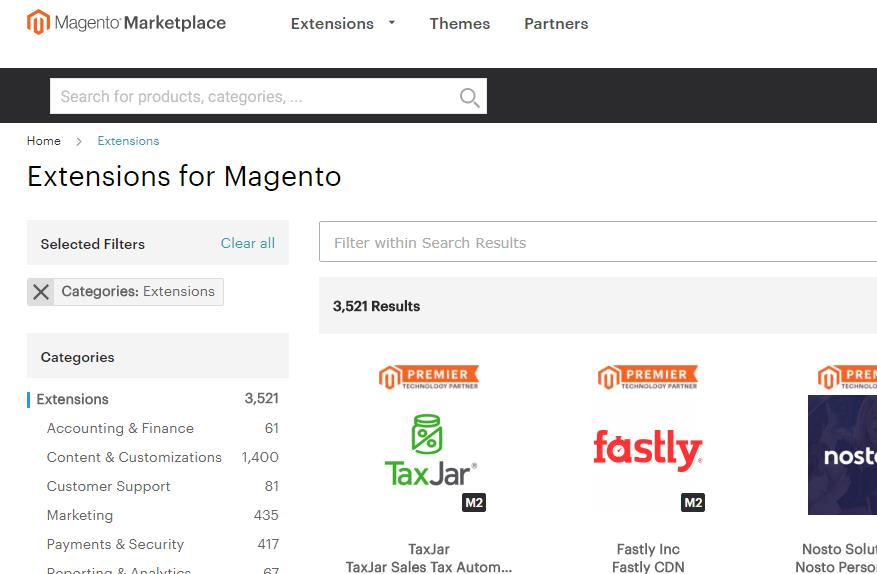 WooCommerce Plugins
Magento marketplace has 5404 plugins available to enhance your ecommerce store.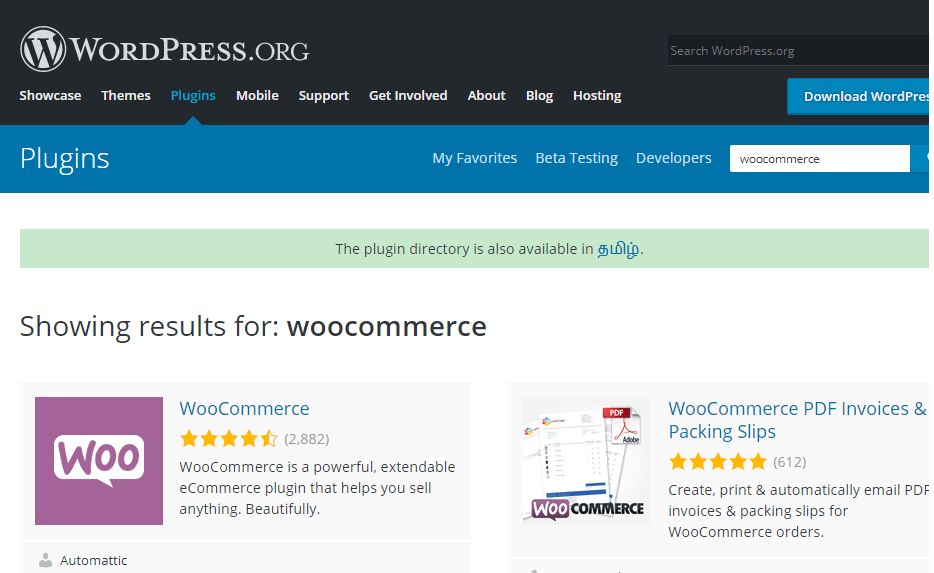 Initial Setup
Woocommerce is a perfect solution for beginners who want to develop an ecommerce website with basic features. The installation is very easy, as most of the hosting providers provide one-click wordpress installation and you just need to add the Woocommerce plugin to get started.
Woocommerce has plenty of tutorial videos available, these serve as a good installation and development guide.
Magento comes with a full installation wizard that makes it really easy to install and get started with the ecommerce website development. However, one may require expertise and guidance of a Magento Developer or Consultant for best results.
Magento also has plenty of tutorials and documentation available to make your job easy.
Pricing and Business Model: Magento Commerce v/s WooCommerce
Budget is a huge factor in deciding between both the platforms. Woocommerce plugin is completely free of any license cost.
Magento offers a 'Community Edition'whichalso doesn't involve any license cost. Apart from the Community version, Magento also offers 'Enterprise Edition'.
Enterprise Edition of Magento is loaded with rich features and functionalities, which are not available in the Community Edition. This is very critical for an expanding business looking to scale-up the operations. As a business, one may start the ecommerce website development on Magento Community Edition, but may feel the need to upgrade to the premium Enterprise Edition in few years.
The premium plugins and extensions for both platforms can be bought from their respective plug-in marketplaces. Premium extensions for Magento are quite expensive compared to the Woocommerce plugins.
Hosting for woocommerce website is relatively cheap compared to Magento ecommerce website. Since Magento is feature rich, you need to choose your hosting provider carefully to make sure that your ecommerce website is secure and optimized for speed.
Overall, the pricing for both the platforms is relatively less for small-scale  ecommerce stores but as your business grows and the requirement for the store grows, Magento (which is better poised to support the requirements) is expensive compared to Woocommerce platform.
Ecommerce Website Themes
WordPress has plenty of themes which are compatible with Woocommerce websites and has a huge pool of ecommerce developers who offer theme templates and integration services for woocommerce websites.
On the other hand, Magento's community also has good number of feature rich website theme templates and support for integration.
Here's the total number of themes available in themeforest's website for Woocommerce and Magento Commerce platforms.
Total Number Themes for Woocommerce:  7238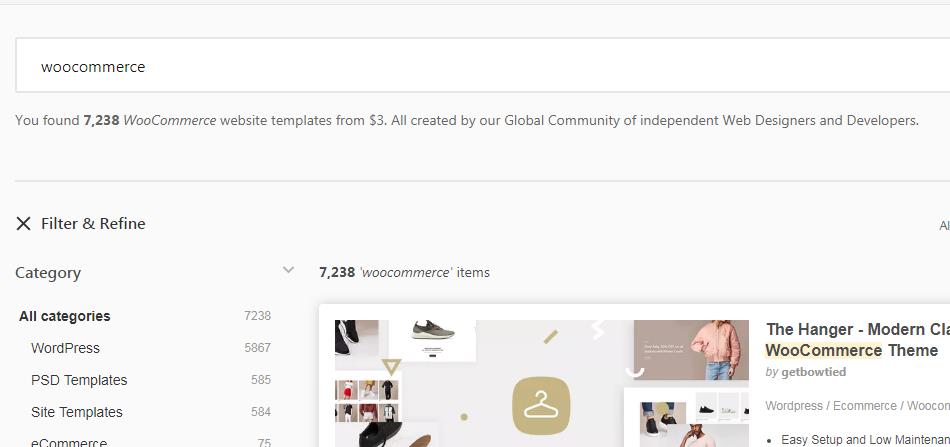 Total Number Themes for Magento Commerce: 1023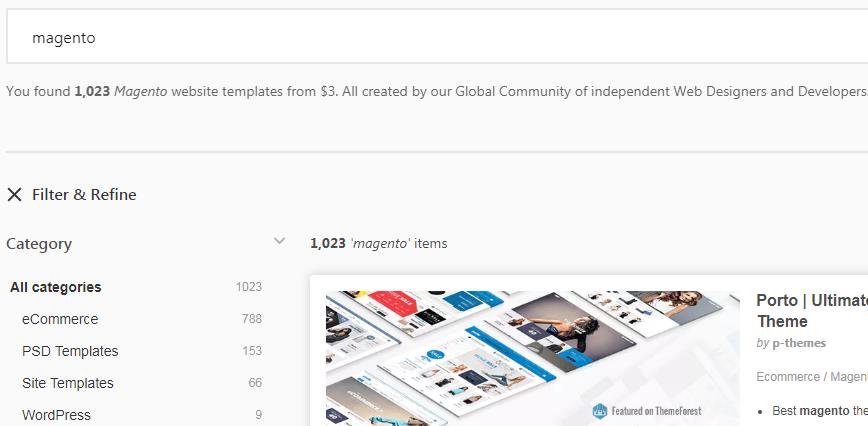 Page Load Speed of your Ecommerce Website
Page load speed has direct impact on your website traffic and sales conversions. Google's algorithm tends to favor websites which load faster. An ecommerce website with good page load speed also enhances the user experience.
There is no clear winner in this category, as the performance of both Woocommerce and Magento Commerce websites are affected by many factors such as web hosting provider, CDN and size of images.
To get an optimal result for your website built on any of these platforms,make sure you have all the basics covered.
Security
Ecommerce Website security it is the top priority for all the stakeholders. Customers expect the ecommerce store to protect their personal information as well as the payment details.
Woocommerce and Magento commerce platforms take several security measures to make sure that their code base is secure and protected from the hackers. Both offer many extensions to implement additional security measures.
In the recent times, wordpress based websites have been more prone to malware attacks and this has impacted the woocommerce websites as well.
Magento Commerce is more advanced as compared to Woocommerce in case of robustness of security measures.  Magento ecommerce platform provides dedicated security patches. You can find the latest security patches here.
Which eCommerce Platform is More Popular?
We tried to understand the popularity of both Woocommerce and Magento Commerce with the help of builtwith's analysis tool.
Magento is used by over 655K websites and Woocommerce is used by over 2287K as of May 2018.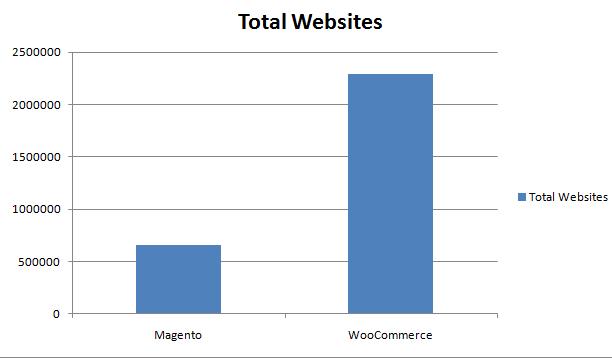 Top Websites by Ranking
When you look at the Top 10K websites as evaluated by "Quantcast Top 10k" list; the number of both Woocommerce and Magento based websites  that make this list is more or less equal.
 101 Magento Commerce websites and 109 Woocommerce websites feature in "Quantcast Top 10k"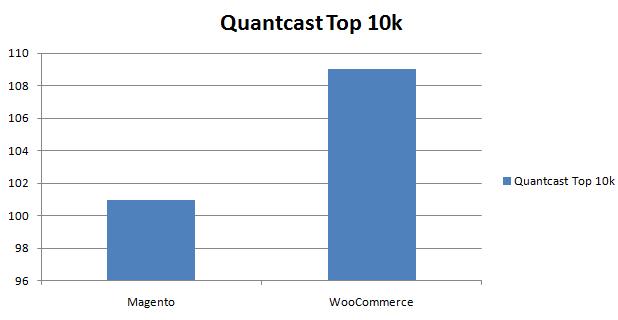 Ecommerce Platform Marketshare: Woocommerce Vs Magetno Commerce
Below is the marketshare of ecommerce platforms based on the stats from Builtwith, as you see Woocommerce holds 11% marketshare and Magento holds 7% of the total ecommerce marketshare.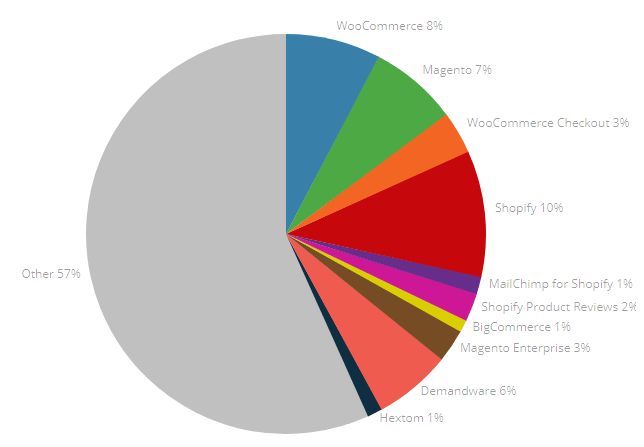 The Final Verdict
Picking between Woocommerce and Magento is easy when your requirement is clear. Woocommerce and Magento are easy to setup and easy to integrate. Consider your business requirement, budget, scale of operations and security before choosing a platform for your ecommerce store.
Woocommerce is good for websites with fewer products and for beginners as it's relatively easy to integrate and offers easy-to-manage admin features.
If you've a clear roadmap and plan to scale-up your ecommerce website over a period of time, it's good to start with Magento Community Edition.
Magento is highly scalable and is designed to support complex features needed for an expanding ecommerce business. Unlike Woocommerce, Magento can be easily integrated with Paypal, Authorize.net and Braintree without any help from external extensions.
| | |
| --- | --- |
| Go For Magento | Go For Woocommerce |
| If you need a highly scalable, robust, secure ecommerce platform | If you need a simple ecommerce website which is easy to mange |
We hope you have found this guide on Woocommerce Vs Magento useful. Still confused, book a free consultation with your ecommerce development experts and we will guide you to choose the right platform for your needs.