Is Your Ecommerce Website Really A Retail Web-Store? – The 4 Fundamentals To Make Sure!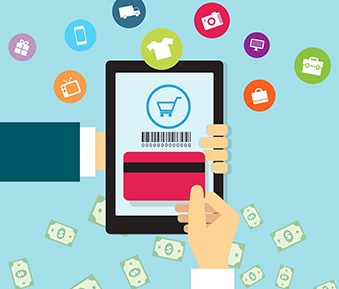 Most retailers mistakenly believe that a simple web-store that lets customers purchase online is the key to acquiring customers and generating sales and revenue. But when their initiative fails, they are surprised and distraught.
Reality is that ecommerce is all about creating the best-in-class retail experience for consumers using internet-based technologies. It is about reaching a new generation of tech-savvy consumers by using digital media tools and techniques to let the consumers know about the unique value proposition offered by the company.
The 'new breed' of competitors—the first successful players in the ecommerce field—have equipped themselves with following 4 fundamental acts that have helped them to succeed online:
Retail Experience
E-commerce technologies
Logistics
And Digital marketing…all in absolute coherence!
1) Retail Experience – For ecommerce industry ecosystem, the last mile in retail experience is to make sure customer finds no difference in shopping online and offline. Realizing the significance of this, is the first fundamental!
And delivering such an omnichannel brand experience to your target audience depends on how much your web-store is equipped with other 3 fundamantals.
2) E-Commerce Technologies – Electronic commerce draws on technologies such as ecommerce platforms, mobile app and commerce, electronic funds transfer a.k.a payment gateways, supply chain management, online transaction processing, inventory management systems, and automated data collection systems [2].
To be precise, it is about taking your retail operations online. Since your business has its unique requirements; this fundamental requires you to architect tailor-made online ops!
3) Logistics – Logistics is the management of the flow of goods between the point of origin and the point of consumption in order to meet some requirements, for example, of customers or corporations [3].
Due to the lack of physical presence, for pure play e-commerce businesses logistics is the heart of their business.However, in recent years, there are large numbers of international logistics services providers who have started offering these services to e-commerce companies [4] [5].
In addition to this, there are also large numbers of last-mile delivery service providers who are contributing to the growth of e-commerce industry.
4) Digital marketing – Bingo! You have now set-up a retail web-store. And it's time to reach out to your target audience.
This fourth fundamental – digital marketing – helps you to achieve that.
It makes use of electronic devices such as personal computers, smart phones, cell phones, tablets and consoles to engage with stakeholders [6]. Digital marketing is equipped with technologies or platforms such as websites, e-mail, apps (classic and mobile) and social networks. Social media marketing is an essential component of digital marketing.
By definition as well as in practical sense, these 4 different fundamentals require different skills and capabilities.
However, the challenge lies not in identifying these 4 core areas, instead it is about the skills and competence required in each of these activities, each with depth and width and subsequent impact on the e-commerce strategy.
Each of these pillars consists of several micro areas that need to be implemented by skilled professionals.
As one example, ecommerce technology is a vast area and requires an expert technology team to evaluate:
Various technology platforms that are available in the market to make sure that the chosen tech platform is capable of delivering the required features and functionality, and whether it can be customized as per the client's business requirement
Assessing the server capacity that will be required to handle the traffic effectively
Where to host the server (considering the security and associated risk with the customers' data)
Defining the website layout, search and navigation
Optimizing shop flows and check-out, which are among the wide facets of e-commerce technologies that empower customers with the best discovery and shopping experience.
To overcome the above stated fundamental challenges, retailers pursuing e-commerce channel as a part of their business strategy should consider these strategies to get the 4 fundamental core acts together:
Develop strong in-house capabilities – Nothing can beat a diversified team of experts who are well-versed with retail, technology, logistics and digital marketing.
Outsource to 3rd party service provider – Not having the right resource to complete the task is never an excuse to deliver timely results. Identify a capable e-commerce consulting service provider with expertise on the technology as well as the business side, and who can also commissioning the project to deliver the mutually agreed results.
Hybrid – Quite often, one of the 4 areas of expertise may be available in-house, in which case it is better to identify a 3rd party service provider who can partner in delivering service based on the gaps in your capabilities and to suit your business objectives.
The next step is to successfully implement your ecommerce plan. How should you go about it to ensure the best results for your business? Read our next post on "A 7-Step Framework for Successful eCommerce Implementation"
This blog has been shared by Anuj Ramachandra. Anuj is a Business Consultant in the E-Commerce practice within Embitel Technologies.
He has eight years of experience across various business functions including digital marketing, market research, business development, strategic business planning and product management with a specific focus on e-commerce and advises several leading Indian and international retailers on their e-commerce strategies.
Anuj can be reached at anuj.r[at]embitel[dot]com
References:
[1] http://en.wikipedia.org/wiki/Retail
[2] http://en.wikipedia.org/wiki/E-commerce
[3] http://en.wikipedia.org/wiki/Logistics
[4]http://postandparcel.info/60745/news/companies/deutsche-post-dhl-targets-growth-in-emerging-markets-and-e-commerce/
[5]http://articles.economictimes.indiatimes.com/2013-02-14/news/37100413_1_e-commerce-blue-dart-express-fashionandyou
[6] http://en.wikipedia.org/wiki/Digital_marketing