AI in Ecommerce – A Close Look at the Groundbreaking Trends in 2023
Artificial Intelligence (AI) is revolutionizing ecommerce for small and big businesses. AI is being used by various ecommerce companies to get a better understanding of customers.
AI powered ecommerce is of great help as it enables customer-centric online searches, identifies prospective customers, answers customers' queries, simplifies sales techniques, establishes actual conversations with customers through chatbots, etc.
In today's age of customized marketing strategies, with the help of accurate algorithms, more and more innovative trends are being observed in ecommerce. According to a survey conducted by Adobe with YouGov, 56% of around 7,000 survey respondents, are more inclined towards purchasing from online retailers that utilize AI. Some of the reasons for this inclination include great user-friendly experience, good service and affordable prices.
Why AI is Important in Today's Online Retail World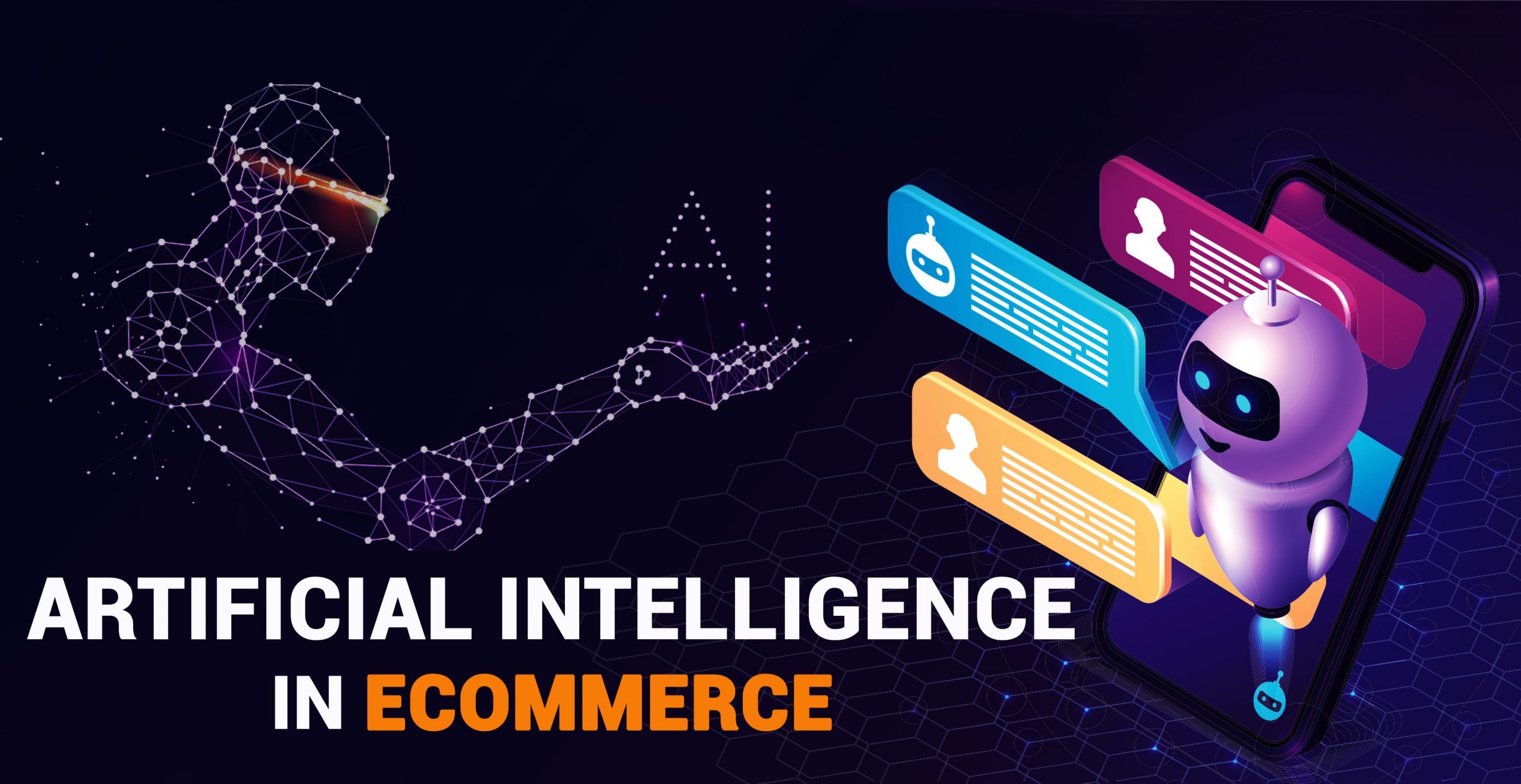 In a fast-changing business environment, online retailers are being forced to invent new ways to attract and retain customers extensively. AI applications in ecommerce are hugely unavoidable as retailers need to keep up with the fast-paced competition.
Consumers across the globe are looking for tailor-made buying experiences that are truly engaging.
How AI is Setting Up Effective Digital Marketing Touchpoints
AI is vital in the present digital marketing landscape as it helps businesses set up the much-required marketing touchpoints. These touchpoints are very essential for businesses to interact with customers throughout the buying journey and understand what they have to say about a brand, service, or product.
Marketing touchpoints can be implemented across multiple channels with the help of AI to initiate instant and easy contact for providing relevant information to consumers.
A customer's buying decision will depend on this buying journey. Hence, these touchpoints give a clear picture to online retailers as to what works for customers and what does not.
A few common examples of digital marketing touchpoints include:
Official website of the company
Online advertising
Email interactions
Online surveys and online feedback systems
Virtual assistants
Chatbots
Virtual assistants and chatbots are technologically advanced touchpoints used across different industries that are enabled by AI and machine learning.
Adobe offers a product known as Adobe Campaign that provides AI-powered Emails for enrichment of email marketing. It helps businesses increase customer engagement by forecasting attractive subject lines that would catch the customers' attention. By analyzing previous engagement metrics, this product estimates optimal send times, open rates and the results too.
How AI Can Enhance Sales and Profits of Ecommerce Companies
It is widely known that most brick-and-mortar stores are increasingly shifting to online sales. For a long time, it was 'bricks vs. clicks'. However, over the past few years, one can observe many companies adopting the 'bricks and clicks' strategy.
This strategy has been quite effective in increasing profits. Many brick-and-mortar companies have avoided severe losses and shutdowns by applying this strategy.
With so many ecommerce companies for customers to choose from, each company needs to be on its toes to ensure continuous sales. The role of AI in ecommerce is absolutely crucial as it guarantees efficiency, speed, and deep learning. It also helps businesses sense and predict consumer needs accurately on a very large scale.
Magento with YouGov conducted a survey known as "Listen: A Magento 'Meaningful CX' Series" among 1,405 people in India to understand their online buying preferences. Let us take a look at the table below to clearly comprehend the various findings of the survey:
| | |
| --- | --- |
| Percentage of survey respondents | Preferences of survey respondents |
| 51% | Look for competitive pricing when they compare several brands |
| 67% | Will likely shop from the same place again if free delivery is provided |
| 47% | Like to check online for the best prices |
| 57% | Will come back to an online retailer if it provides a free returns policy |
| 50% | Will purchase if the site is mobile friendly and user-friendly |
| 51% | Would use the site if it works properly on smartphones |
| 47% | Would use a particular ecommerce site if it loads fast |
| 39% | Are fine with companies who use personal information for recommending products and services |
| 48% | Do not shop from companies that do not have cash-on-delivery options |
| 34% | Are of the opinion that online shopping is eco-friendlier than shopping at a physical store |
| 67% | Are fine with ecommerce companies using technologies such as AI |
How Machine Learning Can Boost Revenues in Ecommerce
Machine learning, an application of AI, enables computer systems to learn and progress automatically with experience. There is no need for programming the system or any human assistance.
It can evaluate several sets of data and decide the next steps according to the evaluation. Moreover, since there is no human intervention, there is no chance for human bias. This is a very important point as there is no scope for false assumptions which could lead to low sales.
With machine learning algorithms created exclusively for ecommerce, information can be obtained from umpteen relevant sources across different operations. Machine learning helps in providing the right data and messages to customers by observing which stage of buying they are in. These fool-proof steps ensure quicker conversions and a rise in revenues too.
Benefits of Artificial Intelligence in Ecommerce
AI in retail and ecommerce is invaluable. It helps companies in their operations, market research, and customer engagement processes. It is a universally accepted fact that the AI-enabled algorithm is a primary element that escalates an online retailer's sales and customer satisfaction.
Some of the numerous benefits of AI in ecommerce are as follows:
Predictive marketing: AI powered ecommerce platforms are able to forecast buying decisions of customers, such as when and how they will buy something and how much they will be ready to spend. This is chiefly done by observing their previous buying behaviors with the help of predictive marketing and automated marketing systems.
Superior user experience: With AI and machine learning, certain advanced systems such as facial recognition and voice interfaces are being used by ecommerce platforms. These help in understanding what the customer experiences while buying a particular product or service. These AI-powered features assist companies in understanding the user experience.Moreover, AI can design customer-specific experiences that will suit their different circumstances. According to a survey conducted by Zebra Technologies, 55% of respondents belonging to the age group of 20 to 36 years said they prefer getting data with the help of a store app when compared to actually conversing with a store employee.
Personalization of online purchases: Ecommerce platforms are applying new technologies and methods to offer personalized and interactive buying experiences. AI powered ecommerce allows companies to view their customers in real time and provide them with convenient and specialized shopping experiences.Adobe has a product known as Adobe Target which offers personalization through AI. It provides one-click customization and recommendations of products to consumers as per their previous online behaviors and profiles. It also enables quick and simple A/B testing or split testing.

Development of a strong business ecosystem: AI and machine learning promote the importance of having a strong business ecosystem that has multiple partners. In today's dynamic business environment, it is clearly not possible for one company to provide every service. Hence, with the help of AI, organizations can set up an open platform that is flexible yet secure to bring several partners together. These organizations can stimulate effective collaborations within internal systems as well.
Advanced visual search: With AI, the idea of a visual search is transforming every single day. Online buying is getting even more simplified with the help of visual search.

Amazon, the leading global ecommerce company, has a feature known as 'Show and Tell'. With the help of an Amazon Echo Show camera, you need to show your product or item, and then the 'Show and Tell' feature will recognize the item that you are holding. This helps consumers in their buying process.
There is also a more common feature on smartphones that enables you to show a particular product, such as a television, simply by pointing your phone at it. Now this feature will identify the television and show you other television products too, and you can compare.
There is also Pinterest Lens, offered by Pinterest, which has been around for a while now. It has an easy visual search tool along with shoppable pins that will allow you to shop instantly on the site itself.

Scope for growth of embedded intelligence: Embedded intelligence is a cutting-edge feature that is enabled by AI. It provides an item or service with the capability to assess its own usage load and performance. This will help improve the quality, lifespan, and performance of the product. This ultimately leads to better customer satisfaction.Machine learning and AI help in augmenting embedded intelligence, wherein, business applications and robots are made to be very responsive and smart.
Implementation of repetitive tasks through automation: When online retailers grow, they generally face an increase in certain routine tasks. Instead of assigning these repetitious tasks to humans, automated systems can perform them in a more simplified and quick way. Activities such as offering discounts to loyal patrons, displaying the latest items, etc. can be handled completely by AI.
Environment-friendly and sustainable product deliveries: Logistics is a very crucial part of ecommerce. Environmental reports indicate that 30% of carbon emissions from transportation comes solely from freight and shipping. Experts are using AI extensively to come up with eco-friendly inventions in robotics and sustainable route optimization. Amazon has a patent for a delivery system known as anticipatory shipping, which implements high-level predictive analytics and sustainability in delivery.AI is also promoting the use of green energy applications and renewable energy for producing batteries with high capacity for transportation. These batteries made from solar energy, wind energy, and other forms of renewable energy offer high power at affordable costs. These can be used in vehicles for eco-friendly delivery services.
Automated pricing for ecommerce platforms: AI enables automated dynamic pricing for any number of products based on the inventory, demand, capacity, consumer behavior and existing market conditions.
AI-powered social listening: Artificial intelligence allows businesses to perform excellent social listening by monitoring keywords, brands, or key phrases that are commonly used on multiple social media networks. This technique aids companies in coming up with unique marketing campaigns and enhancing user experiences. It also supports in redesigning product mix decisions according to the results shown by the social listening operations.
AI is undoubtedly gaining more popularity in ecommerce and other fields too. With the rise in voice-based services such as Siri, Alexa, and so on, there is a lot of stress about data breaches.
Due to the excessive convenience offered by AI and machine learning in ecommerce, measures to improve data security are of utmost importance. Organizations are working together towards creating stronger personal data control features and better privacy laws.
Wrapping up
With such high cookie data, availability of numerous products and services, and multiple marketing touchpoints, artificial intelligence is most certainly necessary for ecommerce. Businesses will not be able to keep up with their competitors if they stick to manual methods or minimal digitization.
AI has helped companies predict what services or products their customers would prefer. One of the best examples of this is media services provider, Netflix. With AI, it can foresee what their users would like to watch based on historical activities. AI assists businesses in accumulating precise data and then interpreting it appropriately.
Implementation of chatbots is also a great way for enterprises to minimize expenses. Chatbots have the capability to answer a major part of repetitive questions asked by users and quicken response times effectively. Moreover, deployment of chatbots can free up employees so that they can focus on executing activities that are much more crucial to business.
Most importantly, AI enables companies to meet the customers' growing demand for high quality by providing them with useful and relevant content.
Companies need to start accepting that AI in ecommerce is essential to last long and remain competitive in the market. Implementation of AI can initially be on a small scale for the purpose of testing. However, there should be consistent evaluation of performance to derive useful metrics for growth and expansion.