How Manufacturers Can Leverage Ecommerce to Address Their Business Challenges
A lot has been discussed about how ecommerce as a technology has emerged as a gamechanger for B2C companies, especially in the retail segment. In this digital era, businesses have a pressing need to shorten their time-to-market, capture the customer's attention, and offer them more relevant and contextualized services.
Ecommerce helps them achieve all this and more – seamlessly and quickly. The B2B segment, especially the manufacturing sector, can also benefit immensely if they embrace ecommerce as a strategic growth channel.
The B2B sector, specifically the manufacturing industries have been relying on conventional one-size-fits-all methods for:
Inventory management
Supply chain management
Product distribution
Driving sales and revenue
Dealing with distributors, suppliers and even buyers
But now in the digital era, the online presence of a business is a bare minimum expectation from customers and suppliers alike. Hence, B2B companies, especially in manufacturing domain, are increasingly considering ecommerce to offer faster and more relevant solutions to their customers.
In this blog, we explore how manufacturing companies can leverage the power of ecommerce to boost ROI and uncover new growth opportunities.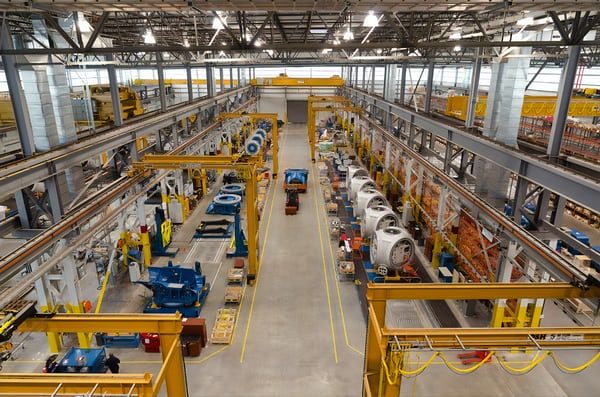 Why Manufacturers Must Consider Ecommerce?
Added revenue channel

Digital Commerce endows your manufacturing business with newer opportunities to improve brand awareness and market reach through social media and digital marketing channels. With better visibility and more customer reach, you can achieve sustainable sales growth.
Additionally, through digital commerce, you can automate hitherto cumbersome operations, offer personalized product catalogues and pricing, drive more customers (individuals as well as dealer/suppliers) to your website, and leverage data analytics tools to asses customer behaviour for improving your offerings.

All this trickles down to improved sales and revenue growth in the long term.

Foray into B2B as well as B2C seamlessly

In the conventional mode, most of manufacturing firms sell their products through a complex network of distributors and suppliers. This often limits their customer reach in the market.
With ecommerce you don't have to make huge changes to your existing distribution model.

It gives you the flexibility to operate both as B2C (direct to customers) and B2B (selling to distributors and suppliers).
With an ecommerce store at your disposal, your manufacturing business has better control over your customer relationships.
You also have more options to target and serve them directly through buyer-specific promotions, product recommendations, etc.
Also, in the conventional distribution models, users have to do bulk buying from the manufacturing businesses. With an ecommerce site, users can even order on demand. Hence, the customer base of the manufacturer is widened.

Enhanced options for customer support

Ecommerce platforms offer more streamlined and contextual support to the customer. Thus, manufacturing business organizations can leverage this capability of ecommerce to understand their customer's concerns and serve them better.

Chatbots, Voice assistance, Social media – the modern digital commerce platforms offer endless options for automated customer support to assist your customers round the clock.

Tapping new market opportunities

Manufacturing companies can leverage Digital Commerce as a powerful medium to assess market trends and explore new sales opportunities. This holds relevant in the current context of the pandemic where business organizations are rising to the occasion by going beyond just "keeping their lights on".

The success story of Bedford Industries is a case in point. A plastic fabrication manufacturer, Bedford Industries responded to the Covid-19 pandemic by foraying into the production of PPE kits (Personal Protective Equipment) . In order to quickly meet the surge in demand for the products, they set up an ecommerce store. In a matter of few days, Bedford saw a huge surge sales. Additionally, due to wide reach and faster sales offered by their ecommerce site, soon they saw customers , ranging from individuals to schools to hospitals, from different geographies showing preferences to their supplies.
Challenges Faced by Manufacturers in Adopting Ecommerce
All said and done, manufacturing industry is still wary of making a full-fledged foray into ecommerce. SO, what's hindering them? Let us look at some bottlenecks that have been preventing the manufacturing industry from considering ecommerce as a channel for growth and sustainability, so far:
Many manufacturing organizations are concerned about the huge investment, in terms of money, time and resources, required to set-up an online store.
Establishing an online presence with minimal disruption to existing revenue, infrastructure and operations can seem challenging, especially for businesses in the niche B2B segment like manufacturing.
Businesses have concerns related to the time required to set up an ecommerce website and see measurable results.
But once you talk to an experienced digital commerce consultant, you would realise that these are just concerns faced by every business taking their first step into the online world. And with the right technology solution and roadmap, these concerns can be effectively addressed.
Setup an Ecommerce Store in Just 8 Weeks with Embitel's Magento Accelerator Package!
With the aim to help business organizations have a successful foray into ecommerce, we have launched our Magento Accelerator solution – RapidRetail.
Embitel's RapidRetail Accelerator is an Omnichannel Retail solution that helps modern business organizations to set up an ecommerce store in the shortest possible time. The solution is available in multiple variants to suit the budget and timelines of small and large B2B businesses alike.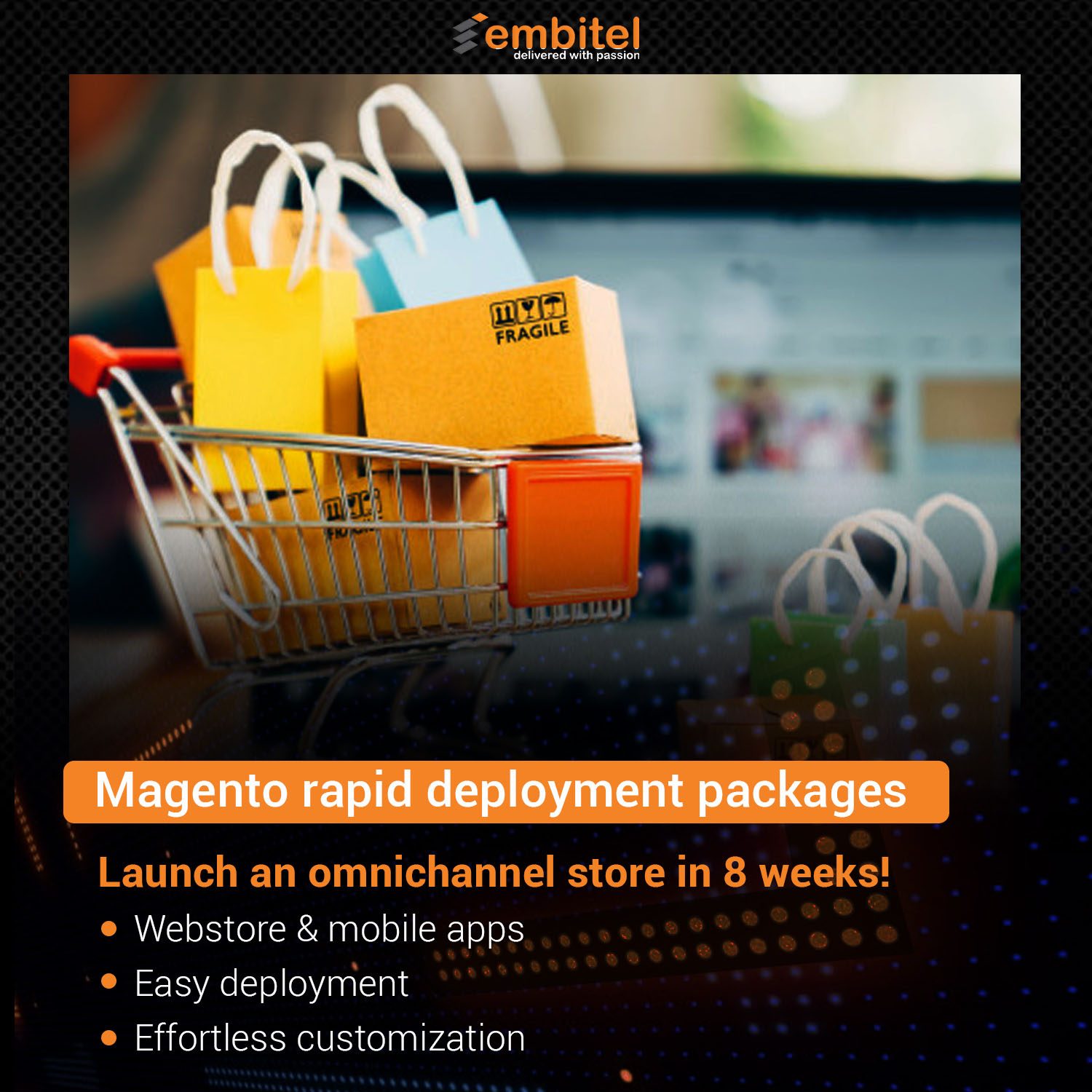 Features of Embitel's Magento RapidRetail Accelerator Packages
– Faster & effortless Deployment
– In-built Omnichannel features
– Endless customization for realization of unique business needs
– Customized for rapid deployment of B2B/B2C/ B2B2C/ B2B2B business models
– Get the best of Enterprise Magento Commerce and deployment practices
If you are looking for a cost-effective and rapid solution to launch a fully-functional ecommerce store, please schedule a call with us today and know more about our Magento RapidRetail Accelerator Packages.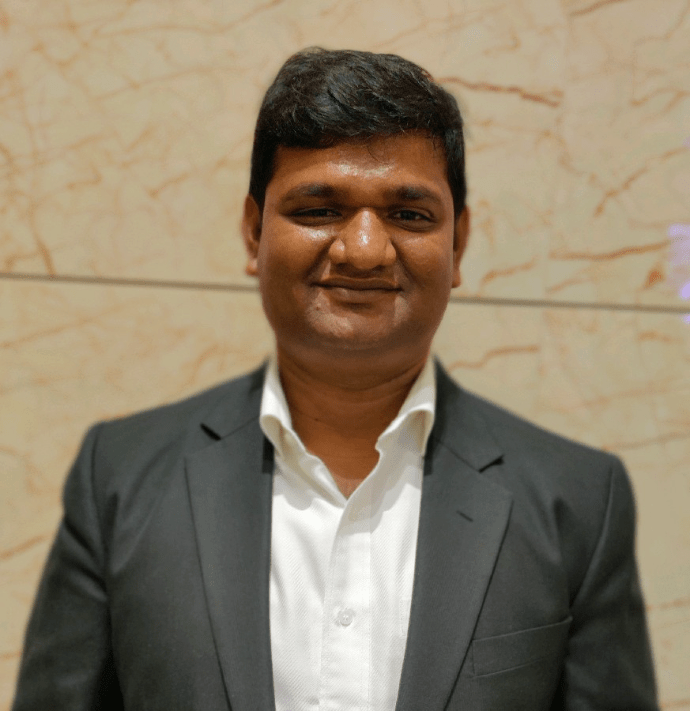 Gnanesh Shivanna is a Senior Manager in our Ecommerce Business Unit. He has 14+ years of experience in the IT industry having delivered projects across a scale and geographic locations. He has been working in the Ecommerce space for over 11 years and has garnered expertise in the B2B, B2C , and B2B2C sectors.
While not churning out innovative project execution strategies, Gnanesh likes doing cycling tours and taking care of his beloved home garden.
Gnanesh Shivanna

-Senior Manager