Omnichannel Retail – A Win-Win for Retailers and Customers Alike
With the year-on-year increase in the number of internet and social media users, retail trends have been evolving at a rapid pace to keep up with technological advances, competitors and customer expectations. One such retail trend of 2020 is Omnichannel Retail.
More than 50% of the companies around the world use at least 5-8 marketing channels for customer engagement. These channels can range from brick-and-mortar stores to websites and mobile apps.
Studies show that 73% of consumers use multiple channels, platforms and devices to shop while only 20% shopped in-store. 7% of consumers shopped online exclusively. This makes it important for companies to adopt an Omnichannel Retail Strategy that enables them to provide their customers with a unified experience across multiple channels, platforms and devices.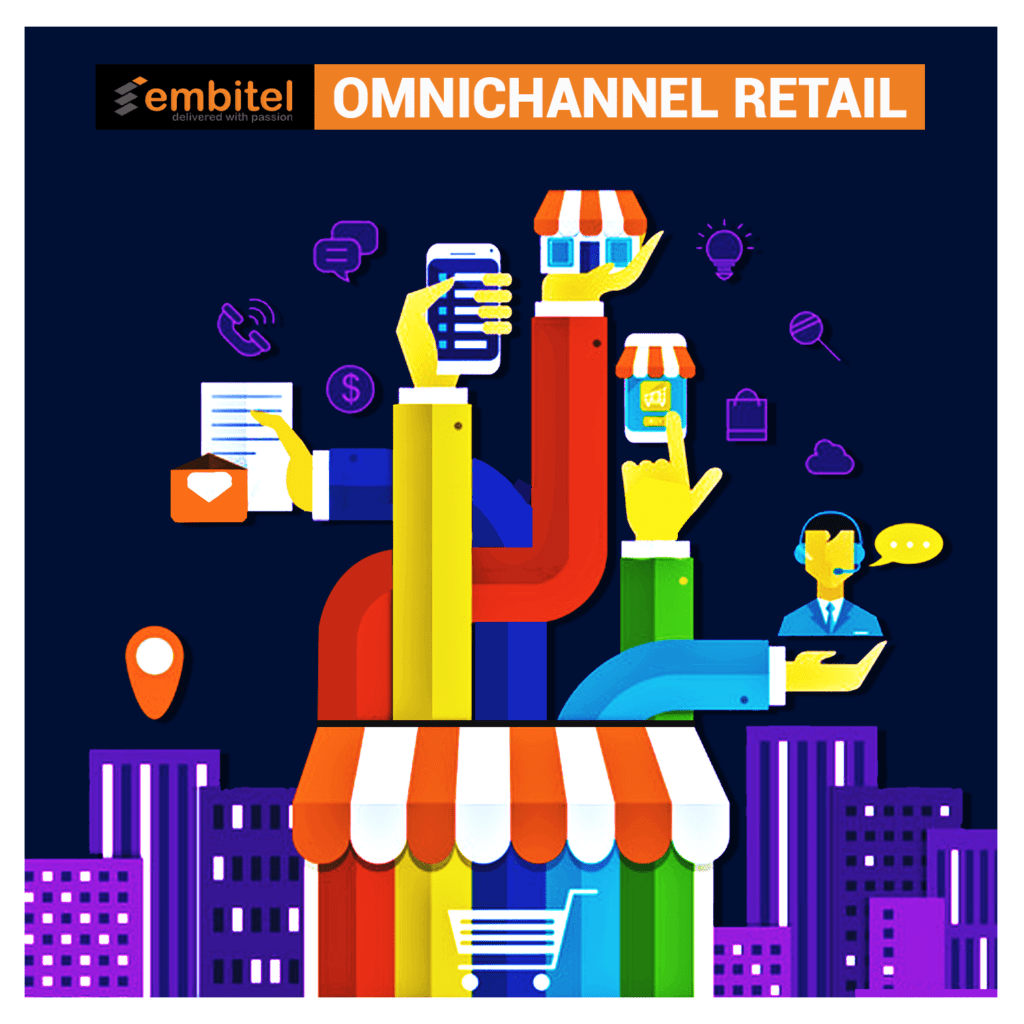 Companies that have adopted Omnichannel Marketing Strategy have reported close to 90% customer retention rate. This is a direct result of offering a unified experience to their customers at every touchpoint. Therefore, whether you're a retailer, marketer or shopper, it helps to have a clear understanding of this modern retail marketing phenomenon to keep up with the times.
Here is a bird's-eye view of Omnichannel Retailing:
What is Omnichannel Retail

Omnichannel Retail Marketing

Multichannel Retail Marketing Vs. Omnichannel Retail Marketing
Omnichannel Retail Examples

Omnichannel Retail Strategy

How to create an Omnichannel Retail Strategy
Omnichannel Retail Strategy Example

Omnichannel Retail Trends 2020
Benefits of Omnichannel marketing
Why it is important to take a customer-centric approach in marketing
What is Omnichannel Retail?
Before we define Omni-Channel Retail (more commonly spelled as "Omnichannel Retail''), let's find out what is a channel in terms of marketing. A channel is a medium through which a brand communicates with its customers. It can be the brand's website, brick-and-mortar store, mobile app, in-store digital tools, or social media pages.
Now, what is Omnichannel Retailing? It is the idea of using all the channels employed by a company to create a unified experience for its customers. Omni-channel retail not only includes brand awareness, customer engagement and sales via multiple touchpoints, it also includes product exchange after a purchase is made. If a customer is dissatisfied with a purchase, he or she should be able to return the item at any of the touchpoints convenient to him or her. This too adds to the overall customer experience.
Omnichannel Retail Marketing
Omnichannel retail marketing definition is varied. Here, we define it as the use of both traditional brick-and-mortar stores and modern digital channels like websites and mobile apps by companies/brands to provide an integrated and seamless experience to their customers at every touchpoint.
This also means that every channel of the brand is connected to each other to create an omnipresence of the brand in the customers' lives. This does not necessarily mean that the brand presence must be everywhere, as this could become counterproductive and a waste of valuable financial investment. Rather, the brand must be present wherever its target customers are.
Multichannel Retail Marketing Vs. Omnichannel Retail Marketing
Here are a few key differences between Multichannel and Omnichannel Retail Marketing:
Multichannel Retail Marketing

Omnichannel Retail Marketing

Multichannel Retail Definition:

Multichannel is when a company uses multiple channels to spread awareness of its brand to its customers. The channels are usually separate and are not related to one another.

Omnichannel Retail Definition:

Omnichannel is when a company integrates those multiple channels in order to provide its customers with a seamless experience. Since every channel is integrated and related to one another, customers can switch between channels effortlessly.

Customer Engagement:

Multichannel approach focuses on customer engagement. Here, the company/brand is focused on getting in touch with as many potential customers as possible. Customer contact can be made via emails, phone calls, webchat and so on.

Customer Experience:

Omnichannel approach focuses on customer experience. Here, the company's end goal is to ensure improved and consistent customer experience no matter which channel the customer uses to engage with the brand.

Channel-centric:

Multichannel retail marketing focuses on increasing the number of channels available to customers. The focus is on the channel rather than the customer. As the multiple channels aren't integrated with one another, it proves to be a pain point for customers when they want to move from one touchpoint to another.

Customer-centric:

In Omni-channel retail marketing, the customer is in the center of the marketing strategy. It is focused on the customer, thus making it easy for the customers to switch between channels without any friction. Simply put, it removes customer pain points when moving from one channel to another.

Customer Support Channels:

In terms of customer support, the Multichannel Strategy offers many channels for the customers to get in touch with the company but every time the customer chooses a different channel, he or she will have to start the conversation anew. There is no sharing of information between the channels. Hence it can prove to be a pain point for the customer to repeat the query from the beginning on each channel in order to get a resolution.

Quality of Customer Support:

In Omnichannel Strategy, the company focuses on the quality of support given to the customer i.e., the customer can choose any number of channels to get in touch with the company at any time and don't have to start the conversation anew. This is because all the channels are integrated and hence, the customer's query is shared between channels. This saves time and energy on the part of the customer and the company. It also provides a seamless customer support experience.
Omnichannel Retail Examples
Let's take a look at generic Multichannel and Omnichannel Retailing examples for a better understanding of the concepts:
Scenario 1:
John, a customer of ABC Fashion (a popular lifestyle clothing brand), receives an email in the morning about a seasonal sale. John archives the email for later perusal. During his lunch break, John goes on social media (Instagram, Twitter and/or Facebook) and once again comes across advertisements for ABC Fashion seasonal sale. Now, with the sale on his mind, John decides to make a stop at the physical store of the ABC Fashion brand after work to make the best of the seasonal sale.
This is an example of Multichannel Marketing where ABC Fashion could engage John through various channels like email, social media, and brick-and-mortar store.
Scenario 2:
Jane receives an email from her favourite eyeglass brand, ABC Clear Lens about a weekend sale. She reads the email and clicks on the given link to go to the company's website to shop. She checks out the virtual eyeglass try-on feature and adds her favourite items to the shopping cart but does not proceed with the checkout. Later when she drives past the physical store of ABC Clear Lens, she gets a reminder on her smartphone about the unchecked items in her shopping cart. Since she is driving by the store anyway, Jane decides to make it a store pickup in order to speed-up things. She checks out the items on the website and stops at the physical store to pick up her purchase.
This is an example of Omnichannel marketing where Jane could start her shopping experience through one channel and finish it through another without any hassle. This is an omnichannel marketing example that illustrates how ABC Clear Lens was able to provide a seamless experience to its customer.
Companies that follow omnichannel retail marketing strategy like Amazon, Target, Sephora, Disney and Bank of America, to name a few, have been successful in increasing their revenue, brand presence, customer base and brand loyalty.
What is Omnichannel Retail Strategy?
Omnichannel retailing strategy is defined as a marketing and sales approach that enables a company to provide its customers with a seamless shopping experience through integrated multi-channels ranging from its brick-and-mortar store to mobile apps and websites.
If a company decides to adopt Omnichannel Retailing Strategy, it is important to understand that Omnichannel is not a ''One-size-fits-all'' approach. As different companies offer different products and services and have different goals and target audiences, their marketing strategies will vary as well.

How to Create an Omnichannel Retail Strategy?
Now that we know what is Omnichannel strategy, let's take a look at how to create one.
Step 1: Find out which channels, devices and platforms your target customers frequent.
Step 2: Ensure every touchpoint that the customers frequent is enabled for sales/shopping.
Step 3: Integrate offline and online businesses. As customers often jump from online to offline channels and vice versa while shopping, it is important to integrate the company's physical store and its website/app so that customers can choose to place the order online and pick up the purchase offline at the store. Customers should be able to convert on any platform. This results in a 30% higher customer lifetime value.
Regardless of the type of approach a company chooses for the Omni-channel strategy, the key is to ensure consistent and seamless integration.
Omnichannel Retail Strategy Example
Here is an example of how Target applied Omnichannel retail strategy to boost its sales by 10%. Target partnered with Pinterest to use the Pinterest Lens in the Target mobile app. So, when a customer comes across an item that he or she likes and wants to buy, an image of the item can be captured using his or her smartphone and using the Pinterest Lens, he or she can check on the Target mobile app if the item is sold by Target. This is how a seamless shopping experience is created by Target for its customers.
Omnichannel Retail Trends 2020
3 Omnichannel Retailing Trends of 2020 you can look out for:
Robust Customer Data Platform: With the increase in customer interactions, lack of sufficient in-house resources, and fragmented data structures across channels, companies have been facing challenges in providing a seamless customer experience. The solution is to implement a robust customer data platform that will help in the unification, understanding and optimization of customer data across channels.
Magnified Customer Engagement: Over 80% of consumers choose brands that offer significant loyalty programs, thus proving that customer relationship goes beyond transactions. The retail strategy needs to be meaningful to the customers wherein he or she is engaged emotionally. Through product reviews, feedbacks, likes, shares, comments, etc. omnichannel retailing helps companies improve customer engagement at every possible touchpoint.
Personalization: Studies indicate that close to 70% of consumers choose brands that provide individualized experience over brands that offer mass-appeal. About 40% of consumers won't hesitate to drop brands that don't meet their expectations.
Therefore, it is important for companies to stay relevant in the eyes of their customers. This is where Artificial Intelligence and Machine Learning will work together to help companies with personalization, i.e., personal engagement with their customers.
Why It is Important to Take a Customer-Centric Approach in Marketing?
"Value for money" is what customers look for when they go shopping, whether it is to a brick-and-mortar store or a website/app on their smartphones or tablets. To get great value for their hard-earned money, customers will carry out research on the products and services that they want to buy by comparing brand popularity, price range, ease of accessibility/availability, customer support and the overall user experience. Therefore, to ensure you do not lose your customer base to your competitors, it is important to adopt marketing strategies that are customer-centric.
When customers are very conscious about making a worthwhile purchase, retailers have to put in more effort to make the customers' experience worthwhile by delivering on all fronts. This is where Omnichannel Retail comes in.