Migration to Bharat Stage (BS) VI: Emission Control, Fuel-Grade, Automotive Electronics and ECU Challenges
What is Bharat Stage VI
Bharat Stage VI (BS VI) is an emission standard that will bring much-needed changes in the Indian automobile industry in terms of pollutant emissions. With this emission norm coming into effect, India will come at par with the US, European countries and other advanced automotive markets across the globe.
India is currently following BS IV norms that were adopted this year across the country.
Bharat Stage VI norms includes a wide list of technology modifications under the hood, the most significant being making OBD (On-board diagnostics) mandatory for all vehicles.
Why India Felt the Need to Leapfrog from BS IV to BS VI
India is a country with 10 most populated cities of the world and this is one distinction we should not be proud of.
Vehicular emission is a major contributor to the worsening air quality of Indian cities. Emission of NOx, SO2, CO2 and particulate matter is taking a toll on people's health. In cities like Delhi, the PM2.5 level is more than 6 times the prescribed levels by WHO.
In October 2016, India signed the Conference of Protocol also known as the Paris Climate Agreement. Being a signatory to the agreement, India is obligated to bring down the carbon footprint by 33-55% from the levels recorded in 2005 in the next 12 years.
This warranted the need for a stricter norm that could reduce the emissions considerably and put India on track to meet the Paris agreement goals.
Ideally, BS V would have been rolled out by 2021 and BS VI in 2024 but leapfrog to Bharat Stage VI norms by 2020 had to be planned because of the carbon footprint obligations.

Source: CSE computation based on data provided by trasnportpolicy.net)
Advantages of BS VI over BS IV
BS VI is in lines with Euro VI norm already adopted in European countries. In fact, this new emission norm will also address one major drawback in the Euro VI norm that allows emission of higher PM (particulate matter) in diesel engines.
Enlisted here are some major benefits of Bharat Stage VI norms
NOx emission will come down by approximately 25% for the petrol engine and 68% for the diesel engines.
The PM emission will see a substantial decrease of 80% in diesel engines.
OBD will become mandatory for every vehicle and it will help monitor the pollution caused by the vehicle in real time.
RDE (Real Driving Emission) will be introduced for the first time that will measure the emission in real-world conditions and not just under test conditions.
Bharat Stage VI norms will also change the way particulate matter is measured. It will now be measured by number standard instead of mass standard thereby, regulating the fine particulate matter as well.
The reason behind making OBD mandatory is to make sure that the emission control component work at its optimum efficiency at all times.  OBD port will help to detect the malfunction with the help of the error codes sent by the malfunctioning component.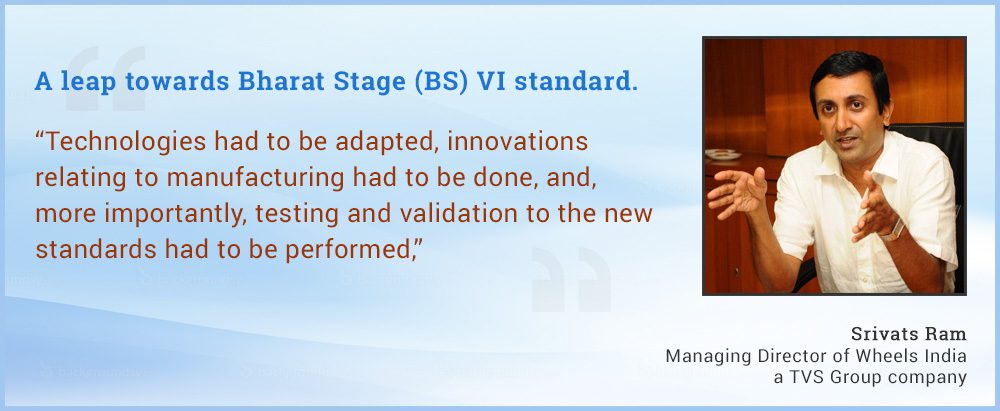 What are the Technology Challenges for OEMs in Shifting from BS IV to BS VI
Taking a leap from BS IV to BS VI comes with immense technical challenges. It took Europe 9 years to completely implement the Euro 6 standards.
As the deadline for implementing Bharat Stage VI norms has been set 2020, the OEMs have an uphill task to execute.
Although BS VI is based on Euro 6, the OEMs cannot simply add required component to the vehicle. For instance, fitting a Euro 6 complaint DPF in a small diesel car in India will require bonnet size to increase, thereby going beyond 4 meters mark. This may lead to a loss in excise benefit.
For home-grown OEMs like Mahindra and Tata etc, the challenge is even bigger. They have a huge product line ranging from small passenger cars to heavy trucks where they need to implement the new standards with utmost precision. Some of these car manufacturers have been exporting EURO VI engines to Europe and other countries so the technology is not the underlying problem but rather its multiplication over hundreds of platforms.
Constraints Related to Emission
To keep both PM and NOx level under check, the OEMs would require diverse technologies to work in tandem. A Diesel particulate filter (DPF) will be fitted in the automobile to expel particulate matters from the exhaust gas. Similarly, for NOx reduction, selective catalytic reduction (SCR) and exhaust gas recirculation (EGR) will be used. In a nutshell, the engine will now a have a purification plant built into them.
These components and standards will have to be calibrated, tested and validated. The process will be akin to an extensive R&D and will require revamping the automotive product development processes. The cost involved in such a transition is estimated to be huge and some of this cost may have to be passed on to the end-users.
The increase in weight resulting from the inclusion of these devices has also to be kept at its minimum in order not to affect the fuel-efficiency of the engine which is one of the major deciding factors for the car buyers.
Concerns over Fuel Grade
Every pollution emission norm is partially based on the type of fuel used in the vehicle, based on which it limits the amount of permissible emission. In the transition from BS IV to BS VI as well, fuel companies have an important part to play. They will need to make the specified grade of fuel available before April 2020.
The BS III and BS IV compliant vehicles were able to run on the fuel that was in circulation for the past 10-15 years. The requisite BS IV compliant fuel that had to be 50 ppm ultra low sulphur was not mandatory and the BS IV vehicles could manage with BS 3 compliant fuel as well. However, there is no such backward compatibility in case of BS VI vehicles.
According to some of the reports, many oil refineries are now equipped to produce BS VI compliant fuel and will soon be able to give out samples for testing.
Automotive Electronics & Embedded systems Related Constraints
Apart from the emission-related changes, major tweaking of the electronics of the vehicle will also be required. Automotive OEMs, suppliers and automotive embedded software and hardware providers will have to work together to develop and update ECUs for continuous monitoring of the engine's increased complexity as well as real-time emission.
How OEMs and Suppliers Are Planning To Tackle the Challenge
The shift to BS VI is a turning point for OEMs and auto part manufacturers. The challenge also presents opportunities for them to enhance each other's capabilities by joining forces.
Indian suppliers and product engineering companies also have a great chance to move up in the value chain.
The stakeholders have already started to work on this onerous task. It starts with hiring more workforce for each of the vehicle platform followed with the development of the emission control equipment, tweaking ECUs and building state-of-the-art test facilities.
Evidently, the OEMs are not going to do the entire R&D on their own as it will not only increase the cost but also cause delay in their vehicles to get BS VI compliant.
The Automotive Tier-1 suppliers along with automotive embedded solution providers are going to hugely contribute to this process with their expertise in the niche sectors.
When 2020 arrives, we will witness a completely overhauled automotive industry that would have taken a giant leap.
This is first in the series of blogs on Bharat Stage VI; more blogs discussing the impact of the strictest ever emission norm in India will follow.