Fact Check: How Magento 2 Platform can Support the Hyper Growth of Ecommerce & Retail in Middle-East
Over the past few years, Middle-eastern market has witnessed an exponential growth of ecommerce businesses. Moreover, it is set to chart newer records, with UAE as the front runner.
According to a report published by Bain & Company, "e-commerce market in MENA has the potential to grow 3.5 times by 2022, reaching a total market size of $28.5 billion"
[Source: https://www.menabytes.com/ecommerce-mena-2022/].
Thus, it would not be wrong to state that the Middle-east will emerge as the hotspot of ecommerce growth in the coming years!
So what is fuelling the growing popularity of ecommerce in the Middle-eastern region?
This blog is our attempt to answer such queries and also understand the inherent nature of Middle-Eastern ecommerce market. We also explore what makes Magento 2 the preferred platform of choice for the major retailers of the region.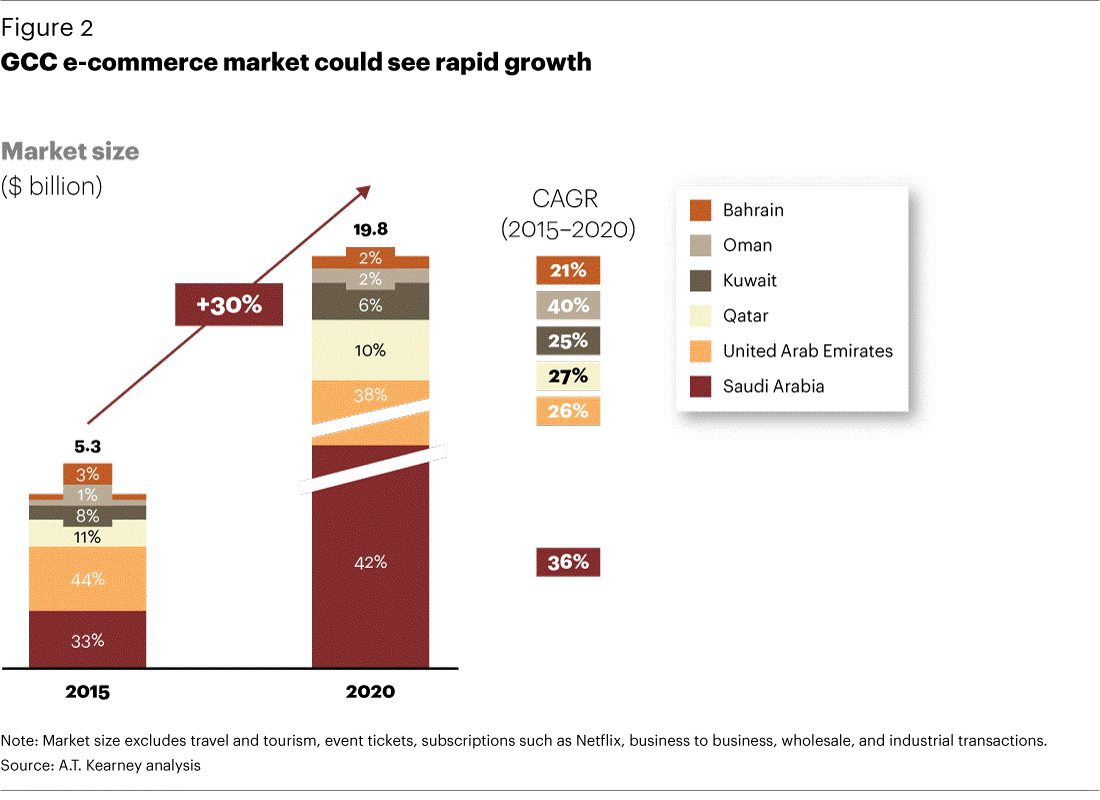 Image 1: Growth of Ecommerce in Middle-East from 2015 through 2020
What is Driving this Ecommerce Growth in the Middle-East?
Changing Consumer behaviour: High level of internet penetration, a high spending potential, improved infrastructure & logistics facilities and internet savvy consumers. These are few critical drivers of this burgeoning growth of ecommerce business in Middle-eastern region.
Government's Digital Initiatives: Also worth mentioning are proactive support and e-governance initiatives extended by the government bodies aimed at making Middle-east, a favourable destination for conducting ecommerce business. Some of these initiates includes:

The Dubai Free Zones Council's new e-commerce regulations encourages foreign direct investment into the e-commerce sector.
Launch of various paper-based information services have considerable simplified the entire process of starting and growing ecommerce business in Middle-eastern region, specifically the UAE. These services include vehicle licensing, passports/visa issuance, integration with standardized online payment platforms.

These initiatives are encouraging more and more local merchants to leverage the power of ecommerce platforms to fuel their business growth.

While there is a plethora of options when it comes to choosing a robust ecommerce platform to manage their scaling businesses, the Middle-eastern region has demonstrated an interesting trend over the past few years.

Yes, we are talking about growing popularity of the Magento commerce platform, specifically Magento 2.x.
=============================================================================================
Read about our successful Magento partnerships with leading brands from the Middle-East, helping them leverage ecommerce technology and achieve their business goals
=============================================================================================
How Does Magento Commerce Act as Catalyst for the Growth of Middle-Eastern Ecommerce Market?
Off-late, Magento has been enjoying the title of most preferred ecommerce platform on a global scale. And market experts feel that this trend will only grow after its acquisition by the Experience Maker, Adobe in 2018. Let us look at some data and stats to get an idea about the popularity of this ecommerce platform:
Magento is used by more than 250,000 merchants, globally
Magento has been ranked #1 under the Internet Retailer 1000 list for four consecutive years
From March 2017 to August 2018, the number of sites built on Magento has nearly doubled
The number of online customers served by Magento merchants is expected to grow by 200% between 2016 and 2020.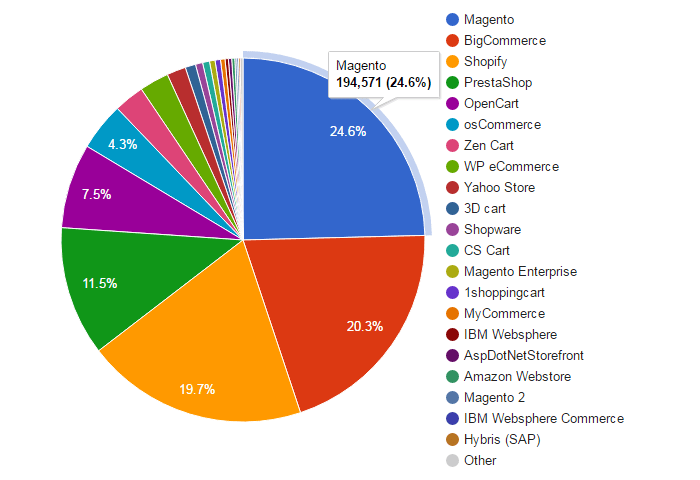 Image Source: Hackernoon
As Magento was leading the global ecommerce market, it came up with Magento 2 in the year 2015. The launch of Magento 2 has been a significant event for the open source ecommerce platform.  The newer version has
improved architecture, a
well-defined data base design,
faster development time
and more. All of these mean more
ease-of-use for the developers, ecommerce merchants and end-users
alike.
As per a study conducted by global strategy consultancy Stax, migrating to the latest version of Magento Commerce 2 helped ecommerce merchants to save cost by 62% while deploying new content.
---
"While we're committed to supporting the success of all merchants, the time to upgrade to Magento Commerce 2 is now. Magento Commerce 2 delivers superior cloud-hosted performance at scale, freedom from IT bottlenecks with creating, scheduling, and launching compelling content, and true business intelligence capabilities. Plus Magento's unmatched flexibility enables our global community of partners and developers to deliver virtually any commerce experience in record time and at a superior total cost of ownership."
– Joe Ayyoub, Former Head of Global Support Operations, Magento
---
Let us look at the list of features offered by the latest version of Magento 2, that is making it a favourite amongst the ecommerce store owners:
Support for Progressive Web Apps: Magento 2 extends support for Progressive Web Apps with its PWA Studio: a suite of tools helpful in building Magento-powered PWA storefront.PWA, the most efficient mechanism to embrace Headless Commerce architecture, is a mobile app delivered through a web browser. It renders a web app with added capabilities like superior performance in terms of speed and functionalities support (push notifications, working offline, and app-like UX).Since its inception, it has been a boon for online retailers looking for options beyond native apps.
Page Builder: In its latest release, Magento 2.3.0, Magento has come up with intuitive, drag-and-drop content management functionality – the Page Builder.The Page Builder enables anyone to manage and create new pages, customize the website content and appearance, launch content on pre-determined schedule.
Multi Source Inventory: This feature lets the ecommerce store owner assign products to multiple sources, track the inventory at multiple physical locations, and manage the sources of inventory which are used to fulfill orders for each website. All this with the help of a unified Magento admin panel.
Support for the Arabic language: Magento 2 offers support for both RTL (Right to Left) languages like Arabic, Hebrew; and LTR (Left to Right) languages. This is a critical requirement for merchants (local as well as global) who want to cater and offer content to the customers of the Middle-eastern region in their languages.
Support for plethora of Payment methods: WePay , MangoPay, Citrus Payment Gateway, Paypal Adaptive Payments, Paypal Parallel Express, Cash On delivery; Magento 2 allows  the online shoppers to choose from an array of payment modes.
Rich Web API Framework: Magento 2 brings with a wide array of web APIs that lets the online merchants to:

create new shopping applications,
Build JavaScript widgets in the Magento storefront
integrate their webstore with other 3rd party platforms such as CMS, CRM, ERP, etc.

Robust security features: Magento 2 uses a robust Two-Factor Authentication extension to restrict the access to its backend to only the trusted devices, authenticated using four different types of authenticators.Additionally, hacking of Magento 2 admin panel can be prevented by creating a secret key for the Admin URL. With this one can add additional layer of security: <custom created passwords, set the admin session durations, set the password validation period etc.Magento 2.3, the latest version of Magento 2 has come up with an option X-Frame-Options HTTP request header to protect you storefront against clickjacking attacks. Using the X-Frame-Options header sites can ensure that their content is not getting embedded into other websites.
Looking for more reasons to migrate your existing ecommerce website to Magneto 2? Give this blog a read: Top 8 Reasons to Migrate to Magento 2