How to Get the Best RoI Out of Your Ecommerce Website Hosting & IT Monitoring Service
Ecommerce website development is only the first step in the journey.Ecommerce website maintenance and monitoring to ensure near-zero down time and maximum operational efficiency, on the other hand, is a continued process where you can't let the ball drop even briefly.
Why? Because in that brief moment you could leave website visitors dissatisfied, and they may even share their experience with others, thus magnifying the effect of a brief setback.
So it's imperative for an ecommerce business to invest heavily in IT infrastructure that includes physical or cloud servers, and enterprise-class monitoring and reporting tools and technologies.
But without expert help, these costs can impact your bottomline negatively.
Hence there is need to walk this path smartly. Neelavanna Kannan, Embitel's IT Support & Maintenance services expert, says, "In my experience I have seen business owners spend needlessly by committing rookie mistakes in their website maintenance and monitoring strategy. There are simple things they can do to not just improve website performance and maintain up time, but also optimize costs so that they get the best value out of their investment."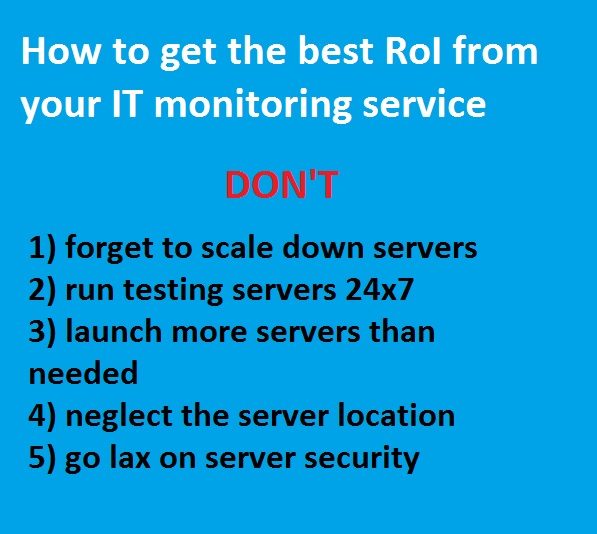 Don't just scale up – trim down too

In the run up to periods of high demand, such as discount offers, festival, or peak shopping season, ecommerce website business owners often scale up by adding servers to handle additional load. The added servers and RAM comes at an additional cost, but that is offset by the increase in website visits and online sales.

But what is equally important is to keep an eye on usage and ramp down website servers when analysis shows that the visitors are fewer than what the servers actually support. This may seem basic, but it is an often-neglected aspect as downscaling is never top of mind.

Don't run your testing server 24×7

Code revisions for ecommerce websites are done on a daily basis, and it is vital to test the code before it goes live. For this, development teams usually access a testing server exclusively for trying out test code, while keeping the live website intact. Only after the test code runs successfully on the testing server it is released on the live website.

A common mistake is to leave the testing server on all the time. Your developers don't work all 24 hours a day—even in shifts, the average working hours are likely to be 10-12 hours. So why does your testing server need to run 24 hours? Letting the server run when not in use is a drain on resources and can be easily avoided.

Plan smart – Launch an optimum number of servers

Businesses usually launch multiple serves, each for a specific purpose. For businesses with relatively smaller scale—not very large traffic, smaller product catalogues, fewer daily orders—this may not be really required.Yet this is a practice because it is the perceived to be the best way of ecommerce website hosting.

Evaluate your business scale and needs, or ask your website hosting partner to do so, and determine the optimal number of servers necessary to support the scale of your business.

Also, sometimes, one server can be configured to manage multiple tasks, such as caching and database storage. This, again, will help you save on server spends.

Choose the right physical location of the server to improve business bottom line

The location of your hosting server matters. The closer the server is the to the end user's location, the better it is for the UX.

A distant server is likely to affect latency or website loading time, which makes for a poor UX. If you have domestic operations, such as an online grocery website, your customers will be local and it only makes sense to host your website locally too.

Don't go lax on website server security

As web users, the need for security is drilled into us. We choose strong and unpredictable passwords, keep our passwords secure, don't share sensitive information… and still breaches and frauds happen.

It's human nature to find the easier way out and relax on aspects like security. But ecommerce website security just cannot be compromised upon. The cost of suffering a hacking is way too high, and can even be fatal for an ecommerce business.

Don't get fooled into thinking a password is enough security to grant access to the server. Implement two-factor authentication for admin users to minimize risk, and reset passwords every time an employee leaves.

Allow admin users to have restricted access to the server—only as much they need to do their jobs, and ensure this access isn't misused by keeping the servers accessible only from secure IPs.
If you are self-hosting your ecommerce website, check whether your in-house ecommerce website monitoring team is following all these best practices.
And if you have partnered with a dedicated services provider who isn't already doing these, it is worth considering a partnership with a more experienced IT Managed Services and Support vendor for your ecommerce website.
Embitel has a long-standing partnership with various clients for its trusted ecommerce website hosting and monitoring services. Reach out to us to know more about how we can optimize the cost of maintaining your website.