Turbo Charge your Digital Commerce Journey with Magento Ecommerce
Over the past few years, Magento as an ecommerce platform has emerged as the preferred choice of ecommerce business organizations and retail merchants seeking a profitable ecommerce journey.
With around 2,50,000 active ecommerce sites running on Magento, the ecommerce platform, that was recently acquired by Adobe, accounts for 12% of all online stores as of June 2021.
Magento ecommerce, was recognized as a Market Leader in its Magic Quadrant for Digital Commerce by global research and advisory firm, Gartner in 2020.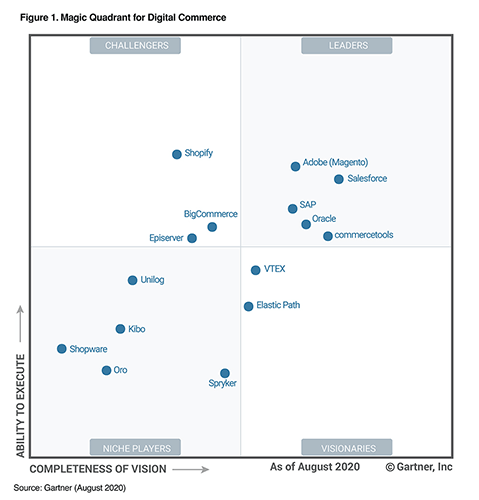 In this blog, let us explore some of the key features of Magento ecommerce platform in more detail.
About Magento Ecommerce
What makes Magento ecommerce a favourite amongst the ecommerce community is the flexibility and ease it offers to build, model, integrate and launch a webstore in line with their ecommerce vision. In addition to being an open-source platform, Magento ecommerce offers granular control over your webstore UI & UX. Not only this, Magento Commerce also offers a wide array of easy plug-ins and extensions developed to help you deliver a memorable, shoppable and seamless experience to your customers.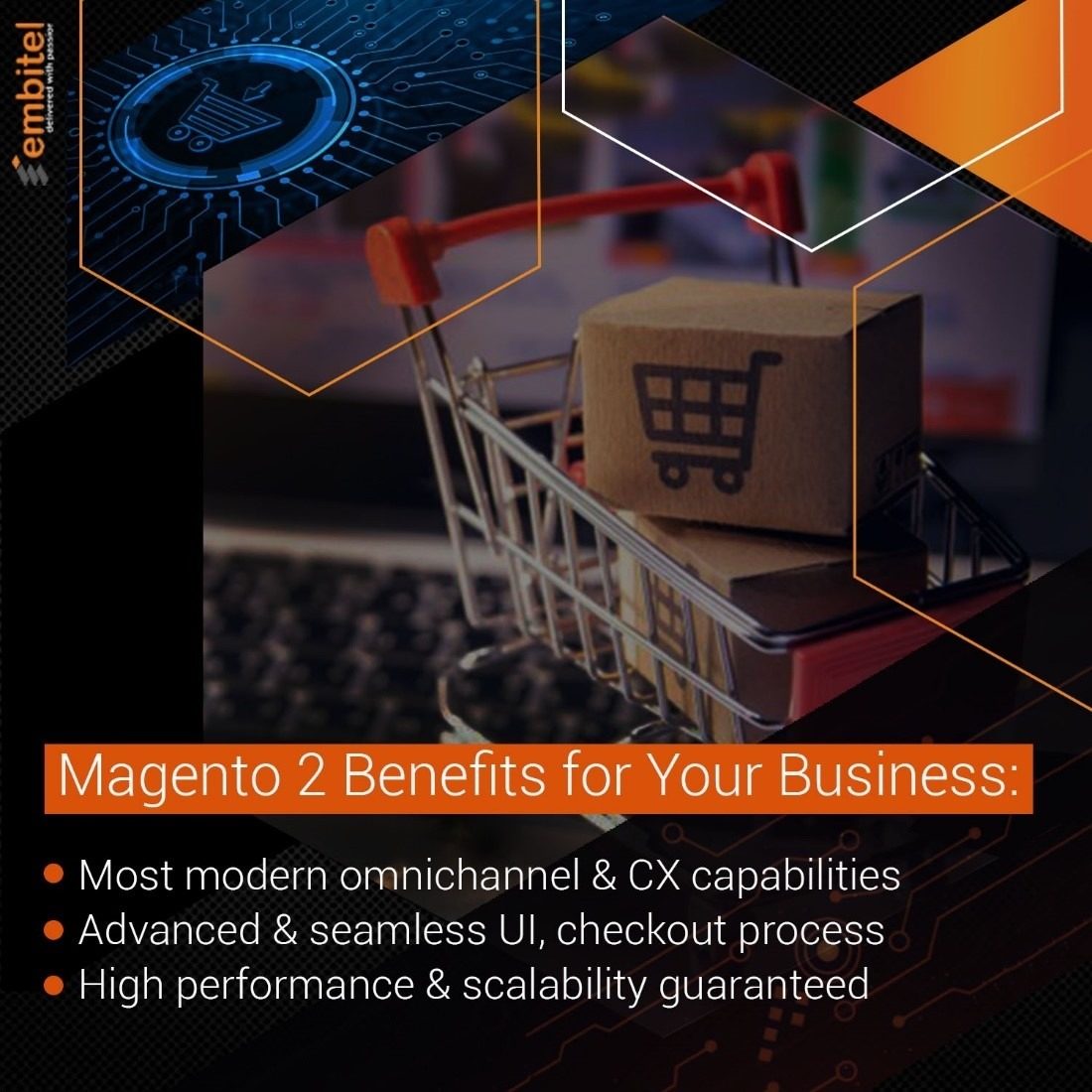 Previously, Magento Commerce was available in two versions viz. the Magento Enterprise Edition and Magento Enterprise Cloud. But now these versions have been unified into a premium, powerful and robust open-source ecommerce platform – the Magento Commerce. Launched as an enterprise-level platform, Magento Commerce can be leveraged by large sized business with higher business complexity, GMV (Gross Merchandise Value), multi-country presence and expansive product catalogs– etc.
Evolution of Magento as a Leading Ecommerce Platforms
Launched in the year 2007 by Roy Rubin and Yoav Kutner, Magento has evolved into a robust ecommerce platform over the past decade with many advanced feature additions and version and software update releases. Here is a chronology of key events in the history of the evolution of Magento as a leading ecommerce platform:
Key Milestones in history of Magento eCommerce Platform
Year
Events

2007

First beta version of Magento software released by Roy Rubin and Yoav Kutner as part of project Varien
2008
First product released under an open-source license
2009
Owing to growing popularity the Enterprise edition is released
2010
Rebranded the company name from Varien to Magento. Mobile version of Magento launched.
2011
eBay acquires Magento. Paypal, then owned by eBay, is integrated into Magento
2012-15
Magento 1 and Magento 2 and revised versions released
2016
Release of Magento 2.1, Magento Marketplace, Magento Commerce Order Management, Magento Commerce Cloud
2018
Adobe acquires Magento and integrates it into Adobe Experience Cloud. Towards October 2018, Adobe launched Magento 2.3 that enabled retailers to integrate their Magento e-stores with Amazon.
2020
Adobe withdraws official support for Magento 1.x versions
What are Top Features of Magento Ecommerce?
In addition to being an open-source software, Magento ecommerce platform packs in an impressive array of customer reward programs, advanced marketing features, and targeted promotions –helping retailers in offering great experience to customers throughout their buying journey.
Customize, Customize & Customize..

Magento 2 comes with incredible options such as Themes, Modules, Language packs that let you offer a customize your ecommerce application as per your vision.

While Themes lets you customize your ecommerce storefront UI and customer experience with custom templates, layouts, images and styles . Modules enable a seamless implementation of new functionalities in your ecommerce application. Language packs, on the other hand, comes handy for localizing your ecommerce store for multiple geographies and markets.

Magento offers incredible options to customize the ecommerce solution with wide range of extension and plug-ins available at the Magento Marketplace. From order management extensions like split order, to advanced payment and security extensions, Magento Marketplace has one of the most extensive and versatile offering of testing and customization

Robust Content Management: The drag-and-drop page builder incorporated along with the release of Magento 2.3, enables ecommerce store owners to create great on-page brand experience for their customers.

Some of the key benefits of the Page Builder feature of Magento ecommerce include:
Customize your storefront designs to match your brand's voice
Flexible content layouts, effortless and no-code page design
Drag and drop interface that enables marketers to own the complete content management process
Reusable dynamic blocks, in-line editing features help save time and resource in content creation
A Highly Performance Optimized Platform:
As per studies, webstores that take more than 3 seconds to load witness up to 40%-page abandonment. Thus, it is inevitable for all the ecommerce stakeholders to ensure that no matter what, their webstore is optimized for speed.
In its new release, Magento ecommerce has strengthened its focus on ecommerce store performance and page optimization with reindexing. Reindexing helps in enhancing store performance and query speed by transforming site data such as product prices, catalog, stores, users by building index tables and updating them at intervals.
Additionally, Magento Commerce also supports Full-page Caching at the server side. Full page caching helps in reducing the server load and enhancing the server response time to display site content without delay.
Scale as your Business Grows: At its core, Magento is built for scalability and flexibility demanded by the modern ecommerce business. Magneto ecommerce's highly modular architecture not only simplifies application complexity, in fact it facilitates you to create/modify/customize any functionality within short span of time. To meet the growing demands of your e-business.

With the release of Magento 2, Magento ecommerce claims to show a double-digit reduction in response times along with , increase in number of order processing capacity per hour, and overall improvement in capacity to handle increase in peak order volume , outsized customer lists -among others
Integrated B2B and B2C solutions & functionalities: Magento ecommerce offers a unified instance that can cater to both B2B and B2C needs. With the unified Magento instance you can get to market faster by using the same mobile-first designs, responsive themes and other branding elements without having to go through the pain of managing multiple instances of your ecommerce website.
Super-smart AI-powered Recommendation Engine:
Latest version of Magento ecommerce, Magento 2 comes with AI- based visual product recommendation engines. Powered by Adobe Sensei, these recommendation engines invariably help ecommerce store owners to offer a more relevant and context-specific experience to their customers.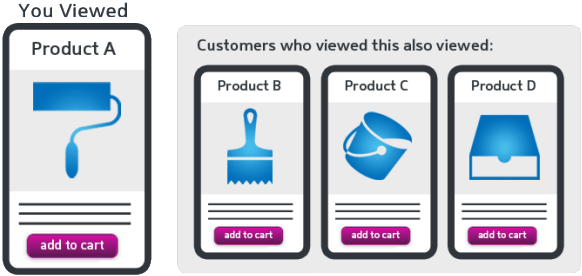 Image: Product recommendation engines enhance the product serachability
Adobe Sensei leverages Machine learning to display items visually similar to the ones customers are looking for, based on hues, and even textures. The logic is to enhance the searchability and thereby shopping experience of the customers by showing them products that share similar visual attributes such as patterns, textures, hues etc.
Conclusion:
Packed with rich content, commerce and cloud feature, Magento Commerce is definitely one of the most robust and powerful ecommerce platforms out there.
As a trusted Magento development agency, Embitel has helped many retail brands and merchants in launching and running a successful ecommerce business on Magento ecommerce platform. Customers from varied industry verticals including retail, FMCG, CPG, telecom, fashion & lifestyle have collaborated with us for comprehensive Magento development services. This includes Consulting & advisory support, custom Magento development services In case you are interested, you may checkout some our customer success stories here.
If you are looking to partner with a reliable Magento development company who can help you chart a successful ecommerce journey , get in touch with us.