Ecommerce trends in the UAE and rest of the Middle East
A sure sign of the immense potential of the ecommerce market in a region is when payment gateway companies flock to the region, working hard to document the scope and attract ecommerce players to the region.
So we have MasterCard, Visa, PayPal, all presenting reports on the state of ecommerce in the Middle East.
It's not surprising though. The Middle East is well known for having one of the highest global per capital internet penetration.
MasterCard has been conducting its Online Shopping Behavior Study annually in the Middle East. Over the past three surveys, it has noted a steady increase in the number of internet users who have shopped online: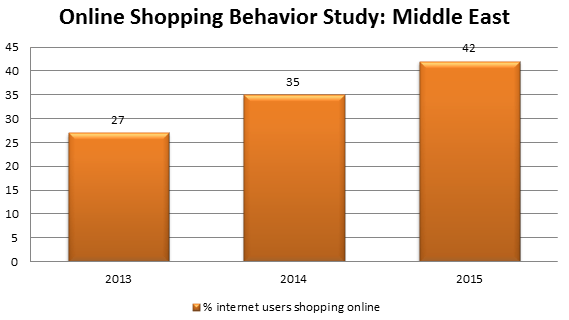 The growth of ecommerce and m-commerce in the Middle East
A study by Payfort, a Middle East payment gateway, valued the region's ecommerce market value at $7 billion in 2014, and estimates it will touch $13.4 billion by 2020.
Mobile commerce in the Middle East is predicted to play a significant role in this growth-according to MasterCard, the percent of mobile and general internet users making online purchases ranges greatly, from 37% in Oman to a high of 95% in Kuwait.
This disparity is predicted to level out in the near future as the availability of technology grows. Ronaldo Mouchawar, CEO of Souq.com, the Arab world's largest multivendor ecommerce platform, says the mobile is the biggest platform for most ecommerce merchant sales in the region.
In the Payfort study, released in early 2015, Mouchawar was quoted: "In many online shopping categories, such as fashion, mobile sales are already higher than web-based transactions, and by the end of 2015 we expect mobile to completely overtake web."
The challenges: What's been holding back the Middle East ecommerce market from developing so far?
"The No. 1 challenge has always been the last mile of logistics," says Chris Schroeder, an investor and author of a book on entrepreneurship in the Middle East. Souq.com's Mouchawar too acknowledges the challenges in delivering to areas without a dependable mail service or, sometimes, even a proper address system to speak of.
And according to Payfort's State of Payments 2015 study, the biggest problem cited by merchants surveyed was capturing market share, followed by delivery.
But Habib Haddad, CEO of Wamda, a Dubai-based organization that supports entrepreneurs through research, accelerator programs and events, has been quoted saying, "I think there is a lot of room for many players. I don't think they are obsessed about competitors at this point. And I don't think they should be," he said. "They need to be obsessed about the customer."
Role of Ecommerce Technology and an Ecommerce Consultant
A good shopping experience is a compelling factor in attracting and retaining customers at a webstore. To deliver such an experience, your web-store should be equipped with user-friendly features, streamlined workflow and fulfillment processes.
This feature implementation and backend integrations with ERP, CRM and other systems require in-depth technology expertise. It also requires extensive project experience with popular ecommerce platforms like SAP hybris and Magento/Magento 2.0 platforms. Thus, only an experienced and trustworthy technology vendor should be appointed, allowing the management to focus on core business activities without having to worry about the technology implementation.
Embitel Technologies, HQ in Bangalore, India, has successfully partnered with some of the leading brands of the Middle East to help them achieve their business goals:
Jarir Bookstore: one of the leading listed companies in Saudi Arabia.

Case-study Part – I: Rebuilding Jarir.com – the ERP and UX issues!
Case-study Part –II: Going Omnichannel – consistent Jarir experience across channels

Mumzworld.com: Middle East's 2nd largest e-commerce portal by traffic & transactions

Case study – Developed on Magento Community Version with 4 Store Views (India And ME). 24*7 Managed IT Services. Increased RoI

Kuwait's largest retailer's online store: http://www.xcite.com/
Alosra Select: Bahrain's largest grocery retailer.
"We've gained experience in fulfilling the unique requirements of businesses in this region," says Ranjeev Kumar, Senior Business Development Manager (Ecommerce) at Embitel.
Whether it is developing a site in the Arabic script or integration of a local payment gateway and logistics partners such as Payfort or Hyperpay, Embitel offers ecommerce solutions customized to the needs of businesses in the Middle-East region.
To know more or partner with Embitel, as your Ecommerce Consultant, for ecommerce technology implementations in the Middle East, write to sales@embitel.com